New York State
Michael Gianaris' winding road to progressivism
The lefty leader's political history is peppered with establishment ties.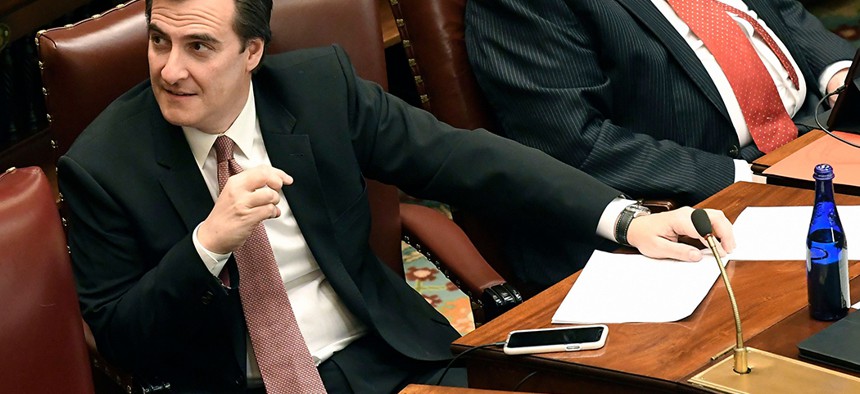 State Senate Deputy Majority Leader Michael Gianaris is known today as the man who led the successful resistance to Amazon placing a headquarters in Queens last year and presided over a historically progressive legislative session in Albany this year, but the veteran lawmaker was viewed as a more moderate Democrat in the past. Gianaris' understanding of the word "progressive" has even changed over time. "It's a lot more impatient, is the word I would use," he said. "I think the election of Donald Trump has kicked us all in the ass to realize that incremental change is not enough, when the other side is running up the score."
City & State gathered a few of his career milestones, reflecting both his progressive stances and his ties to the Democratic establishment.
2000 – Michael Gianaris ran for the seat held by retiring Assemblyman Denis Butler, receiving the backing of the Queens Democratic Party.
2004 – Gianaris pushed for tax credits to "sweeten the pot" for film and television production in New York, and still says such incentives are useful when created with appropriate oversight and targeted toward creating blue-collar union jobs.
2010 – Gianaris was elected to replace retiring state Sen. George Onorato, representing a shift to the left after Onorato voted against same-sex marriage in 2009. Candidate Gianaris called for reforms to redistricting, campaign finance and ethics.
2015 – Gianaris introduced legislation to eliminate bail – an issue he's taken up each year since. This year, with the help of celebrity advocate John Legend, a compromise was reached that eliminated cash bail for most misdemeanors and nonviolent felonies.
2016 – He supported Hillary Clinton in the Democratic presidential primary over U.S. Sen. Bernie Sanders – who Gianaris has praised more recently – though Gianaris' office says he was focused on state Senate races and was not an aggressive Clinton advocate.
2018 – Gianaris endorsed Queens Democratic Party boss Joseph Crowley for reelection in New York's 14th Congressional District, calling him "the progressive leader we need fighting for Queens families in Congress."
2018 – Gianaris joined a growing chorus of progressive politicians vowing not to accept campaign contributions from the real estate industry.
2019 – Gianaris endorsed and campaigned for Tiffany Cabán, the progressive insurgent challenging the party establishment pick for Queens district attorney.
Powered By
NEXT STORY: Can Michael Gianaris lead the revolution?