New York State
New room, new rules
Three men in a room once ruled with an iron fist. Heastie and Stewart-Cousins are trying something different.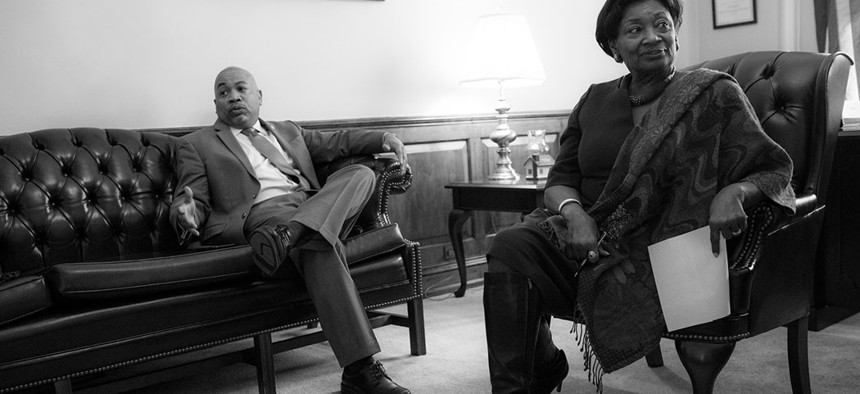 One day in April, state Senate Majority Leader Andrea Stewart-Cousins set in motion a plan to change the lives of millions of people across New York state. To do this, she didn't call the governor, or even the most senior members of her conference. Instead, she summoned first-term state Sen. Zellnor Myrie to her office on the third floor of the Capitol. The 32-year-old Brooklyn lawmaker was the final piece of the puzzle for Stewart-Cousins' plan to advance a package of housing reforms through the labyrinthine corridors of power in state government. Rather than swearing Myrie to secrecy, she asked him to tell every Democratic senator that a newly formed legislative housing working group was going to craft the conference's position on rent reforms – one of the most complicated and contentious issues the Democrats would face in 2019.
"It was pretty dope," Myrie said in an interview. "She straight up asked me to co-chair it." Myrie and state Sen. Brian Kavanagh were not only going to moderate Democratic debate on issues like vacancy decontrol and restrictive covenants, but the co-chairs were also going to conduct an exercise in small "d" democratic control of a legislative chamber.
The episode illustrates a consensus-driven approach that sets Stewart-Cousins apart from her predecessors, according to interviews with nearly three dozen lawmakers, activists and insiders. This includes delegating the details of top policy issues, allowing lawmakers to hold more public hearings and working through divisive legislation before taking a public position as a conference. And in contrast to past leaders who would yell, threaten or otherwise cajole lawmakers to follow their orders, Stewart-Cousins has a less bellicose brand of leadership.
Assembly Speaker Carl Heastie has also been credited by rank-and-file members with empowering them and consulting with them on key matters. Sheldon Silver, Heastie's predecessor, thrived instead by cutting deals with the governor and the Senate leader behind the scenes. In the past, legislative leaders distinguished themselves by what they would not do. Up until last year, state Senate Republican Leader John Flanagan would block popular bills like the Child Victims Act – which eventually passed unanimously this year under Democratic control – from even getting a vote.
Now, Albany's traditional "three men in a room" – the governor, Senate majority leader and Assembly speaker – no longer decide among themselves what does and does not get done, and not just because a woman is now leading the Senate. Members of both majority conferences have more say in matters, lawmakers say. At the same time, Stewart-Cousins said it was relatively rare for her and Heastie to meet alone with Gov. Andrew Cuomo this session. Instead, the two legislative leaders met with each other frequently and were unafraid to leave the governor out of the negotiations, even on hot-button issues like rent regulations.
Of course, Heastie and Stewart-Cousins entered 2019 in a strong position with sizeable majorities, affording them the flexibility to work more closely with rank-and-file lawmakers. A "blue wave" in 2018 gave the party control of both houses of the Legislature, and Cuomo, who had moved to the left in his second term on issues like hydraulic fracturing and the minimum wage, promised "the most progressive agenda this state has ever seen, period" as he began his third term. As the session got underway, Democratic lawmakers were poised to pass one big progressive bill after another, on abortion rights, voting reforms, civil rights for transgender people and other issues.
"We're just so happy," Heastie said in February of his working relationship with Stewart-Cousins. The Assembly speaker then referenced a 1970s cartoon duo whose superpowers only worked when they joined their fists together. "It's like we're the Wonder Twins," Heastie said. But like their cartoon namesakes, who had Batman and Superman to work with, Stewart-Cousins and Heastie were going to need some super friends of their own.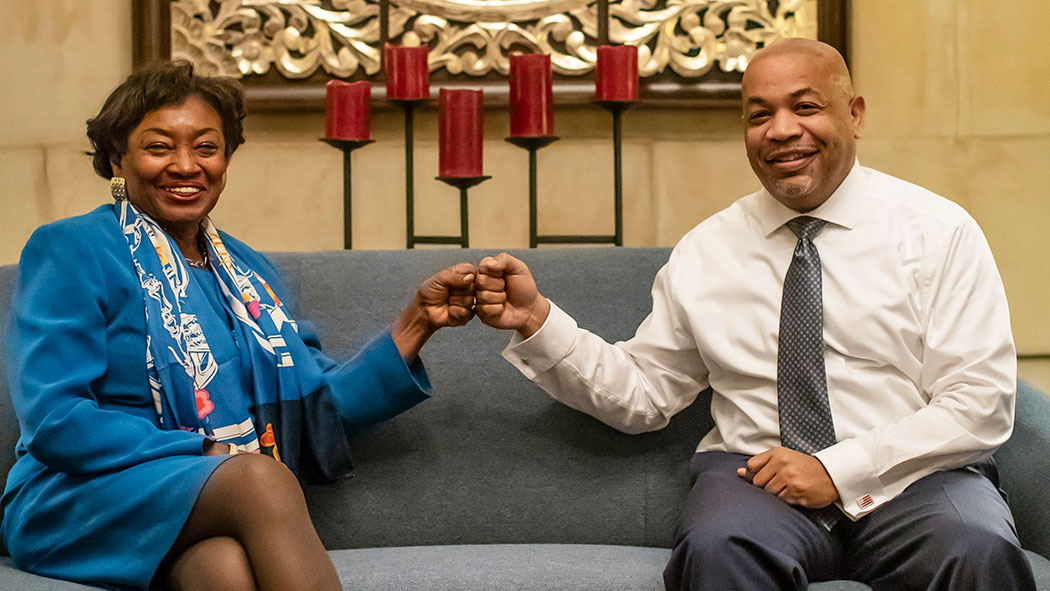 Trying to deliver landmark legislation on rent regulations, congestion pricing, farmworker rights, bail reform and climate change, however, would challenge both legislative leaders. Stewart-Cousins in particular, while learning the ropes of running a legislative chamber, also had to hold her conference together despite its regional and ideological fault lines, especially those going through Long Island and the Hudson Valley.
Committee assignments gaveher an opportunity to empower as many legislative friends as possible. With the exception of her deputy leader, state Sen. Michael Gianaris, every Democrat got to chair a committee in 2019. First-term lawmakers were assigned to run important committees – a notable contrast to the Assembly, where members wait years to get a chairmanship. Myrie chaired the Elections Committee and helped shepherd a package of voting reforms through the chamber. Fellow freshman state Sen. Julia Salazar, chairwoman of the Women's Health Committee, led efforts to pass the Comprehensive Contraception Coverage Act. Long Island state Sen. James Gaughran was the point person on the permanent extension of the state property tax cap. There were even committee chairs for the former members of the Independent Democratic Conference, a breakaway group of Democrats that had aligned with Republicans.
"At no time did anyone say to me: 'Come on, kid, you've got to take one for the team.'" – state Sen. Pete Harckham
In both chambers, Democratic lawmakers said they felt empowered to represent their constituents without angering legislative leaders. "At no time did anyone say to me in the entire legislative session: 'Come on, kid, you've got to take one for the team because this is important to the leader,'" said state Sen. Pete Harckham of Westchester County, one of eight Democrats to win a GOP-controlled seat in 2018. "It was always: 'Let's take the extra time to discuss it and make sure folks are feeling comfortable with it.'"
Of course, not every decision Stewart-Cousins made was embraced by her conference. The Senate Democrats' relationship with Cuomo soured after the pomp and circumstance of the first few weeks wore off, thanks to the divide on Amazon's proposed headquarters in Long Island City, Queens. Gianaris, along with Salazar and another new lawmaker, state Sen. Jessica Ramos, spoke out against the deal. Other Democrats were supportive, including Long Island state Sens. Todd Kaminsky and Anna Kaplan. The competing sides placed Stewart-Cousins in a tough political position. She could appoint Gianaris to fill a seat on the state Public Authorities Control Board, an obscure body that could veto the deal, or she could choose someone like state Sen. Leroy Comrie, who would have been more acceptable to Amazon supporters. In the end, she picked Gianaris, a move later blamed for Amazon's decision to back out of the deal.
Heastie deployed his own form of soft power over his members during the early months of the legislative session, especially on congestion pricing. Outer-borough lawmakers had balked at the proposal to charge drivers a toll to drive into Manhattan below 60th Street. "He respected my position," said Assemblywoman Rodneyse Bichotte, a Brooklyn Democrat who initially opposed congestion pricing. "He didn't bully me. He said: 'OK, I'm going to give you things to think about and resources in place that will help you make a more informed decision." Heastie set up a meeting between Bichotte and incoming MTA Chairman and CEO Patrick Foye and gave her assurances that the final plan would include provisions to make sure proceeds went to public transit. Bichotte ended up changing her mind, and member by member, Heastie built the support he needed.
Yet some activists and lawmakers openly criticized Heastie for the perceived shortcomings of the $175.5 billion state budget that passed in the wee hours of April 1. Activists complained that the Assembly had undermined a public financing system for political campaigns by delegating the matter to an unelected commission. The failure to legalize recreational marijuana or fully abolish cash bail irked progressives. Cuomo's ability to get his way on issues like education funding and the permanent property tax cap showed a class of young insurgent lawmakers that the governor had the power to pass his own progressive priorities instead of theirs. Lawmakers openly questioned whether Albany had truly changed. Adding to their despair was the perception that the governor had gotten everything he wanted while embarrassing lawmakers with a late-night vote giving Cuomo a pay raise.
While the spending package included several Assembly priorities, such as criminal justice reforms and congestion pricing, Heastie conceded that final budget negotiations had not resulted in anything prettier than the "Big Ugly" bills negotiated in past years. "I'll be the first one to say this is not a great budget," Heastie said at the time. "There is not a lot of happiness in this budget. There are a lot of things that are missing in this budget. But we did the best that we could."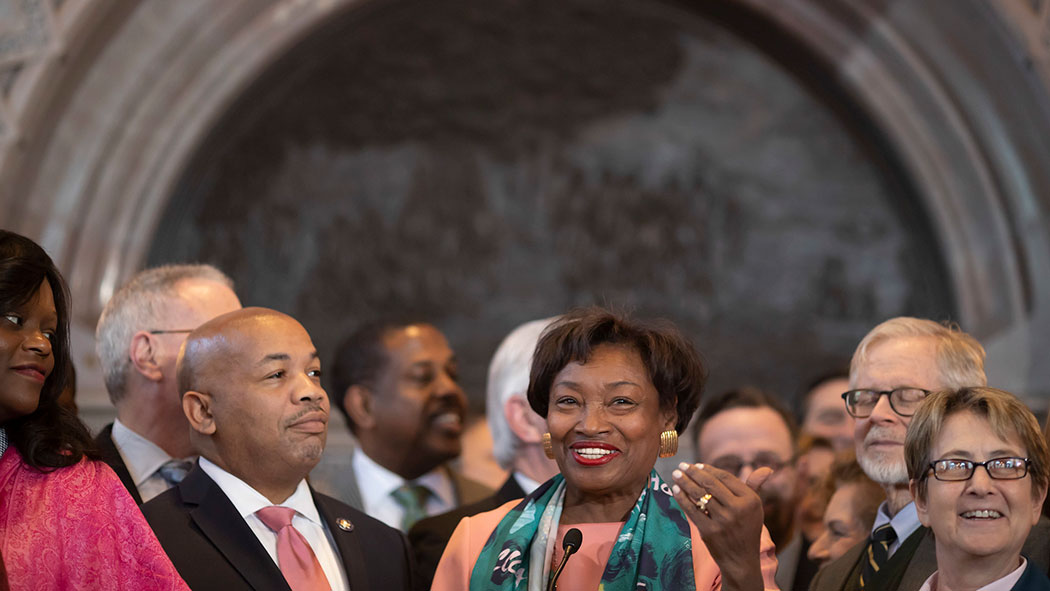 Assembly Majority Leader Michael Bragman was on top of the world as he dined at Amo La Bella in Albany on May 17, 2000. The speaker's chair inside the Assembly chamber was three blocks away, but the Syracuse Democrat could feel it within his grasp. He had the votes to oust Silver and become the first upstate legislator in decades to be elected speaker. But he made a critical error: He played by the rules. In order to force a leadership vote, Bragman had to observe a three-day waiting period. Once he put on paper what he was about to do, word spread through the Capitol. Silver fought back behind the scenes, making a point of not calling a meeting of the Democratic conference. Why give his accusers a chance to confront him in front of undecided lawmakers? Instead, Silver lobbied members directly, reminding them of the potential consequence of siding with Bragman, such as losing funding. Silver would strip them of their leadership posts and do everything he could to push them out of office.
By the time Bragman made a motion to elect a new speaker, it was too late. Bragman attacked Silver for his ties to lobbyists and for hoarding too much power. "Virtually everyone in the majority conference has come to me, looked me in the eye and expressed his or her dissatisfaction," Bragman said at the time. "Either you do what the speaker wants, or you don't get the things you need." Silver stayed in his office rather than answer the charges on the floor. Silver allies accused Bragman of being driven by self-interest. Seven Nassau County Republicans sided with Silver, giving him a critical cushion in a 85-63 vote to force a vote on a new speaker. By the next year, Bragman would be out of office.
While Bragman failed to topple Silver, Bragman demonstrated that even the power of the Assembly speaker has limits. While Silver loosened his grip in later years, lawmakers recall that the structural barriers between members and leadership remained intact until the end. "He had members of staff telling me that, 'You can't pass this bill. Propose this bill,'" state Sen. Luis Sepúlveda said of the two years he served in the Assembly while Silver was speaker. "The constant struggle I would have is, 'Well, we're the ones who got elected. … Why is a staff member telling me that I can't propose a bill?'"
"Silver went out of his way on a daily basis to prove that he was the guy in charge … Heastie has tried to be more fair." – Assembly Minority Leader Brian Kolb
Heastie – who declined to be interviewed for this article – succeeded Silver in 2015 following Silver's arrest on federal corruption charges. The "bloodless and quiet" rise of the "soft-spoken" Silver shared striking similarities to Heastie's own rise to the position, the Times Union wrote in 2015. But as soon as Heastie took over, the self-described "listener" sought to draw a contrast with the leader he replaced – one that was noticed by Democrats and Republicans alike. "Speaker Heastie has tried to be extremely more fair in allocation of legitimate resources for all members of the Assembly," Assembly Minority Leader Brian Kolb of the Finger Lakes told City & State. "Silver went out of his way on a daily basis to prove that he was the guy in charge, and only he controls everything, whether it was pencils or paper clips."
During the four years that followed, Heastie burnished the reputation he began cultivating in his first year as a more consensus-driven leader than his predecessor, even if it meant laying low on some of his legislative priorities. "For the first couple years that he was speaker, he wouldn't want to get out in front of an issue," said Ken Lovett, senior vice president of communications and Albany director for Metropolitan Public Strategies and the former Albany bureau chief for the Daily News. "He always went to the conference – and he still does – but he wouldn't even talk about it in (past years)."
This year, though, Heastie has made several moves to push his conference on difficult votes. He spoke personally about reforming bail as a moral duty. "I would've been a failure as a black man if we did not reform the criminal justice system," Heastie told a Manhattan audience in January. He pushed outer-borough lawmakers to support congestion pricing – a proposal Silver killed a decade before – and then publicly announced that he had majority support for the idea a week before the final budget vote at the beginning of April.
Then, toward the end of the session, Heastie did something that would have seemed unfathomable during the tenure of Silver, who largely controlled the conference from behind closed doors. Heastie left his office in the back of the Assembly chamber to whip a key vote from a freshman lawmaker in a committee meeting on a bill to end the religious exemption from vaccines. "That's not something the speaker would have done a couple years ago – or even last year," Lovett said of Heastie's increasingly assertive style. In the final weeks of the legislative session, Heastie even resisted heavy pressure from the Senate and Cuomo to pass a bill legalizing gestational surrogacy.
Years after the failed Bragman coup, and not long after Stewart-Cousins first arrived in 2007, the state Senate went through its own period of tumult. Democrats were pushing to take back the chamber for the first time in decades, and while they succeeded in the 2008 election, chaos ensued. Renegade Democrats Pedro Espada Jr. and Hiram Monserrate defected to the Republican side. Democrats eventually regained control, but the episode became emblematic of the general dysfunction of Albany.
Rivalries within the Democratic leadership persisted even after Republicans won back a majority in the 2010 election. Within weeks, the breakaway Independent Democratic Conference formed, and it eventually forged a controversial coalition with the GOP that many suspect had Cuomo's backing. The mainline Democratic conference would remain in the minority for the next eight years. Even when Democrats won the biggest majority in the chamber in decades last fall, doubts remained that Stewart-Cousins could bridge the political divides between upstate and downstate members, the suburbs and New York City, moderates and progressives. The future of their legislative agenda – and their majority – depended on her ability to succeed where previous Democratic leaders had failed.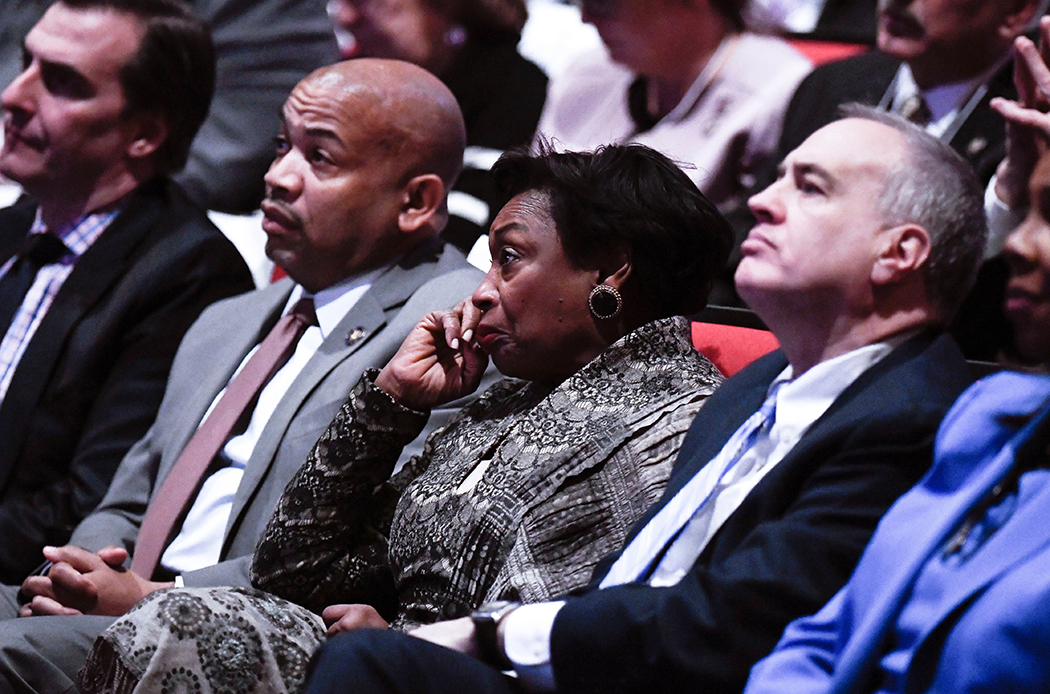 Stronger tenant protections had been a progressive dream for years before the Democrats took over the state Senate. If the Democrats had a big enough majority in the chamber, progressives hoped, Democratic lawmakers would not only renew the rent laws, but ideally make them permanent. Maybe, just maybe, they could even strengthen tenant protections downstate, while also expanding them across the rest of the state. "Some of us have prepared for this moment for years," said Kavanagh, the senator who co-chaired the housing working group. "I had conversations with Andrea last year about chairing the housing committee and playing this role."
Bringing people together for regular meetings on a shared concern would hardly be innovative outside of "Planet Albany," but it has proven to be a big change in the state Senate this year. "It's not so much revolutionary," said Democratic state Sen. Neil Breslin, an Albany-area lawmaker who was first elected in 1996. "It's the leader having confidence to delegate to other people to participate." In previous years, legislative leaders in the Democratic Assembly and the GOP-controlled state Senate negotiated behind closed doors over how to renew the rent laws regulating roughly 1 million apartments in New York City and its suburbs.
Democratic senators this time around adopted the working group model to housing that they had used to reach a consensus on congestion pricing, an issue that was driven by state Sens. Leroy Comrie of Queens and Tim Kennedy of Buffalo. The housing group met a few times a week at first, gradually accelerating its operations as the June 15 deadline loomed to pass legislation before the rent laws expired. This took time, and it appeared to the outside world that the state Senate was dragging its feet. In April, a few days after the passage of the state budget, Heastie announced his chamber's support for a package of tenant-friendly bills that largely mirrored what a coalition of housing activists proposed.
Stewart-Cousins delegated authority over crafting bills on climate change and congestion pricing to working groups that any Democratic senator could join. This approach let Senate leadership assess the level of support they had for any one provision of a bill during negotiations with the Assembly and the governor's office. "We got a bill done that a lot of people said was too complicated and difficult to get done in such a short amount of time," said Kaminsky, who led a working group on what would become the Climate Leadership and Community Protection Act. "Andrea's leadership style made that happen."
While Stewart-Cousins spent much of the year decentralizing decision-making in her conference, Heastie found himself this year at a different point in his evolution as a conference leader. There were doubts that the Assembly would be as progressive this year as it had looked compared to the GOP-controlled state Senate. Once it actually became possible to pass many of these bills, Heastie adopted a more cautious stance on some issues – like single-payer health care – that had passed in the Assembly but faced expected resistance from the governor or the state Senate.
On other measures, such as a sweeping proposal to address climate change, there was simply enough support in both houses, if not in the executive chamber. "The Assembly having a partner in the Senate finally on environmental issues clearly contributed," said Peter Iwanowicz, executive director of Environmental Advocates of New York. "But I think there was also the courage of (Stewart-Cousins) to understand that this is where the membership was on both sides of the aisle."
It was not always a matter of political expediency that determined what legislation made the cut in both houses this year. The Green Light bill granting driver's licenses to undocumented immigrants is a case in point. Neither that bill nor single-payer health care polled well with voters, but that did not stop Heastie and Stewart-Cousins from advancing the driver's licenses bill. Could it be they thought it was the right thing to do, despite the political risk? "They could have easily run into the kinds of issues that happens to legislation in Albany all the time," said Steven Choi, executive director of the New York Immigration Coalition and a major proponent of allowing undocumented immigrants to obtain driver's licenses. "They didn't let that happen." Republicans made it clear that they would do everything they could to make Democrats pay for passing the legislation. Yet, it happened despite the concerns of suburban lawmakers.
"This is exactly why (Cuomo) didn't want a Democratic Legislature. There are people that can work together." – Democratic source
The Green Light bill also highlighted Stewart-Cousins' tendency to hold her cards close on an issue as she builds support. Introduced in January, it sat in committee until June 10 but then became law within a week. "I'd rather just move quickly when the time is right than put people on a roller coaster ride for no reason," she said in an interview. The state Senate would wait until early June to announce its position on rent reforms despite the criticisms of activists and the taunting of Cuomo. "The question is: 'What can the Senate pass?' Whatever the Senate can pass, I know the Assembly can pass, and I will sign," Cuomo told WAMC on June 6. The deal that the Assembly and Senate struck in the following days would reveal that the governor had miscalculated just how much consensus had been building on the issue among Democratic lawmakers. "This is exactly why he didn't want a Democratic Legislature," a high-level Democratic source in the Legislature told City & State at the time. "There are people that can work together."
There were times this year when progressive activists might have wished for more forceful leadership, such as on the failure to legalize recreational marijuana despite widespread support among lawmakers and the governor. Suburban lawmakers wanted limits on growing marijuana at home and provisions limiting where marijuana could be sold. Proponents wanted tax revenues to be directed to communities of color that were disproportionately targeted by the war on drugs. With at least eight Democratic senators on the fence, a final deal could not be reached by the end of the session. "Democracy is messy," state Sen. Liz Krueger said.
A deal on limiting solitary confinement through administrative means – struck by Stewart-Cousins, Heastie and Cuomo behind closed doors in the final days of the session – highlights how much remains the same in Albany after the first year of one-party rule. Activists found little comfort in limiting solitary confinement to 30 days. "We were betrayed," said Victor Pate, a formerly incarcerated person who experienced solitary confinement and now works as the statewide organizer for the New York Campaign for Alternatives to Isolated Confinement. Democratic lawmakers defended the deal as progress on an issue that can be addressed legislatively in the future. While activists, who met with Stewart-Cousins on several occasions, got their hopes up this year, she says that she keeps expectations in check on controversial bills as a rule. "I always tell people, I'd rather under promise and over deliver," she said.
Despite their different assessments of the solitary confinement deal, Stewart-Cousins and the activists agree in principle. They both believe that progress should be measured by results, in this case how many specific days the state can isolate an inmate. As leaders, Stewart-Cousins and Heastie use the same principle to justify their work in this past session. By including their members in the decision-making process, both leaders reason that they can get more done at a time when tensions between centrists and progressives pose one of the biggest legislative obstacles. If the "Wonder Twins" of Albany have any real superpowers, it might be an ability to keep Democratic legislators together through persuasion rather than sheer political muscle. "I'm an educator," Stewart-Cousins, a onetime high school English teacher, said in an interview. "I believe in making sure that people are not just being told to do this and do that. … It obviously worked well because of the amount of things that we were able to do."
Powered By
NEXT STORY: This week's biggest Winners & Losers