New York City
How reliable is New York City's power grid?
Lawmakers held a hearing on the July blackouts, but they're still waiting for answers.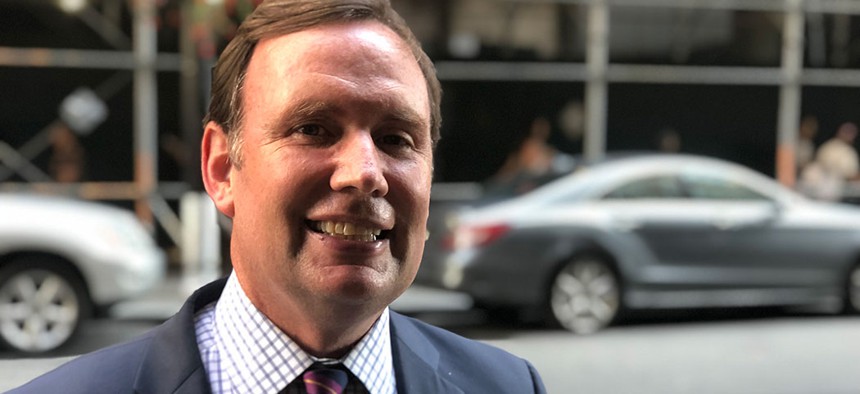 Just how reliable is New York City's power grid?
Members of the state Senate and Assembly examined that question at a Sept. 3 hearing in Manhattan. At the top of the agenda were questions surrounding major blackouts in Manhattan and Brooklyn in July that left tens of thousands of people without power. While a representative of Con Edison maintained that the utility operates one of the most reliable grids in the country, it was unable to provide data at the hearing that showed its reliability compared to other major energy markets.
An investigation into the blackouts by the state Public Service Commission remains ongoing. Until these investigations conclude, lawmakers are waiting on taking legislative actions to avoid future outages.
City & State caught up with Assembly Energy Committee Chairman Michael Cusick, who presided over the committee alongside state Senate Energy Committee Chairman Kevin Parker, to hear what lawmakers learned at the hearing and what it all means in a year when the city and state have both adopted ambitious plans to confront the climate crisis. The interview has been edited for length and clarity. 
How did this hearing further understanding of what caused these blackouts?
Today was productive in that we talked about the overall system and how Con Ed provides energy. After they complete their investigations, their look at the system and what went wrong, they still have to report back to us. The PSC too, we're waiting now for their investigation. PSC Chairman John Rhodes has said that it's going to show what went wrong and what went right. 
What the best educated guess right now of what happened?
I can't speculate on that because I don't work for Con Edison. I don't know the intricacies of the grid system. But many of my colleagues brought up issues about whether there were ways to predict that this was coming. Was there any indication that these faulty systems were faulty a year ago? Two years ago? How long ago was the last inspection of many of these systems that went faulty the day of this blackout? These are the things that I think that Con Ed now knows that the Legislature is focusing on – and they're going to have to provide answers to.
How has Con Ed done in terms of communicating with customers and lawmakers?
We had communications locally with our Staten Island Con Ed person, but many of my colleagues from other parts of the city felt that there could have been better communication. I think Con Ed heard that. Sitting on the dais, I could see and read people's faces and I think that they understood that that was the biggest statement that came up today. It must have came up at least five times from five separate legislators.
Con Ed was eager to brag that it has one of the most reliable grids in the country. Yet, it did not have any data available about how the New York City grid compares to other major markets. What do you make of that?
That was a pertinent question posed by Assemblyman Robert Carroll. Con Ed does say that they're the most reliable and when you're providing the electricity for New York City, you have to be reliable. So it will be interesting when Con Ed gets back to us on that.
What are your thoughts on some of the bigger issues that were brought up at the hearing, like this idea of setting up a public utility?
On the committee, we have many members who want to explore all issues and that's what we're allowing to happen. It's an interesting time in the energy world. People are excited. People have new ideas. People have institutional knowledge and I think we should take both sides into account when we move forward.
The issue of rate changes came up in the hearing. How does this relate to the blackouts?
All of it is tied together. That's what many of the members of the committee were trying to get across today. It's hard to explain to consumers and to constituents how their rates are going up if the power is going out. That's part of the answers they want to get from the PSC report. 
What comes next?
I don't think we can act until we get a report back from the PSC. Once they report what went wrong and what went right, we can fully act. We are not in legislative session right now. We could continue to have hearings and roundtables, but any legislative votes wouldn't take place until after January.
On a separate topic, you've been mentioned as a possible 2021 candidate for Staten Island borough president. Are you going to run?
I am currently in the Assembly and I currently have a reelection campaign. 
So are you ruling out a run?
I don't rule anything out.
Powered By
NEXT STORY: Cuomo's hot gov summer