New York State
Is offshore wind the future of New York energy?
How emerging technology could help New York meet its climate goals.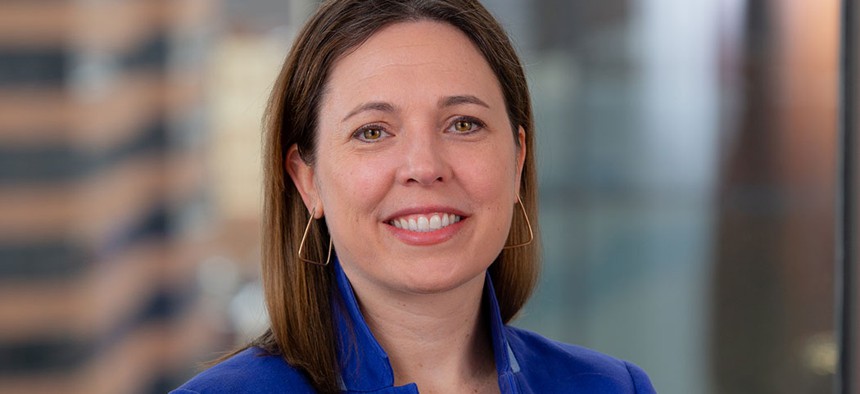 Once the state Legislature passed – and Gov. Andrew Cuomo signed – the Climate Leadership and Community Protection Act earlier this year, the hard work began to realize its ambitious goals for reducing New York's climate footprint. 
The landmark legislation calls for an 85% reduction in greenhouse gas emissions by 2050 as well as zero emissions in the state's power sector by 2040. Getting there will take technological advances on many fronts, including more solar power, better industrial-scale battery storage – and as many offshore wind facilities as the state can deploy. The state Energy Research and Development Authority will play a key role in making that all happen.
City & State caught up with NYSERDA President and CEO Alicia Barton to hear the latest on how the state is doing in developing its offshore wind facilities and other forms of renewable energy. The interview has been edited for length and clarity.
The state Climate Leadership and Community Protection Act sets up a Climate Action Council to direct its implementation. You're the co-chairwoman of that, right?
We are looking forward to more appointments being made and formally convening the body, but I can assure you that the staff at NYSERDA have wasted no time trying to get our arms around the work that will be needed to actually implement this law. There is a set of issues that will need to be taken up by the council, some of which are specified in the legislation and some of which are less expressed, but are inherent to the legislation. 
What are the right policy mechanisms to help us achieve some of these broad-based goals? Some of these issues are well understood, but there's not necessarily good models in other places. For example, the requirements that a minimum of 35% of the benefits go to disadvantaged communities in New York state. So we've been working hard to think about the timelines for implementation. We've been signaling to stakeholders that we're not going to wait for those deadlines to come. We are already setting our sights on 6,000 megawatts of distributed solar and 9,000 megawatts of offshore wind.
The state recently awarded two contracts for new offshore wind projects. How are they jump-starting this transition?
We had four different project proposers submit 18 different bid combinations. That type of competition is one powerful force for driving lower costs. What we did in putting out the RFP for these first projects was specifically require developers to provide mitigation plans for environmental impacts and fisheries mitigation plans. We were the first state to require that as part of the energy contract bids. We required that the developers negotiate and seek to negotiate a project labor agreement. What we saw come forward was I think just an incredibly robust set of economic benefits that were proposed alongside the nation-leading 1,700 megawatts of wind projects. We saw that they were proposing 1,600 new jobs and $3.2 billion in net economic benefits.
It's so important to send a strong market signal that this will be a very important part of our overall electricity mix going forward. Just to put that in context, the 9,000 megawatts could be approximately a third of the state load. In offshore wind, the wind is steadier, and the machines generate more electricity per turbine. It'll show that offshore can be cost competitive with land-based renewables.
What about solar?
For the most recent year, 2018, we have data that New York emerged as the second-largest market nationally for new distributed solar installations. We've had a significant effort around a program we call Solar For All, which provides subsidized community solar subscriptions for qualifying low-income New Yorkers, with a total target on that program of serving 10,000 households. We have seen our data for 2019 year to date beat 2018 by a good margin.
How does NYSERDA fit into the mix with natural gas?
We're not a regulatory agency. The Department of Environmental Conservation has certain regulatory approvals on specific projects related to infrastructure, and the Public Service Commission looks at access issues. We are really focused on accelerating and scaling the clean energy technology alternatives to fossil fuels, for heating in particular on the natural gas side. We are really focused on scaling energy efficiency, and clean heating and cooling technologies, as part of the solution for long-term greenhouse gas reduction. When the moratorium in Westchester County was announced, the state announced a multiagency effort to deliver a $250 million clean energy action plan. NYSERDA played a large part in that by going directly to consumers who might have been impacted by the moratorium.
Powered By
NEXT STORY: How the Port Authority is rebuilding New York