New York State
The black, gay Harvard grad taking on Nita Lowey
Mondaire Jones says the Hudson Valley congresswoman isn't a fighter.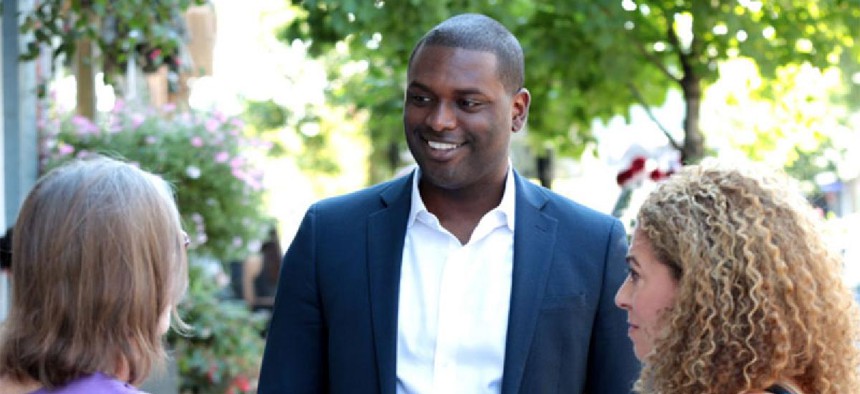 Stanford University undergrad. Harvard Law School alumnus. Worked in President Barack Obama's Justice Department. Black. Gay. Born and raised in the district. Went to local public schools.
Mondaire Jones has the kind of candidate biography that Democrats dream about. Problem is, he's running against a congressional powerhouse in Rep. Nita Lowey, who has been in Congress since 1989 and now chairs the House Appropriations Committee.
Jones, 32, can't remember a time before Lowey was his representative in the district that spans Rockland and northern Westchester counties. He thinks it's time for a change, and believes the district needs a more aggressively progressive member of Congress. So he quit his job as a litigator in the Westchester County Law Department to run for office full time – which serves to highlight his support for "Medicare for All." "I'm one of the 30 million uninsured Americans right now," Jones said. "Which goes to show you that the public option is insufficient for (the) purposes of solving this health care crisis."
Unlike some other crowded Democratic primaries in the state, where multiple challengers are taking on longtime incumbents, Jones may get to face off against Lowey one-on-one. Lucy Moreno-Casanova, a nonprofit project coordinator from outside the district in Yonkers, is the only other candidate to file for the race, but Jones said she isn't actually running. Her campaign has no presence online and failed to respond to multiple requests for comment.
Given their first congressional primary in more than three decades, will Democrats in the 17th District vote for change in the summer of 2020? Jones talked to City & State about how he could make history, whether he's a democratic socialist and whether there's a divide in the district.
Your opponent, Rep. Nita Lowey lives in Harrison, in Westchester County. You live across the Hudson River in South Nyack, in Rockland County. Is there a cultural divide between the two sides of the Hudson?
I think people from Westchester frequently go to Rockland, and people from Rockland frequently go to Westchester, whether to go to a restaurant or to work or to go to the Rockland Bakery. People have family in both counties. Westchester Democrats are more progressive than Rockland Democrats. Westchester is a more affluent place than Rockland, though there are affluent parts of Rockland as well. Westchester is three times the size of Rockland.
What do you call the bridge?
I call it the Tappan Zee Bridge. In parentheses, the Mario Cuomo Bridge.
The SALT deduction cap – 
The idea to me that we would allow the chair of the House Appropriations Committee (to) allow a budget to pass through her committee without insisting on a complete restoration of the SALT deduction is, to me, unconscionable. It is a huge scandal. And I think if people knew that there had been an ability to leverage the Democratic majority in the House, that more people would be outraged.
It's hugely important to the district, but doesn't that $10,000 cap only affect the wealthiest homeowners?
No. Absolutely not. The average property tax you pay in Westchester County is like $20,000 ($17,392 in 2018, per CBS News). When I owned a two-bedroom condo in Suffern, I was paying over $8,000 in property taxes alone. And you've got state income tax and god forbid you work in the city, you've got local taxes. It is very easy in New York state to be an adult and pay more than $10,000 in state and local taxes. We've got some fantastic schools to show for it. But (the limit), it was done deliberately to penalize us by this president in December of 2017. I just don't know what you're doing if you're not fighting for that.
There's been a moratorium on so-called pork spending since 2011. People assume that (Lowey) can do so much as the chair of the Appropriations Committee in the form of bringing money directly to the district. It's actually not true. What she can do is adjust the freaking tax code because her consent is required to pass any budget.
You hear the argument all the time about challengers – wouldn't a representative with power and seniority like Rep. Nita Lowey be better for the district than a freshman congressman?
We're not getting anything at the moment appreciable from her chairing (the Appropriations) Committee. I would bring an energy to the position of a fighter. Someone who is going to fight tooth and nail for the things we say we believe in. So it shouldn't take the first primary challenge in 30 years to get you to support impeachment. (Lowey backed an impeachment inquiry in July, weeks after Jones announced his candidacy.) You shouldn't have to be lobbied by activists all year to throw your nominal support behind the "Green New Deal." (The Green New Deal started gaining steam in December, and Lowey signed on in February, soon after Rep. Alexandria Ocasio-Cortez published a more specific framework.) It shouldn't be that you're giving more money to (U.S. Immigration and Customs Enforcement) than Republicans did the year before when they controlled the House of Representatives.
Policy is very personal for me. And these issues are life and death – not just for the people in the district, but nationally. And we are in a climate in 2019 that is very different from 1989 when she first took office. Nobody can expect reasonable behavior from the Republicans in Congress, so this impulse to compromise our values is, to me, insane.
It sounds like you're definitely running to the left of Lowey. Would you go as far as to consider yourself a democratic socialist?
I would not go so far, and am still trying to figure out the definition of a democratic socialist, candidly. But I do see myself as sharing many of the same views as the democratic socialists. I think that's demonstrably true. But I'm not frankly concerned about labels nearly as much as I am about doing the right thing for the people of New York's 17th Congressional District, the district where I was born and raised and where I currently live.
Rep. Antonio Delgado, who's black, just got elected last year in a district north of New York City. Has that made your path to victory more realistic?
I think Antonio Delgado, given the similarities in our backgrounds and his far more competitive district – as someone who flipped the seat from red to blue – shows you that voters in the Hudson Valley, or in my case the Lower Hudson Valley, are absolutely open to electing a person of color or a member of the LGBTQ+ community, because look at Sean Patrick Maloney, just one district north of mine.
You're black and gay. Has there ever been a member of Congress like you?
There's never been an openly gay, African American member of Congress, to my knowledge. When (Texas Rep.) Barbara Jordan died, her obituary said that she lived with a woman for 20 years. So the historic nature of this campaign is not lost on me. It's not something I spend a lot of time talking about. But I do believe that representation matters. 
Even though I was 9 years old, (the) passage of (the Defense of Marriage Act) contributed to an environment in this country that legitimized homophobia and made me, as someone who was struggling with his sexuality, even then, traumatized. I came out when I was 24 years old. And in addition to religion – I grew up in the Baptist Church – it was how I'd be perceived by other people in my life and in this country (that kept me from coming out).
Lowey is probably going to get the full force of the Democratic establishment behind her reelection. Does that matter to you?
My focus is on speaking directly to voters, and that's what's going to make a difference in this contest. Not some endorsement going to Nita that people assumed would be the case anyway. If I don't get a single endorsement in this race from an elected official in my district, it will not prevent me from winning office.
Are you backing a particular presidential candidate in 2020?
I would vote for any candidate who got the Democratic nomination, and I've been inspired by a number of candidates. I'm on the progressive end of the spectrum, but I have great respect and admiration for many of the people who are not.
Powered By
NEXT STORY: This week's biggest Winners & Losers