Personality
Julie Menin's political future
DA or BP? Local leaders, pundits predict where she might go once the census is over.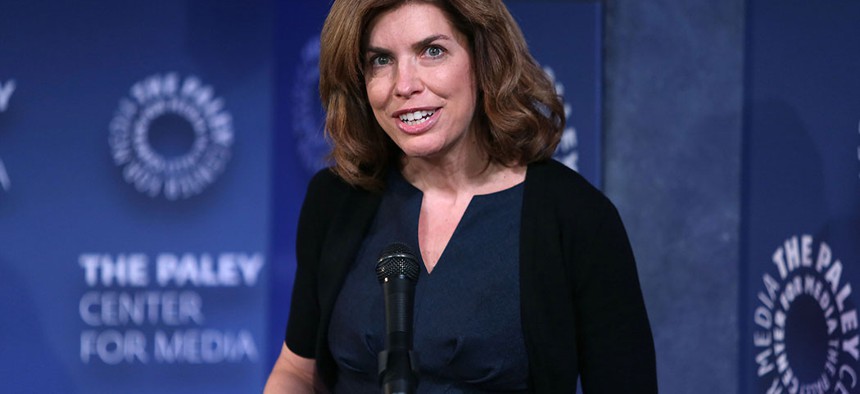 Julie Menin has two important jobs right now, and New Yorkers may be hearing her name a lot more frequently this fall when candidates start gearing up to run for district attorney, borough president and other New York City offices in 2021.
For the past year, the city census czar has led one of the state's highest-profile campaigns to ensure that the decennial survey counts every New York City resident, despite failed efforts by the Trump administration to drive down response rates among noncitizens.
In addition, Menin has a senior role with the city Law Department to bring cases whenever the federal government and corporations take actions that harm New Yorkers. Once census workers finish their tallies this summer, Menin will have to make an important decision about what to do next in her career.
"I think Julie has a bright future ahead of her," District Council 37 Executive Director Henry Garrido told City & State. "The work she's done with the census has been tremendous and her whole life has been public service. Certainly she'll be at the forefront of any race she seeks."
Menin has been coy about her intentions. A month after Mayor Bill de Blasio appointed her to both positions, the New York Post reported that Menin was eyeing a run for Manhattan district attorney and that her staff contacted political club leaders to arrange outreach meetings.
These days, Menin says she is "singularly focused" on the census.
"We have an unprecedented campaign to count every New Yorker and it is all-consuming," she told City & State. "Once it concludes I am going to take a hard look at how I feel about how I best continue work in public sector life."
That hasn't stopped those in Manhattan political circles from preparing for her future.
Supporters are closely monitoring which candidates have expressed interest in the Manhattan district attorney's race, one Democratic officeholder said. And Menin has been discussing the seat with key political leaders like National Organization for Women New York City President Sonia Ossorio.
"I have spoken to her about the district attorney race, that's the first one that comes to my mind," Ossorio told City & State. "She'd be a formidable candidate and a serious opponent to any candidate, including the current district attorney."
But that doesn't preclude her interest in other seats such as Manhattan borough president, which could put her on a path for citywide office.
"If someone like Julie ran and won Manhattan borough president, you'd have to talk about her as a potential mayoral candidate," Metropolitan Public Strategies CEO Neal Kwatra said. "Given the paucity of top-tier female candidates, someone like Julie is going to have a real impact on the race if she gets into (it) because we have a lot of white guys running for a lot of seats."
Menin has familiarity with the borough president's office, since she already ran for it in 2013. She raised more than $1 million but finished fourth in a four-way race, garnering just 17% of the vote.
Instead of going to the private sector, Menin joined the de Blasio administration as its Department of Consumer Affairs commissioner before shifting to head the Mayor's Office of Media and Entertainment, where she helped lure the Grammy Awards back to New York City.
A disappointing result in 2013 should not discourage her from running again, political observers said.
"It's true that Julie lost her only electoral bid, but nobody could have beaten Gale Brewer in that contest," former Public Advocate Mark Green told City & State. "Menin got on the political scoreboard because she showed her fundraising and retail politics chops."
But running the top law enforcement post in Manhattan may be more enticing.
Menin positioned herself as a legal advocate when she investigated the possible illegal sales of handguns online, oversaw the city's paid sick leave outreach campaign, and found that women were taxed more than men for similar products while at the Department of Consumer Affairs, which she described as a "prosecutorial agency."
The challenge, of course, is that the incumbent may not be going anywhere. Manhattan District Attorney Cyrus Vance Jr. has given no indication he will step down after a rocky third term in which he's been criticized for accepting contributions from defense attorneys and for mishandling cases involving President Donald Trump's children and Harvey Weinstein.
Vance would be the favorite in a crowded race, and so far several candidates, including Assemblyman Dan Quart, have announced their intentions to run.
"A bigger field plays to (the) advantage of the incumbent since opposition divides evenly," said Kwatra, who helped Ken Thompson defeat then-Brooklyn District Attorney Charles Hynes in 2013.
Ossorio believes that Menin would use her experiences to craft a vision for the office and address the criminal justice issues currently roiling our culture, such as bail reform and workplace sexual harassment.
"In terms of the #MeToo movement, you have to start with the fact that she is a woman," Ossorio said. "For a lot of voters, particularly women voters, there is a built-in sense that a woman is going to understand the experience of sexual assault better than a man."
Powered By
NEXT STORY: This week's biggest Winners & Losers