Personality
The cable TV legal expert challenging Westchester's DA
Mimi Rocah is taking on incumbent Anthony Scarpino in the Democratic primary.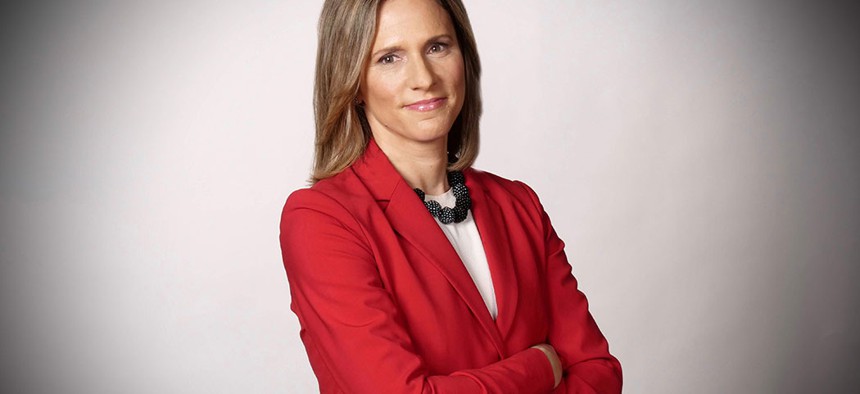 One former Westchester district attorney, Jeanine Pirro, moved on to TV after leaving office, hosting a show on Fox News. Now MSNBC legal analyst Mimi Rocah is trying to go in the opposite direction, from TV to becoming the county's top prosecutor.
Rocah is challenging Westchester District Attorney Anthony Scarpino in the Democratic primary on June 23. Scarpino was first elected in 2016 and is running for reelection for the first time. Rocah substantially outraised him as of the first financial filing deadline on Jan. 11, bringing in nearly $329,000. Scarpino raised $131,000 and now has about $189,000 in his campaign account.
Other than appearing on MSNBC, Rocah is a criminal justice fellow at the Pace University law school. From 2001 to 2017, she was an assistant U.S. attorney in the Southern District of New York, leaving as co-chief of the White Plains division.
City & State caught up with her ahead of the Jan. 29 Westchester County Democratic Convention to talk about why she's running, her thoughts on the new bail laws, and how she wishes she could take back her comments on presidential candidate Bernie Sanders. 
Westchester District Attorney Anthony Scarpino is running for his second term, after being elected in 2016. Why are you challenging him in the Democratic primary?
It's not about what he's doing wrong. I just think there's so much more we can do with the district attorney's office, both to help us make Westchester safer, but also to make the system as a whole more fair, both for victims and for people who potentially get charged or become part of the system. In this time that we're in when we have these very anti-democratic people leading the country in Washington, and (President Donald) Trump and (U.S. Attorney General) Bill Barr as the face of the justice system to most of America, it's more important than ever to stand out and put our best foot forward as the Democratic Party, as people who believe in equality and fairness, as people who believe in innovation and progress and modernizing our criminal justice system.
You've challenged Scarpino to 10 debates. Do you expect him to accept the challenge, or to try to have fewer or no debates?
We have heard nothing in response to that challenge. And it's a real challenge, and I really would like the opportunity. These are really important, life-and-death issues. There's so much to talk about, and a debate would be a wonderful forum to be able to really talk more substantively about my gun control platform and things that are very simple that we could do on day one that I don't understand why they're not taking that now.
How do you feel about the state's new law limiting the use of bail? Do you think state legislators should change it this year?
The most important thing to say about the new bail law is it was absolutely necessary. The idea that we were keeping people in jail pretrial because they couldn't afford to pay money is – we were in the Dark Ages. There were so many states, less progressive than New York frankly, that have already done away with cash bail pretrial. And in the federal system – which I grew up in for 16 years as a federal prosecutor – we didn't have cash bail. No one was detained pretrial in jail just because they couldn't afford to pay for it.
Obviously, like any other kind of change, it's gonna take a lot of getting used to. It's going to take a lot of leadership, implementing and figuring out what we need to fine tune. And I think there are going to be some changes that we need to make. But we had to take this first step and it should be celebrated.
Should New York join the majority of other states and allow judges to consider a defendant's dangerousness in regards to whether they should be detained pretrial?
Again, in the federal system that I came from, that was a possibility. I think we should at least consider it. It's too soon to decide what changes we can make until we see how this plays out. I am confident that there are changes that will need to be made.
On the same day of the election for DA, there's going to be a huge congressional election in Westchester County, to replace the retiring Rep. Nita Lowey. Have you endorsed any candidates, or do you plan to campaign with anyone?
No. I think it's amazing that so many different people who are frankly excellent in so many different ways are stepping up. And I'm glad to see it, but I don't, at least right now, plan to particularly endorse any one candidate.
You've gotten a lot of flak from Bernie Sanders supporters after saying on MSNBC in July that he "makes your skin crawl." Did you just mean politically, or was that personally?
That was probably the one time on TV as a legal commentator I was asked my personal view on two candidates – Sanders compared to (Elizabeth) Warren. I wish I'd said it differently. I think I was expressing a sentiment that I personally felt and that some other women out there had felt about the way Hillary Clinton was treated and during that (2016) campaign and some other things he's done. But while we're all entitled to our personal views, I definitely could have said it in a better way.
Have you endorsed in the presidential race yet?
No, and I have a lot of favorite candidates. I would absolutely support whoever the nominee is 1,000%. Because the most important thing is getting Donald Trump out of the office.
Do you have any prosecutors that you look up to or you would hope to emulate in this office?
(Former U.S. Attorney) Preet Bharara is my friend, he was my boss, he is a mentor. Preet really tried to teach all of us from day one this idea of not just pursuing cases for the sake of prosecution, not just pursuing a sentence for the sake of the highest sentence, but trying to do justice. And sometimes that meant making sure that somebody's case is dismissed or exonerated, because we found out something later about the case. 
The most important thing a prosecutor can do as a leader is teach that to the generations of prosecutors who come after them. Because I can't look over the shoulder every day of every prosecutor in my office with every single decision they make. So what I have to do, what I can do, is teach them the right set of values, of integrity and fairness and how to pursue cases in the best way but also how to pull back and be more fair about the system as a whole.