Chirlane McCray
Could Chirlane McCray thrive as a candidate for Brooklyn borough president?
New York City's first lady may have her husband playing second fiddle.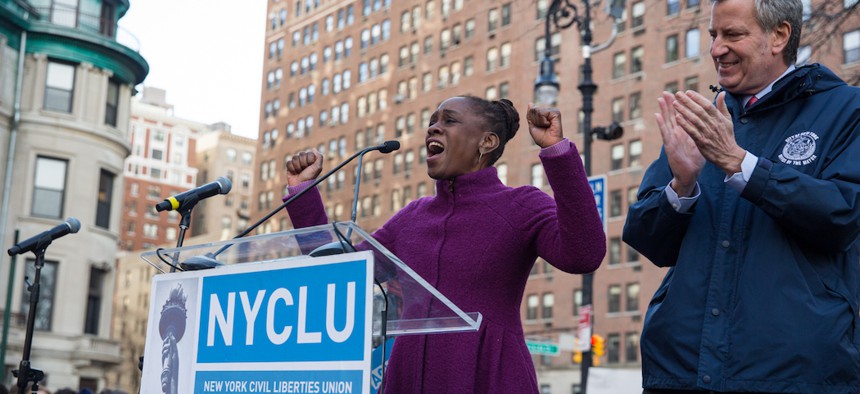 New York City first lady Chirlane McCray has long held the position of the mayor's closest adviser. And as her husband Bill de Blasio's tenure winds down, she seems to be gearing up to take the spotlight – but she'll also be carrying plenty of baggage.
McCray has floated the idea of running for office for years now. In 2018, she opened the door to the possibility, although she said that she likely wouldn't run to replace her husband in Gracie Mansion. At the time, she speculated that it "could be something in Albany, could be Brooklyn, local, citywide, I don't know." McCray hasn't publicly indicated what direction she's leaning, but recent reports suggest that she's going the Brooklyn route.
The Daily News reported last month that de Blasio is pushing for his wife to become the next Brooklyn borough president. Eric Adams, the office's current occupant, will leave in 2021 and is running for mayor. According to the Daily News, de Blasio wants Adams to endorse McCray for the post, in exchange for de Blasio backing Adams for mayor. Spokespeople for de Blasio and Adams denied that any such agreement had been discussed.
Meanwhile, McCray has reportedly been speaking with her own advisers about a potential borough president run. Several days after the Daily News report, the New York Post reported that the Brooklyn Democratic Party – now under the control of de Blasio ally Assemblywoman Rodneyse Bichotte – had hired former top de Blasio adviser Jon Paul Lupo. The Post reported that insiders saw the move as one to help de Blasio gain influence over the county committee, in order to help McCray become borough president. Lupo denied the mayor pulled any strings or orchestrated any backroom deals.
If she runs, McCray must face the voters with a less than stellar record. Her unusually active role as first lady has put her in the spotlight far more than her predecessors – and granted her enviable name recognition – but that has brought with it scrutiny. Many have raised questions about nepotism, particularly when de Blasio suggested that McCray should be getting paid for her work, and the outsized role that an unelected and unofficial adviser has on public policy in New York City.
McCray has also drawn criticism for her landmark mental health initiative ThriveNYC, which first began as an action plan announced in 2015. Since then, the program has expanded, operating with a $850 million budget. It has been criticized for having little transparency about how that massive budget is being spent each year. The program does not operate out of a single city agency either, making it harder to track spending. The success of ThriveNYC has also been scrutinized, as it has no real metrics by which its success can be measured. In March 2019, the initiative's director admitted that it was not "yet affecting a citywide metric on mental health." The mayor's report – a yearly performance review of city agencies – found in September that ThriveNYC did not hit its own self-imposed goals for fiscal year 2019.
While facing skeptical lawmakers during a New York City Council hearing last year, McCray said another city official "does the day-to-day management and makes the decisions," while she takes the program's "message to the public."
In recent weeks, it seems like McCray is doing her best to change the subject away from Thrive and raise her profile in Brooklyn as rumors swirl about her run for office. She unveiled a home-visit initiative to help new parents with postnatal mental health issues (rolling out first in Brooklyn), announced a new Brooklyn-based podcast and received a glowing New York Times writeup about her arts and culture legacy.
Another wild card for McCray is her husband's next job – especially if U.S. Sen. Bernie Sanders of Vermont, who has taken the lead in the Democratic presidential primary, is elected this fall. De Blasio recently endorsed Sanders and joined him on the campaign trail, and could conceivably find a place in a Sanders administration or in another post, such as chairman of the Democratic National Committee. Should de Blasio leave the city, it could prompt McCray to opt against a run for office in New York.
Powered By
NEXT STORY: The New York candidate backed by AOC's PAC