Andrew Cuomo
Where Cuomo could go on his cross-country weed tour
A proposed itinerary for a 'laid back, cool dude in a loose mood.'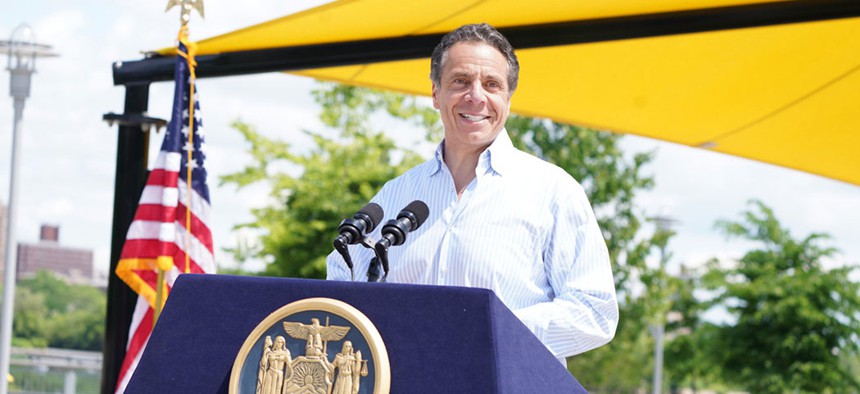 On Thursday, Gov. Andrew Cuomo announced that he's planning to take a tour of states where recreational marijuana use has been legalized, including California, Colorado, Illinois and Massachusetts, to gain some tips and insights on the legalization process. 
The tour is strictly a fact-finding mission for the governor – who said he's even bringing a "taster" along to try edible marijuana products so he won't have to – but we thought we'd give Cuomo a couple of recommendations just in case he's feeling the irie while he's out of town. 
We get why someone in the governor's position would be iffy about publicly sampling some ganja – but isn't that what a "laid back, cool dude in a loose mood" would do? Here are a couple of stops Cuomo could make on his tour if he ever feels like giving his taster the day off:
Go on a Buds & Beers tour
We already know that Cuomo loves a good brewski, so what better way for him to ease his way into cannabis culture than by going on a bus tour in Colorado that makes a stop at a commercial grow plant and a brewery? He might just get another beer – or even a strain of marijuana – named after him if he plays his cards right.
Gain insights from a real cannabis connoisseur 
There's no one more synonymous with the movement to legalize and normalize marijuana use than Tommy Chong – with the exception of Richard "Cheech" Marin, that is. So why not spend an afternoon with the legendary lover of all things marijuana and visit a dispensary in Southern California? 
Take a pottery class
At the Puff, Pass & POTtery class in Denver, Colorado, Cuomo can get baked before he bakes his clay creation in a kiln. And who knows, he may even have a sensual "Ghost"-like experience with the spirit of Robert Moses.
Spark up a doobie at 4:20 p.m.
Since Massachussettes and Illinois' marijuana industries don't have the same robust offerings as California and Colorado do yet, the governor probably won't be able to partake in any special weed activities in those states. That's why we suggested he simply enjoy the time honored stoner tradition of smoking a joint at 4:20 p.m. and unwind. 
Correction: The governor's office informed City & State that he will not actually be bringing a "taster" with him on his tour, he only said he would.
Powered By
NEXT STORY: This week's biggest Winners & Losers