Coronavirus
The importance of low-wage workers during a pandemic
RWDSU President Stuart Appelbaum talks about the challenges his members face as they perform essential work.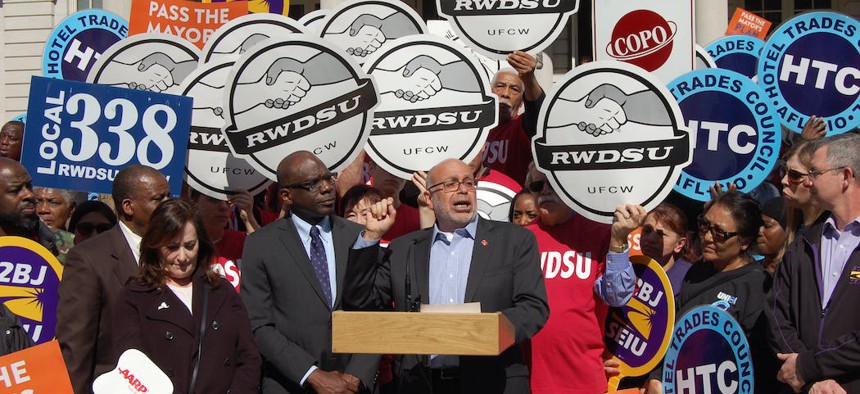 Grocery store and pharmacy workers, generally low-wage workers that may have previously been dismissed as expendable and unskilled, find themselves on the front lines of the coronavirus pandemic. While most businesses in the state have shut down, these workers continue to provide essential services to keep society functioning as New York attempts to combat the coronavirus, often at their own risk.
Many of these workers are unionized with the Retail, Wholesale and Department Store Union. Its president, Stuart Appelbaum, spoke with City & State about the challenges his members face, the victories the union has won amid the coronavirus crisis and the importance of recognizing the vital role of low-wage workers. This interview has been edited for length and clarity.
What are some of the biggest challenges right now for some of your members, grocery stores or otherwise?
Let me tell you a little bit about our memberships. In addition to grocery store workers, we represent a lot of retail workers who are not working now. We also have nursing homes. So we have a lot of people who are on the front lines there too. And we also do a lot of food production. I think keeping our food supply open is also part of the front line in terms of making sure that we're all able to survive. So when you look at our membership, our retail workers who are not in supermarkets are concerned about what's going to happen to them and for their future, how they're going to survive. What I find surprising is that after Congress approved and the president signed stimulus bills, where the retail industry is going to be able to participate in stimulus relief, they immediately laid off all their employees, which seems to be the opposite purpose of what a stimulus bill is. I think that has to be addressed immediately by the companies that benefit in many ways from the stimulus bills.
What have been some of the things that you've been hearing from members on the ground?
First of all, people are working harder than they ever have before because of the volume. And the fact that the supermarkets need many more workers, they're advertising for more workers, there's a volume into stores that has never been anticipated in the past. And supermarkets know they need more people to deal with it. So what does that mean for the individual worker? First of all, they go to work afraid. Two, they know that they have to work harder and longer than they ever have before. The worries about how they're going to be affected and what they're going to bring home to their families is always at the front of their minds. And they're finding that many customers are on edge as well. That has come out in terms of interactions with the cashiers. People are desperate in all different sorts of ways, worried in all sorts of ways. It's several times I've been told how customers have actually tried to steal the hand sanitizer that the cashiers have next to their register to protect them.
As you said, everyone is working incredibly hard right now and working extra hours.
Yes. 10-, 12-hour days.
Has there been an influx of new employees to lighten the load?
I don't know how many they've been able to bring in. I don't know how responsive people have been. But I know the companies are desperately, desperately looking for more people to come to work.
What are some wins that you can say that you have been able to achieve for your members?
I think the reason that they are eligible for child care funding (under the new federal stimulus bill) is because we've lobbied for it. The protective equipment they've got is often because we've had to push the employers to do it. One company, which I'm not going to name, we forced them to change their – we also represent drugstores – we forced an employer to change its policies. We forced many employers to put up plexiglass guards that weren't there. One employer just wanted to put up a card table in front of the register to increase the distance and have you lean over, but that wasn't sufficient. We also have achieved hazard pay for our members from the employers. We negotiated that with our employers. I think, though, that one thing that has to come out of this is that I think people now understand that all work should be valued. And that we all owe a debt of gratitude to grocery workers, who are putting themselves at risk to do these jobs. If they did not, we would not be able to survive.
Have more workplaces and workers tried to unionize with RWDSU?
I don't think that is something we've been focusing on right now. But I think we've heard from people who understand that especially in times like this it's crucial to have a collective voice.
Have you heard about any deaths among your members or your stores?
I'm not aware of deaths in any of our stores yet. It's not to say there aren't. But I presume that we have people who are sick. I know we've had people in stores who are sick and stores have had to temporarily close.
How do you feel about the recent Amazon strike and the firing of the employee who organized it?
There has been an outpouring of support for these Amazon workers and incredible outrage that Amazon would choose to punish the whistleblower rather than improving or fixing the problems that were exposed. You have to remember, too, that the one corporation that is doing extremely well during this crisis is Amazon, and it was already an extraordinarily wealthy corporation of the wealthiest man on the planet. And you look at how little it is they're doing to protect their own workforce. It's amazing; it's outrageous. All these companies need to know that how they treat their employees' safety today is going to be remembered tomorrow. They are going to be judged. Their reputation is going to depend on how they treat working people during this crisis.
I've seen a lot of posts on social media pointing out the irony that all these overlooked, low-wage workers are now essential.
People finally understand that low-wage workers need to be appreciated and valued. That they are the ones who allow our society to continue to function. Nobody now is worrying about what white-collar workers are doing during this crisis. What they are concerned about is that supermarket workers and other low-wage workers have continued to work, that those are the ones who are important for us to be able to get through this. We expect in the future that the way they will be treated in the workplace, and the way they will be compensated in the future, will reflect the intrinsic value of what it is they are contributing to society, often at their own risk.