Interviews & Profiles
Jessica Ramos isn't sugarcoating anything
The no-nonsense state senator is an outspoken progressive, an adept political operator – and won't put up with your bullshit.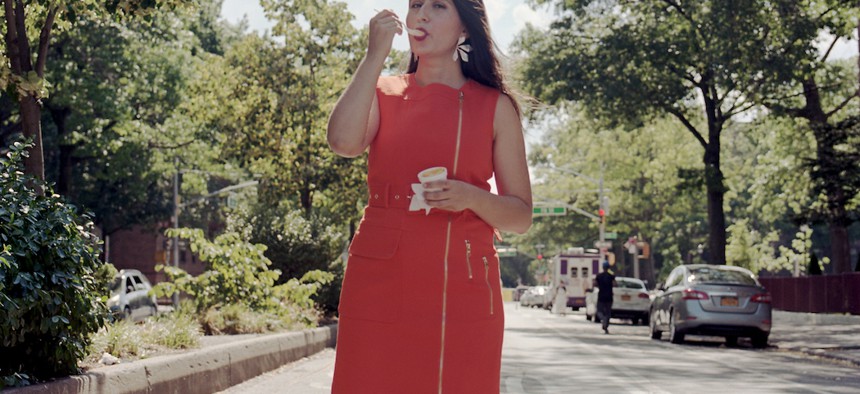 A day before her 35th birthday, state Sen. Jessica Ramos hosted a Zoom fundraiser to celebrate. Although she advertised it on her Twitter feed, the video call was populated mostly by friends and colleagues "shooting (the) shit," as Ramos said at one point during the Zoom party, sharing stories about the woman of the hour. 
Ramos had expected to get roasted by her colleagues – and there was a little roasting, notably from state Sen. John Liu, a fellow freshman from Queens. But by and large, her colleagues spoke sincerely and painted a picture of a person unafraid of a fight. "She is a whirl of energy and just powerful messaging," state Sen. Brian Benjamin said near the start of the Zoom party. "And every time she gets up to speak, Republicans start to moan and groan because they know she's gonna bring that heat."
Liu shared a similar sentiment. "When she doesn't like what somebody is saying, Republican or Democrat, I start seeing the twitches," Liu said. "Jessica Ramos: Don't get on her bad side."
"That is ... freakin' true," state Sen. Gustavo Rivera chimed in.
Among friends and colleagues, Ramos is known for her candor and no-nonsense attitude. As Parkside Group partner and longtime Ramos ally Evan Stavisky put it to City & State, "She doesn't just have a low tolerance for bullshit, she has a low tolerance for incompetence as well. If you're trying to convince her of something, you'd better be prepared." 
Upon first meeting her, some may find that quality a little abrasive. Former New York City Council Member Rafael Espinal Jr. joked during her party that at first he thought she didn't like him. "Did you say anything stupid to me?" she quipped back.
But to her allies, it has helped make her an effective legislator. "I find it incredibly, incredibly refreshing," Working Families Party National Political Organizer Tiffany Cabán told City & State. "I think one of the reasons we vibe so well is that she is no bullshit and we can just straight-up talk about it." Cabán said Ramos is her "homie," a term she said she doesn't use for just anyone.
During her first term as a state senator, Ramos has cemented herself as an outspoken progressive, and her reputation for blunt honesty is a key part of that image. 
Unlike some other freshmen who toppled incumbents, however, she has followed a more conventional political career trajectory. She served on her community board and as a district leader, joined a political club and worked in government before running for office. For most of her career prior to holding office, she was a communications professional crafting political messaging for others, preparing her to eventually craft her own political image.
But Ramos' history is also more complicated than just a young politico working her way up the ladder. She has defied the county party more than once – not just when she ran for state Senate. She worked for over a decade in communications, mostly for labor unions, making her uniquely prepared to get information out smoothly to constituents. With a mix of progressive credentials, establishment roots and public relations skills, state Sen. Jessica Ramos embodies many of the crosscurrents in Queens politics, but she doesn't fit into any one mold of a New York politician.
"Every time she gets up to speak, Republicans start to moan and groan because they know she's gonna bring that heat." – state Sen. Brian Benjamin
Ramos has a long history of civic engagement in her community thanks in part to her parents, both undocumented Colombian immigrants who became activists in Western Queens. At age 15, she was quoted in a New York Times article as a participant in anti-police brutality protests following the 2000 acquittal of the officers involved in Amadou Diallo's shooting death. But Ramos officially got her start in politics in 2006 working for then-City Council Member Hiram Monserrate. She dropped out of college at Hofstra University, abandoning plans to be a corporate lawyer, to work in his office after getting involved in union organizing on campus. 
Monserrate, now a polarizing figure due to domestic violence and public corruption convictions, was involved in Ramos' campus labor activism, and Ramos was invited to work for him. She said that at the time, he was fairly progressive – he was the first to introduce legislation for municipal IDs – and that he made history as the first Latino elected official from Queens, despite his now tarnished reputation. "It was a very big learning experience for me," Ramos, who now denounces Monserrate, said. "It really opened my eyes into the legislative process, and also how to work with other offices to get things done." 
Soon after Ramos went to work for Monserrate, she joined the Queens County Young Democrats, which at the time was led by future City Council Member Costa Constantinides, then just a council staffer himself. It was a time when the group was trying to rebuild, expand and reestablish its influence in Queens politics. "Sure, we worked within the confines (of the county party) to a degree, but we also pushed them to be better," Alexis Confer, who befriended Ramos through Queens County Young Democrats when the two were in their 20s, told City & State. "That was like the whole point of what we were doing." 
Ramos left Monserrate's office in mid-2008, months before he was charged with assault, in part due to low pay and because of concerns she was beginning to have about conduct in the office. (Monserrate was later convicted on corruption charges from his time in the City Council.) She took a communications and editing job with Social Service Employees Union Local 371, the first of several labor union jobs she would have before joining the state Senate, where she would become chair of the Labor Committee. Two years after leaving Monserrate's office, Ramos told county Democratic leaders she wanted to run against longtime District Leader Helen Sears, a former City Council member who was considering a state Senate run on the Republican line in an upcoming special election. But Sears remained a Democratic district leader with the party's support. "They kind of laughed in my face," Ramos recalled to City & State.
Later in the year, Ramos had the opportunity to run for an open district leader seat in the 39th Assembly District when someone retired. (She had recently moved about nine blocks to the west, placing her within that district as opposed to Sears'.) With the county party's blessing, she won the seat.
"Colombians had never had an elected official," Ramos said. "It was really about making sure that representation was reflective of the actual demographics of our community." She joined New Visions Democratic Club, a progressive Queens political club.
Things changed for Ramos in 2014 when she bucked the party. This wasn't necessarily new, nor would it be the last time. "She tangled a bit with the local organization, because she always had a very clear agenda of what she thought was right," Stavisky said. In this case, Ramos decided she would support then-Council Member Melissa Mark-Viverito for council speaker, the progressive choice in the race, rather than Council Member Daniel Garodnick, whom the county organization supported. Ramos said she supported Mark-Viverito because of her progressive values, but also because of the historic nature of her soon-to-be tenure – Mark-Viverito was the first Latina to hold the powerful position of council speaker.
Ramos joined fellow Queens progressives then-Council Member Julissa Ferreras-Copeland and Council Member Jimmy Van Bramer. But while Ferreras-Copeland and Van Bramer received choice committee chairs from Mark-Viverito after she won, Ramos lost the backing of county leaders for her reelection, and then lost her district leader seat.
"It certainly cemented my political self," Ramos said. "I felt proud of my decision because I knew I did the right thing. And that's the type of person I want to be." Running for reelection without party support also gave her the experience of petitioning on her own and putting together an operation – even though she lost. That experience would come in handy four years later when Ramos decided to once again challenge the county organization by running against then-state Sen. Jose Peralta who had belonged to the Independent Democratic Conference, which shared power with state Senate Republicans.
Shortly before that run for office, Ramos left the union world to work in the administration of New York City Mayor Bill de Blasio. Initially, she worked as the communications adviser to then-Deputy Mayor Richard Buery in 2016. She was involved with all of Buery's initiatives, notably Pre-K for All, which rolled out a year earlier, and the start of ThriveNYC. "I think Jessica, she's a good storyteller," Confer, who was Buery's chief of staff and recruited Ramos, said. "It's not always about the sound bite; it's about how you can make it accessible to people."
After 10 months with Buery, Ramos was brought on to de Blasio's immediate press team as his first director of Latino media, where she ran the administration's outreach to an array of other ethnic media in the city. 
Ramos left the mayor's office at the end of 2017 in preparation for her run for state Senate. She said her work with ethnic media serves her well now as she represents one of the most diverse areas in the entire country.
 "Don't get on her bad side." – state Sen. John Liu
Although Ramos held some traditional political and governmental roles leading up to her time as a lawmaker, the way she actually entered office was a bit atypical. President Donald Trump had been elected two years before her 2018 run, which energized Democratic voters to engage in politics. Loyal Democrats in New York became enraged that the Independent Democratic Conference shared power with the GOP instead of caucusing with their own party. 
Peralta – who represented the largely working-class, immigrant communities of Jackson Heights, Corona and East Elmhurst – was one of those IDC members, having joined in 2017. He faced staunch backlash from his community at the first town hall he held after joining the breakaway conference. Ramos was one of his constituents in attendance that day, and it would eventually lead to her challenge. 
Other Democrats in the past had tried and failed to gain enough traction to unseat IDC members. And after the conference disbanded in April 2018, months before the primaries, the prospect seemed even more difficult – officially, the state Senate and Democratic Party leaders across the state were expected to back the incumbents. But in the end, six of the eight IDC challengers declared victory on primary day in September.
State Sen. Michael Gianaris played a role in unseating those former IDC members behind the scenes, quietly recruiting strong candidates to take them on. He remembers exactly where he first met with Ramos to discuss the prospect of her candidacy: Bareburger on 31st Avenue in Astoria. "She expressed a great enthusiasm for it and basically came in – didn't require a lot of recruiting," Gianaris said. "At the time, other people were talking to some established officials, council people, et cetera, but she took the bull by the horns and made it happen."
Like the other insurgents who did not have the institutional support to aid their campaigns, Ramos was in part propelled by grassroots progressive organizations like True Blue NY and No IDC NY. But Gianaris considered her background in politics and government, combined with her work in union organizing, invaluable. "In her role as a legislator, she has enough experience to know how government works, but was never a big enough part of the institution to be kind of reluctant to make aggressive moves," Gianaris said. "She's first and foremost an activist trying to bring change, but also has enough knowledge of how to use the levers of power to do that."
Still, the experience sets her apart from many prominent progressive challengers recently, notably those backed by the New York City chapter of the Democratic Socialists of America, who often have little experience in local politics or government before running for office. Tiffany Cabán was one such DSA candidate when she ran for Queens district attorney in 2019. A young former public defender, she threw her hat into the ring to replace Queens District Attorney Richard Brown, running to completely reshape the office in a progressive, restorative justice model. 
How Cabán ultimately entered the political arena is very different from Ramos, who was one of Cabán's early supporters, but that hasn't prevented the pair from being homies. "We think about movement work very similarly, in the sense that it doesn't really matter what the labels are or who the folks are, but if we are rooted in the same theories of change," Cabán said. She added that there are a million ways for people to get civically engaged, and coming up in a more "traditional" sense is just one of them. It's somewhat reminiscent of what Confer said about rebuilding the Queens County Young Democrats years ago – working within the party while pushing it to be better. 
Despite their ideological similarities, Cabán isn't trying to get Ramos to join the DSA. And Ramos has no interest in becoming a member either. "No, thank you," Ramos said bluntly when asked about it. "I think that remaining independent has allowed me to stay limber, and be able to adapt to different working groups, depending on the issue at hand." While county Democratic organizations have long gotten a bad rap from progressives, Ramos is wary to a degree of any particular group that may wind up with outsized influence. "There will always be a group of people that are in charge," Ramos said. "Machines are so funny, because, often, people are just upset they are not the machine."
"When others might be more interested in being polite, she's more interested in telling people what she believes." – state Sen. Michael Gianaris
When her landmark Farm Laborers Fair Labor Practices Act passed in the state Senate in 2019, after hours of debate from reticent Republicans, Ramos thanked a variety of people for their support. Notably, she thanked two Republican state senators – Michael Ranzenhofer, who had questioned her for about 35 minutes on the bill, for being the only Republican to invite her into his district while she toured the state for input on the legislation, and Phil Boyle, for being the only GOP member to attend a hearing on the bill. "That really did, I think, make a difference," Ramos said during her floor speech. 
Ramos prides herself on her independence, and she feels it's one of the things that allows her to work with anyone and everyone necessary to help her constituency, whether that's the Queens Democratic Party, the DSA or even Republicans. "She has ... very savvy ways of building coalitions to accomplish her goals, even if it's with people she would not otherwise agree with," Stavisky said. "If you're willing to work with her to address the challenges and the problems that she sees in her community, in her borough, in the city and in the state, then she's a great ally. If you're an impediment to that, then, you know, watch out." 
Back in 2019, Ramos was one of three state legislators (the others being her former roommates state Sen. Alessandra Biaggi and Assembly Member Yuh-Line Niou) to denounce Gov. Andrew Cuomo's high-dollar fundraising practices during budget season. The decision got the attention of Cuomo's bulldog spokesman Rich Azzopardi, who made headlines for calling the trio "fucking idiots." Later that year, Ramos admonished Cuomo for his spat with the Working Families Party. Azzopardi declined to comment, either about his own relationship with Ramos or how the executive branch works with her more broadly. 
More recently, Ramos publicly expressed her anger with Assembly Member Catalina Cruz for sharing what turned out to be a false tip about a "loot out" planned for early June in Corona, which brought increased police presence to the neighborhood. Cruz did not respond to a request for an interview. 
"Typically what happens behind closed doors when we're in conference with our colleagues, her blunt voice stands out in that context," Gianaris said. "When others might be more interested in being polite, she's more interested in telling people what she believes and what she thinks is important."
And Ramos hasn't always stayed in people's good graces. Her comment about Cuomo and the WFP reportedly got under the governor's skin and interfered with negotiations on Ramos' e-bike and e-scooter legalization bill, which he ultimately vetoed over what he said was a lack of safety measures. Both parties denied allegations of political tension. About a month after the veto, though, Cuomo introduced language closely mirroring Ramos' proposal, with some tweaks, as part of the 2020 budget, which did pass. "My team and I are in regular contact with his team and I've met with him twice. He even gave me his big ship octopus poster autographed!" Ramos said in a text when asked about her working relationship with the governor. "We're two Queens kids who disagree on policy and approach. I'm a Working Families Democrat, not a billionaire-loving Democrat--from Queens."
Earlier, Ramos was denied entry to Peralta's wake after he died unexpectedly a few months after their impassioned primary. "You are not welcome," someone reportedly shouted at her. Just days before that, Ramos and other anti-IDC challengers drew the ire of state Sen. Diane Savino, Peralta's former IDC colleague and one of only two former members of the group who survived a primary challenge in 2018, who sent a series of tweets attacking unnamed opponents of Peralta's. "He risked it all for his district, and paid the price on Primary Day. I am sure all those who stood by and let him be vilified for simply wanting to be more effective in this totally fucked up winner take all game of politics will be posting tributes today," Savino wrote. "Save them, it is really too late." She declined a request for an interview, although publicly Savino did not seem to carry bad blood into the 2019 legislative session.
Still, Ramos typically tries to make sure she has a good working relationship with anyone who might help to achieve her goals, her public callouts of the governor perhaps being the most notable exception. No one who agreed to an on-the-record interview had a bad word to say about her. It's one of the reasons she said she has largely remained silent in this year's state legislative primaries, particularly in the contentious Assembly race in Astoria, which includes a small portion of her district. DSA-backed Zohran Mamdani challenged incumbent Assembly Member Aravella Simotas, and currently leads her in the polls. Ramos said she aligns closely with Mamdani ideologically, while she has known Simotas for a long time and works well with her – hedging her bets so she can work with whoever emerges victorious. "My job is to work with whoever prevails as the Assembly person," Ramos said. "I don't want there to be political ramifications, you know, or consequences based on the decision that I made politically. That should not be a hindrance to working together."
That initially seemed to be the case in the one Assembly race she chose to weigh in on. About a month before the June 23 primary, she endorsed incumbent Assembly Member Jeffrion Aubry, whose district is included in her own, when Monserrate mounted a challenge. But before that, she took a softer stance on the race, telling reporters months earlier, including this one, that voters knew his background and that it would be up to them to decide whether to elect him. "I guess I was trying to see how the race was going to shape up," Ramos said, noting that there were many in the community who still supported Monserrate. "What we saw was a real race was developing, so it became inevitable to get involved." 
"If you're willing to work with her to address the challenges and the problems that she sees in her community, then she's a great ally. If you're an impediment to that, then watch out." – Evan Stavisky, partner at The Parkside Group
Unusually for a legislator, Ramos' background was in media relations before becoming a lawmaker. She was a communications specialist for 32BJ SEIU, a communications director for the Build Up NYC labor union coalition, and she spent over two years helping to craft Buery's and de Blasio's messaging in the mayor's office. "It certainly has created in me the sensibility of understanding the power of words and learning how to choose carefully how I communicate with everyone," Ramos said. 
One example is Ramos' use of the hashtag she created, #SeenIn13. Basically, it's meant to draw attention to things happening in her Senate district, the 13th. Nearly every time she's out in the district, posts about local businesses, holds an event or otherwise shares information, she tags it. Ramos said she wanted to use it to help build a sense of pride in the community and allow members to see what's going on in their neighborhood. Like any smart social media campaign created by a communications expert, it has become a signature on her social media. "I want to make sure that people know what's happening and that it's easy for them to find," Ramos said of her largely immigrant community, who may sometimes know more about the news from back home than from down the block. "I cannot tell you how many people just know to look for the hashtag and it'll bring up whatever's going on." Ramos still uses it the most frequently, but others often use it in relation to her and the things she does.
A skilled communications professional is also able to craft messaging and to control her public image – and public image is crucial to any politician. "I think elected officials who know how to communicate tend to be more successful, regardless of ideology, but the other reason that they tend to be more successful is they understand that the best message is one that's based on truth," Stavisky said. "And the way that Jessica Ramos has positioned herself is true to who she is." Gianaris shared a similar thought about Ramos' communication strategy and public persona. "She's very, very authentic, and that is less of a communication strategy than a desire to just be true to oneself," Gianaris said. "I suppose one can say that, you know, choosing to be authentic is a communication strategy but with her I believe it's genuine."
Whether it's pure authenticity or a calculated strategy, Ramos appeals to young progressive activists. She's very popular among a group of politically engaged, left-wing teenagers and college students who are becoming increasingly influential in progressive politics called the Zoomers. One of them even created the Twitter handle @ramos4gov – which often takes shots at Cuomo – with the half-kidding premise that Ramos should run for governor.
But Ramos has no plans to become governor, at least right now. And as a believer in term limits, she isn't even sure how long she will stay in the state Senate and government more broadly. "I'm not here to be a career politician. I'm here to make waves. I'm here to make the status quo uncomfortable. I am here to push buttons," Ramos said. And for now, it's working for her.
Powered By
NEXT STORY: This week's biggest Winners & Losers