John Liu
John Liu, iron man
The trailblazer for Asian Americans burst back into politics with a wave of progressive support. Can he make both groups happy?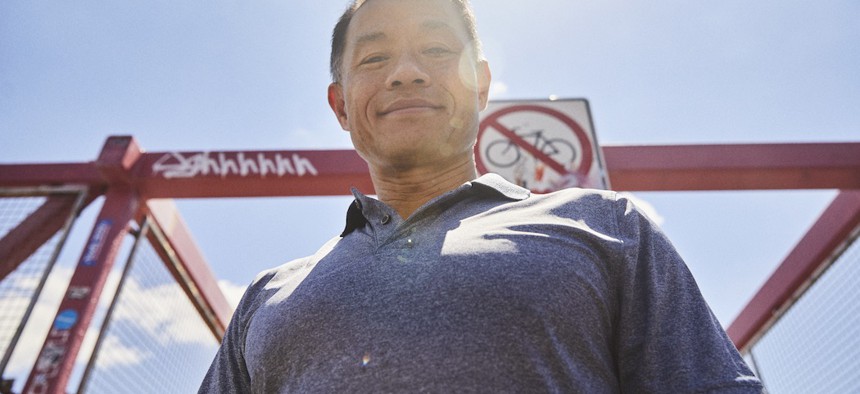 State Sen. John Liu has faced many obstacles, but nothing quite like the Spartan Sprint, where he races along a three-mile course through the muddy hills near Old Bethpage, on Long Island, on a brisk afternoon in November 2019. "Aroo," he howls in the Spartan battle cry borrowed from the movie "300" to pump up his team of one nonprofit policy director, two Queens constituents and a struggling City & State journalist. Liu evidently did not come to try to win, at least judging by the way he waits for his teammates to catch up. 
When he isn't running in place, he joins them in doing sets of 10 "burpees" – a combination push-up, stand and squat – to help them get through the required punishment for failing to complete any one of the 20 obstacles in the race. For a 53-year-old man, the legislator is having no problem outrunning younger weekend warriors. While they breathe heavily during the Sprint, Liu is getting through the spear throwing, rope climbing and scrambling under anachronistic barbed wire with relative ease. "I wouldn't call it extreme," he said in a later interview. "Spartan is not an endurance event. That's just grown ups playing in the mud and paying a lot of money to do it." 
But then a 10-rung set of monkey bars begins giving Liu a bit of trouble. It all begins well enough as he hops off the starting platform and grabs the first bar with both hands. Then he swings himself forward, misses the second rung, and slips to the ground with a groan. 
It isn't the first time he has fallen over the course of a 20-year career in politics that has included endurance sports and marathon campaigning, as he mastered coalition politics in becoming the first Asian American from New York City elected to the City Council, citywide office in New York City and the state Senate. The former New York City comptroller and 2013 mayoral candidate is the rare public official who came back with a bang after having seemingly ended his career with a whimper. 
It isn't hard to see how his Spartan-inspired efforts are about more than staying fit. "These endurance events are not so much about physical fitness as much as mental fitness," Liu said later. 
As a trained actuary, Liu could have done well in the private sector. Instead, he has been jumping through the mud, literally and figuratively. Early in his political career, he tangled with a city political establishment that initially did not want to include him when he first ran for office. "I've known John for more than 20 years," said Steven Choi, executive director of the New York immigration Coalition. "John has been a real pathfinder." He also developed a reputation as an outspoken and tireless political operator after his 2001 election to the City Council, a reputation that would follow him to the comptroller's office eight years later. He inveighed against what he called waste and incompetence in city government and agencies like the Metropolitan Transportation Authority. Yet a federal investigation into his own political fundraising would hobble his 2013 mayoral bid.
Out of office for the first time in 12 years, Liu did not give up on politics. After falling short in a 2014 state Senate campaign, he won four years later as part of a wider backlash against former members of the Independent Democratic Conference, a group of breakaway Democrats who helped Republicans maintain control of the state Senate. Unseating state Sen. Tony Avella, a former IDC member, was also a show of force by Asian American voters in a northeast Queens district that is moving away from being a bastion of moderate middle-class white voters. But Liu's ability to channel Asian Americans' push for a greater voice in city politics has, at times, undermined the progressive political identity that has made him a man of many firsts in New York politics. It leaves open the question: Can the coalition builder hold the city's diverse constituencies together? 
Liu had to solve a complicated political equation when he became the first Asian American elected to the New York City Council in 2001. The community makes up a far smaller share of the city population – roughly one in nine people – than white, Black and Latino voters. Even two decades later, not a single New York City Council, state Legislature or congressional district is majority-Asian. Rates of citizenship, and voting, are also lower among Asian Americans than other racial groups. Flushing, Queens in the late 1990s was nearly half Asian American, but only half of those people could vote, The New York Times reported at the time. Attracting a good chunk of white voters was key for any Asian American candidate in the area.
Liu had a few advantages in winning over non-Asian voters as a first-time candidate in the 1997 Democratic primary for City Council. His experience as an immigrant (his family moved to Queens from Taiwan when he was 5 years old) had obvious appeal to Asian American voters, about 20% of the electorate at the time. Yet, the self-described "Flushing Boy" could pitch himself to white voters by noting he was named after President John F. Kennedy. As a 30-year-old manager at the global consulting firm of PriceWaterhouseCoopers, where he worked after getting his bachelor's degree in mathematical physics from Binghamton University, he raised more than $160,000 for the race. 
There was one problem: white voters at the time were loyal to a local Democratic establishment that sometimes appealed to simmering racial resentments against the influx of new immigrants from Taiwan, South Korea and mainland China. "They were more like colonizers than immigrants," then-City Council Member Julia Harrison said of her Asian constituents in 1996. "The money came first. The paupers followed, smuggled in and bilked by their own kind." The comments provoked outrage in the community. More than 2,000 people protested her in the streets, and she later apologized. 
When all the votes were counted that year, Harrison easily won reelection – but Liu had learned that if he was going to challenge an entrenched incumbent, he would need to broaden his political base.
The pathway towards elected office became easier in the following years. His network of political connections grew through a leadership role at the Queens Civic Congress, an umbrella group of 100 community organizations. "He is carefully nurturing an image as an 'Asian American,'" City Limits wrote as the 2001 City Council election loomed. "It's a nebulous identity that means little to Flushing's partisans but usefully points out what Liu is not: not foreign, and not white." Perhaps most important, according to City Limits' analysis of the race, was his new relationship with the Parkside Group, a consulting firm with deep ties to the Democratic Party. "Yesterday's underdog is today's top dog," The New York Times wrote at the time. "(He) has won the endorsement of the county's Democratic leadership. He has the blessings of unions, including teachers and the police." 
Harrison did not run for reelection (new term limits went into effect in 2001) and Liu would prevail in a divided Democratic primary, with the help of a $240,000 war chest. "John has the opportunity to make history by being the first Asian American candidate in New York City to win office," Evan Stavisky of Parkside told City Limits. "But he won't win because he is Asian American – it's not as if people will wake up and say it's time to elect an Asian American. John will have to build coalitions." It also helped that he could move through the day-to-day grind of a campaign with the energy of an "Eveready Bunny," as the Times put it. He would win the general election in a landslide.
Liu entered the Council as one of 38 new members that year. He had to share the political limelight for the next 12 years with other incoming members of the City Council including future Mayor Bill de Blasio, future Manhattan Borough President Gale Brewer and future state Sen. Robert Jackson – not to mention a billionaire mayor who dominated the political landscape. But he still managed to raise his own profile. "He was outspoken, knowledgeable," said Doug Muzzio, a professor of political science at Baruch College, where Liu would later teach. "John has always represented a sort of progressive point of view."
Liu readily admitted to the Times in 2006 that he wanted to run for higher office one day. Three years later, he took what he knew from Flushing – how to build a well-financed campaign with a solid hold on Asian American voters that could also appeal to white voters and other groups – and became the first Asian American to be elected city comptroller. 
"Aroo," he howls in the Spartan battle cry from the movie "300."
An overflow crowd waiting for Liu held a variety of signs as he arrived at New York City Hall to announce his 2013 mayoral bid on St. Patrick's Day of that year. "Italians for Liu," "Women for Liu," "Brooklyn for Liu," "Korean Seniors for Liu" – these were the voters who had lifted Liu to the comptroller's office four years before. Now, he was hoping they would take him to Gracie Mansion. His effort at conveying broad support among the city's various ethnic communities extended to the elected officials who stood next to the podium. The newly elected City Council Member Peter Koo, a former Republican and native of mainland China, who still serves in the council as a representative from northeast Queens, stood next to then-City Council Member Charles Barron, a former member of the Harlem branch of the Black Panther Party, who now represents an Assembly district in East New York, Brooklyn.
Liu was quick to joke about how he did, and did not, look, like all the different types of people represented by the crowd. "For those of you who don't know, I'm not Irish," Liu told the crowd. "My family immigrated from Taiwan … looking for the same thing countless families have – even those from Ireland." 
The life and times of Liu
1967 – Liu Chun-Yah is born in Taiwan 
1972 – Liu's family immigrates to the United States. His father gives his three sons the names John, Robert and Edward (and changes his own name to Joseph) in honor of the Kennedy dynasty.
1996 – Anti-Asian comments made by longtime incumbent City Council Member Julia Harrison arouse a political backlash from the growing Asian American community
1997 – Liu's first attempt at winning elected office falls short against Harrison
2001 – After Harrison is term-limited out of office, Liu becomes the first Asian American elected to the New York City Council
2009 – Liu's election as city comptroller makes him the first Asian American to win citywide office
2011 – An investigation by The New York Times reveals irregularities in his political fundraising
2013 – Liu makes an unsuccessful run for the Democratic nomination for mayor, after two of his associates were found guilty in the fundraising scandal (Liu was not charged) 
2014 – A political comeback falls short when Liu loses a Democratic primary for state Senate
2018 – Liu defeats former IDC member Tony Avella and becomes one of the first two Asian Americans elected to the state Senate
If Liu's political base was not rock solid, it was at least assembled brick by brick through alliances with organized labor, community groups and a left-leaning policy platform that was arguably ahead of its time. He called for the end of stop and frisk, the controversial NYPD tactic. His proposal to legalize recreational marijuana, he argued, would reduce mass incarceration while offering a new revenue stream for education. There was also a socioeconomic angle to his campaign that aimed at working-class voters of all races, including a later proposal to raise the minimum wage by $4 to $11.50 per hour. "Economic justice and equal opportunity have gone the way of checker taxis and 50-cent slices," Liu said, at his mayoral announcement. "These last 12 years, the rich keep getting filthy rich." After years of business-minded centrism under Bloomberg, Liu was offering an unmistakable left turn if elected. 
But there was one sign of trouble for Liu – a literal sign, the biggest one among the 12 rows of supporters. "People of honor are vilified in the news," read the sign held high by one Black woman. "John Liu is an honorable man." 
This referred to the specter of a federal investigation hanging over Liu's campaign, courtesy of Preet Bharara, the U.S. attorney for the Southern District of New York at the time, whose investigatory sweep of city and state government targeted numerous officials. A Manhattan federal court would eventually sentence Liu's former campaign treasurer to 10 months in prison and one of his former fundraisers to four months, for wire fraud and other crimes related to a scheme that circumvented limits on individual donations by spreading the money among various so-called straw donors, who give someone else's money under their own names. Liu, who was never charged with any crime, has said he had no knowledge of the scheme and was unfairly targeted by federal investigators. The city Campaign Finance Board would fine him $26,000 in 2017. 
The cost to his mayoral prospects was much more immediate. "If you go after powerful politicians and corporations, they are going to come after you," he told the crowd that day. The controversy would ultimately cost him $3.5 million in matching funds from the city, just as then-Public Advocate Bill de Blasio began seizing the progressive mantle in the race with a "Tale of Two Cities" and a son whose afro became an unofficial emblem of the campaign and an icon of the city's shifting racial landscape. 
Liu ultimately came in a distant fourth place in the September Democratic primary, with just 7% of the vote. Now he was out of the job at age 46. "I don't mean to gloat," said Harrison, a longtime nemesis who won election that year, at age 91, as a Democratic district leader. "But I won't say I'm not enjoying it."
"John Liu would say something that was very progressive and it was just met with silence and then Bill de Blasio would say essentially the same exact thing – and it's like, 'Oh, that's fascinating, follow up.'" – Christina Greer, an associate professor of political science at Fordham University
Liu made a promise years ago with his high school friends, when they were all students at the Bronx High School of Science, one of the city's elite specialized public high schools. They would all complete an Ironman competition by age 30. "We thought that was just absolutely insane," Liu said, more than three decades later, of their youthful vow to complete the 2.4-mile swim, 112-mile bicycle ride and marathon that each Ironman includes.
It did not take long for life to get in the way, as mortgages, families and professional ambitions arose in the subsequent years. "I woke up one day," Liu said in an interview. "I was like, 'Holy shit, I'm 49.' I contacted my friends, and none of them were even close to being ready. I had time; I wasn't mayor of New York." An unsuccessful 2014 bid for the Democratic nomination for a state Senate seat in eastern Queens, in which he lost to Avella by six points, punctuated his need for a change. Despite having the backing of the Queens County Democratic establishment, Liu had not won enough of the white voters whose support he had always needed to win. 
So he ran a marathon every month for eight straight months and finished his first Iron Man in 2016. He got his pilot license the following year. His weekly regimen of biking, running and push-ups continued. 
It is an understandable urge, considering the social science that shows how no matter how hard they work or how much they accomplish, Asian American men are never given the attention of their white peers – a phenomenon that manifests itself in subtle ways in the alpha-dog dynamics of politics. "Go back and watch some of those debates," Christina Greer, an associate professor of political science at Fordham University, said of the 2013 mayoral campaign. "John Liu would say something that was very progressive and it was just met with silence and then Bill de Blasio would say essentially the same exact thing – and it's like, 'Oh, that's fascinating, follow up.' And it was really for me, as an observer, quite frustrating because it reminded me of faculty meetings where people of color, women of color especially, say something and it's almost as if no one can hear it until a white man says it." 
This fits with a wider sense of invisibility for many Asian Americans. And even when they are noticed, voters may have stereotypical assumptions. Rep. Grace Meng recalls one constituent who complimented her on a speech in her eastern Queens district. "There was just this assumption that I could not speak English," said Meng, whose family immigrated to the U.S. before she was born. "Some people don't really view me as American yet." 
In the largest and most diverse cities such as New York and Los Angeles, Asian American political power may also be constrained by coming into conflict with not just whites but also Blacks and Latinos – groups with larger, more established presences in New York who may sometimes compete with newer immigrant groups for educational or professional opportunities. "Oftentimes, what we see in New York City politics is Asian Americans (being positioned) against Black and Latinx communities, quite honestly, for the benefit of white communities," Greer said.
The November 2014 shooting of Akai Gurley by NYPD Officer Peter Liang is a case in point. The rookie police officer was patrolling the dark stairwell of a Brooklyn public housing project when he pulled the trigger of his already-drawn service pistol after coming across Gurley, who lived in the development. The shooting came just a few months after the police-involved death of Eric Garner on Staten Island. While the white officers who placed Garner in an illegal chokehold did not face any criminal charges, Liang was indicted by a grand jury for manslaughter. 
Liu was among the Asian American leaders who pushed the narrative that Liang was a scapegoat for the racism of white police who had aroused the ire of the nascent Black Lives Matter movement. The fact that the Police Benevolent Association, which has aggressively supported white officers accused of serious misconduct, turned its back on Liang only furthered a sense of victimhood among some Asian Americans. Liang would eventually lose his job and be sentenced to community service. Liu would be the first to say that the incident marked a low point in relations between the Asian American and Black communities. "If people had been talking to each other more," Liu said years later. "I think we could have dispelled a lot of what allowed that friction."
On the morning of May 30, after days of protests following the death of George Floyd after a Minneapolis police officer compressed his neck for excruciating minutes on end, New York City Public Advocate Jumaane Williams called a press conference in Downtown Brooklyn. City Council Member Brad Lander, whose nearby district included many of the confrontations between protesters and cops the night before, stood next to him – as did Liu.
Liu's presence in Brooklyn, 20 miles away from his own district, was the type of attention-seeking that has provoked eye rolls among some longtime political observers. "One of the knocks on him, for as long as I can remember, going back to when he was in the City Council, was that John Liu is about John Liu," said one Democratic strategist who requested anonymity to speak candidly. "Now, that's not necessarily different than most other elected officials, right? These people have inflated egos and are self-absorbed. That's why they're in public office." 
In Liu's telling, he is just a guy trying to help his city unite during tough times. "If I had a nickel for every potshot coming from unnamed sources over the years, I'd get myself an expensive manicure," Liu later said of criticism. "It was like the city was set up for the invasion of Normandy, right here in front of Barclays," Liu told a small gaggle of reporters before calling on de Blasio to apologize for the police response. 
Perhaps Liu was trying to make amends with Black and Latino New Yorkers – or progressives of all races. If the Liang case had chipped away his base of support in the Black community, his opposition to changing the admissions examination, known as the Specialized High School Admissions Test, for most of the city's elite specialized high schools would create a much wider divide between Liu and some racial justice advocates. At issue is how to increase the paltry number of Black and Latino students in selective public high schools without limiting opportunities for Asian Americans, another largely low-income population, who perform the best out of all racial groups on the SHSAT.
Liu railed against standardized testing while running for mayor. "High-stakes tests have become problematic because they now hold such a heavy sway in determining a child's, a teacher's and even a school's future," he said in a 2013 op-ed. Yet, after the de Blasio administration proposed changing the test in 2018, Liu became one of the most vocal opponents in the state Legislature, which had authority over the matter, per a controversial 1971 state law. Liu complained about the de Blasio administration's lack of outreach to Asian Americans on the issue, and he argued for a focus instead on improving all schools – which dovetails with Liu's work as chair of the Senate Committee on New York City Schools where Liu advocates for increased state funding for public schools.
But his SHSAT stance has lost him some political allies. "He lacks any principles," said Barron, now an Assembly member, who represented Gurley's neighborhood on the City Council. "He's overly pragmatic." 
Nationally, the Asian American electorate has shifted leftward in recent years, after voting Republican for president until the 2008 election of Barack Obama. And Liu's district also includes relatively conservative, predominantly white neighborhoods such as Bayside, which recently hosted a pro-police "Blue Lives Matter" march.
Some progressives say that Liu's defense of Liang and his opposition to replacing the SHSAT demonstrate that he is too indulgent of right-leaning forces. "There are conservative elements and organizing that's happening within the Chinese American and immigrant communities here in New York City," said Jason Wu, a staff attorney at the Legal Aid Society and an organizer with GAPIMNY, a group that advocates for queer and trans Asian Pacific Islanders. "He can do better." 
Meanwhile, a new generation of Democratic Asian American elected officials, including Assembly members Yuh-Line Niou of Manhattan, Ron Kim of Queens and Rep. Grace Meng, also of Queens, are raising their political profiles. "I call John 'Grandpa,'" said Niou, whose former boss – Kim – got his own start in politics by working for Liu. "He says, 'I'm young. I'm young. I'm young'. (But) he did break a lot of barriers for all of us." 
"I call John 'Grandpa.' He says, 'I'm young. I'm young. I'm young'. (But) he did break a lot of barriers for all of us." – Assembly Member Yuh-Line Niou
Like every elected official, Liu says that his top priority is serving his constituents, a mix of Asian Americans, whites and Latinos. Yet, the legislative process itself is not what animates Liu, who has sponsored just a few bills that have passed the state Legislature since being elected in 2018, when he became one of the first two Asian Americans elected to the state Senate. "My role in the Legislature is not to be the one who sponsors or passes the most bills," he said in an interview. "I played that game already a long time." 
One bill that Liu has successfully pushed through the state Senate, which passed the Assembly for years, would require more data collection by the state about the Asian American community – an effort that Cuomo argued would be too expensive to implement when he vetoed the bill last year. Other legislation that Liu sponsored includes a law barring employers from forcing Sikhs and other minorities to cut their beards or otherwise violate their religious faith through workplace uniform rules. Another bill would allow political candidates to use their adopted English names – John Chun-Yah Liu was not his legal name until after he immigrated to the U.S. – on election ballots, after two South Asian Americans were temporarily taken off the ballot earlier this year because their English names were not their legal names.
So it is no surprise that six days after he popped up unexpectedly at a Brooklyn press conference, he joined thousands of protesters making their way through central Brooklyn. The masked lawmaker was an anonymous member of the crowd, despite his neon green tank top. When the protesters sat down on Utica Avenue, he used his bike to help block traffic. When the crowd got up and pushed onwards, the trailblazer followed. 
Correction: This story originally referred to GAPIMNY with an older name for the organization.
Powered By
NEXT STORY: This week's biggest Winners & Losers