New York State Assembly
Building bridges in the Bronx
Nathalia Fernandez wants to mend a divided borough as Bronx beep.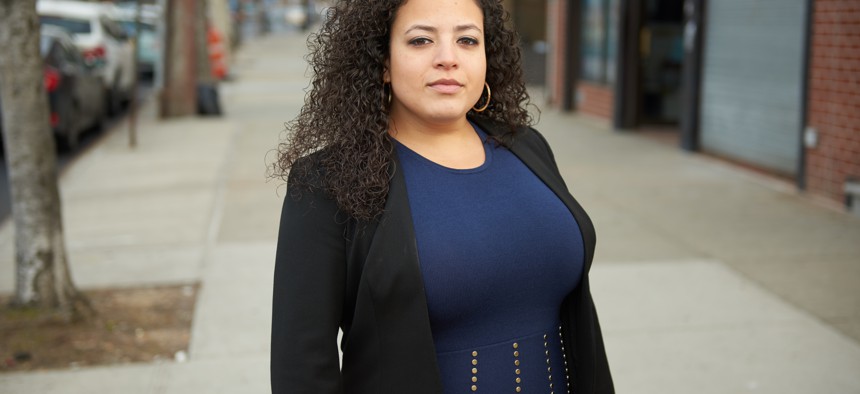 On Aug. 23, Assembly Member Nathalia Fernandez announced her run for Bronx Borough President.
The position has been held by a longtime pillar of the Bronx machine, Ruben Diaz Jr., who announced in January that he would be quitting politics altogether at the end of his term. So far, Council Members Fernando Cabrera and Vanessa Gibson have also thrown their names into the ring, and Council Member Rafael Salamanca is rumored to be considering a run. If either Gibson or Fernandez were to win, they would become the first woman to lead the borough.
In 2013, Fernandez began her political career working as the chief of staff to the now-scandal-ridden Council Member Mark Gjonaj while he was still working in the Assembly. She then served as Gov. Andrew Cuomo's liaison to the Bronx before she was elected to the Assembly in District 80, the seat that had been held by Gjonaj. Recently the Assembly member authored the Andrew Kearse Act, a police reform bill that would entitle individuals under arrest to medical treatment.
City & State spoke to Fernandez about how she envisions her role as borough president, her relationship with the Bronx Democratic Party and why she thinks she's the perfect person to mend the borough's political divides.
This interview has been lightly edited for clarity and brevity.
You're running for Bronx borough president. How do you envision the role? 
To keep us united. The Bronx is in a place right now that looks like there is division. I've been one that has always – even before becoming an Assembly member – been able to communicate, relate and always find a solution together with any working partner. As an Assembly member I've done that, and in the time that the Bronx needs unifying leadership, I think I can be that person.
If you won the race for borough president, you would be the first woman to hold the position. How does that make you feel?
It's an amazing feat. For the Bronx, it would be the first time that a woman has had this office. For New York City, the first time that a Latina has held a borough-wide (position). I don't want to say it's overwhelming – it's really exciting and an honor, you know, if I should win. And I believe I'll win.
We recently published a story about the many women who are currently running for public office in the Bronx and those who have won hard-fought races against longtime incumbents. A lot of the women we spoke to mentioned that they did not feel supported by the Bronx County's Democratic Party. How has your experience been working with them?
I would say I had a good relationship. If people know my history, they know that I was a staffer once for (City Council Member Mark) Gjonaj, and he was the insurgent. Really, my focus against all that was just doing the work that needed to be done. And that always came down to helping people. 
County has always been supportive of me and I think that's because they've always seen the good work that I've done. It's been a good working relationship but there are times that I have disagreed with them. I know there's always a discussion: "Are you with them or against them?" Like any working group, there are disagreements but we always reach a consensus and we're always making a bridge.
You mentioned Gjonaj, so I was curious as to how concerned you are that your ties to him and former IDC leader Jeff Klein may affect your campaign, as candidates with less party affiliation continue to win more elections across the city?
No, I don't have any concern because I always push forward. I am my own candidate, I am my own person. I have my own views. I have my own goals. So, to tie me to those past things, I would say, look at my record, look at what I stood for and look at what I fought for. Look at me and know me as the worker that I am, the collaboration builder that I am, and take that into consideration when we look towards what the future of the Bronx needs and will be.
What are some of the first things that you would like to do if you are elected to office? 
Well, first and foremost, we need to get together to have a plan for rebuilding and coming out of COVID. COVID has really hurt the Bronx harder, I think, than any other borough in New York City, and we need to replenish our jobs. You know, we lost a lot of jobs. Business owners have had to close up, some permanently. And I really want to replenish our businesses that we had here and still have here and bring the jobs back and maybe more to our borough to sustain. To have our population be sustainable so that individuals and families can have a life here in the borough. 
I want to see infrastructure, should it come, done in a sustainable manner. We need more green jobs, we need to have our new infrastructure here be eco-friendly. We are the greenest borough and I believe we need the greenest infrastructure and we make sure that any new development here is good for the environment, good for the community, and good for the future.
Powered By
NEXT STORY: More too-soon Andrew Cuomo book titles