New York City
Ritchie Torres won't follow your script
How a young, gay, Afro-Latino man made his own way from NYCHA to Capitol Hill.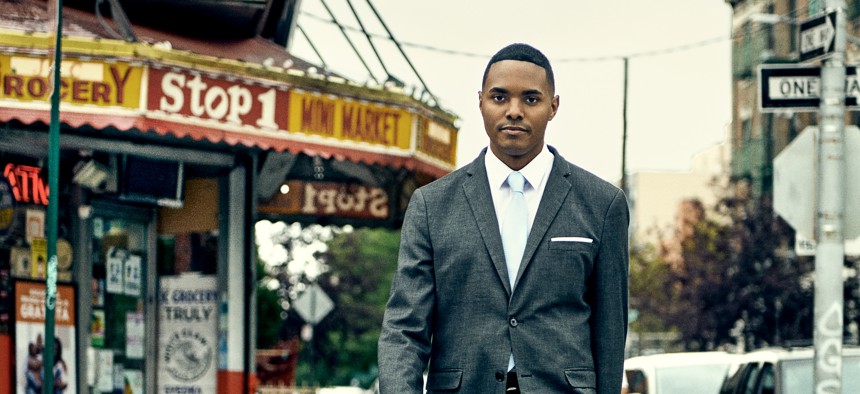 In January 2014, the same week a new class of New York City Council members were sworn into office, a snowstorm blew through the city. The blizzard created a problem for former public school teacher Mark Treyger, who was then chair of the council's brand-new Recovery and Resiliency Committee, which focused on recovery in communities affected by Superstorm Sandy and on long-term efforts to make the city more resilient to climate change. 
Public housing residents in Treyger's Brooklyn district were experiencing heating outages in Coney Island. Projects in the Rockaways, Red Hook and other waterfront areas that had been hard hit by Superstorm Sandy just a year before were also affected. Their boilers were destroyed by flooding from Sandy, and now, during the coldest days of the year, in several New York City Housing Authority developments, the temporary boilers that the city had installed were failing.
After inspecting the boilers himself late one night, Treyger went to NYCHA headquarters the next morning to get help. In the hallway, he ran into Ritchie Torres, then a 25-year-old council member, whom he had met at freshman orientation. Torres had been tapped to chair the public housing committee. His district in the South Bronx wasn't experiencing the outages as badly, but helping Treyger and his constituents became one of Torres' highest priorities. 
"Ritchie barely knew who I was, and he stopped everything that he was doing. He listened to everything that I had to say, and his first response to me was, 'Mark, how can I help?'" Treyger recalled recently. 
"When you hold government agencies accountable the way Ritchie does, you don't make many friends in government. But he's not in it to make friends." – New York City Council Member Mark Treyger
What happened next has become part of the lore of Torres, a rising star in the Democratic Party, who just prevailed in a 12-way Democratic primary to replace retiring Rep. José E. Serrano in the South Bronx. Treyger and Torres approached then-Council Speaker Melissa Mark-Viverito with a plan to go directly to the people.
For the first time in City Council history, that February a public hearing was held in a NYCHA complex, at 2315 Surf Ave. in Brooklyn. The two freshmen lawmakers organized hundreds of residents from Coney Island, Red Hook, the Rockaways and elsewhere to testify about inadequate heat and hot water in their homes. A week later, New York City Mayor Bill de Blasio and U.S. Sen. Charles Schumer announced a $3 billion investment in NYCHA from the federal government, the largest disaster relief grant in FEMA history.
"I can tell you that when you hold government agencies accountable the way Ritchie does, you don't make many friends in government," Treyger said. "But he's not in it to make friends in government. He is here to deliver to people. I saw it firsthand."
Before he was elected to City Council, Treyger went to school to be a principal, and there was an expression in his leadership program that he thinks Torres – who Treyger admits has ruffled many feathers in government – exemplifies. "If you want to make everyone happy," said Treyger, "don't be a leader – sell ice cream."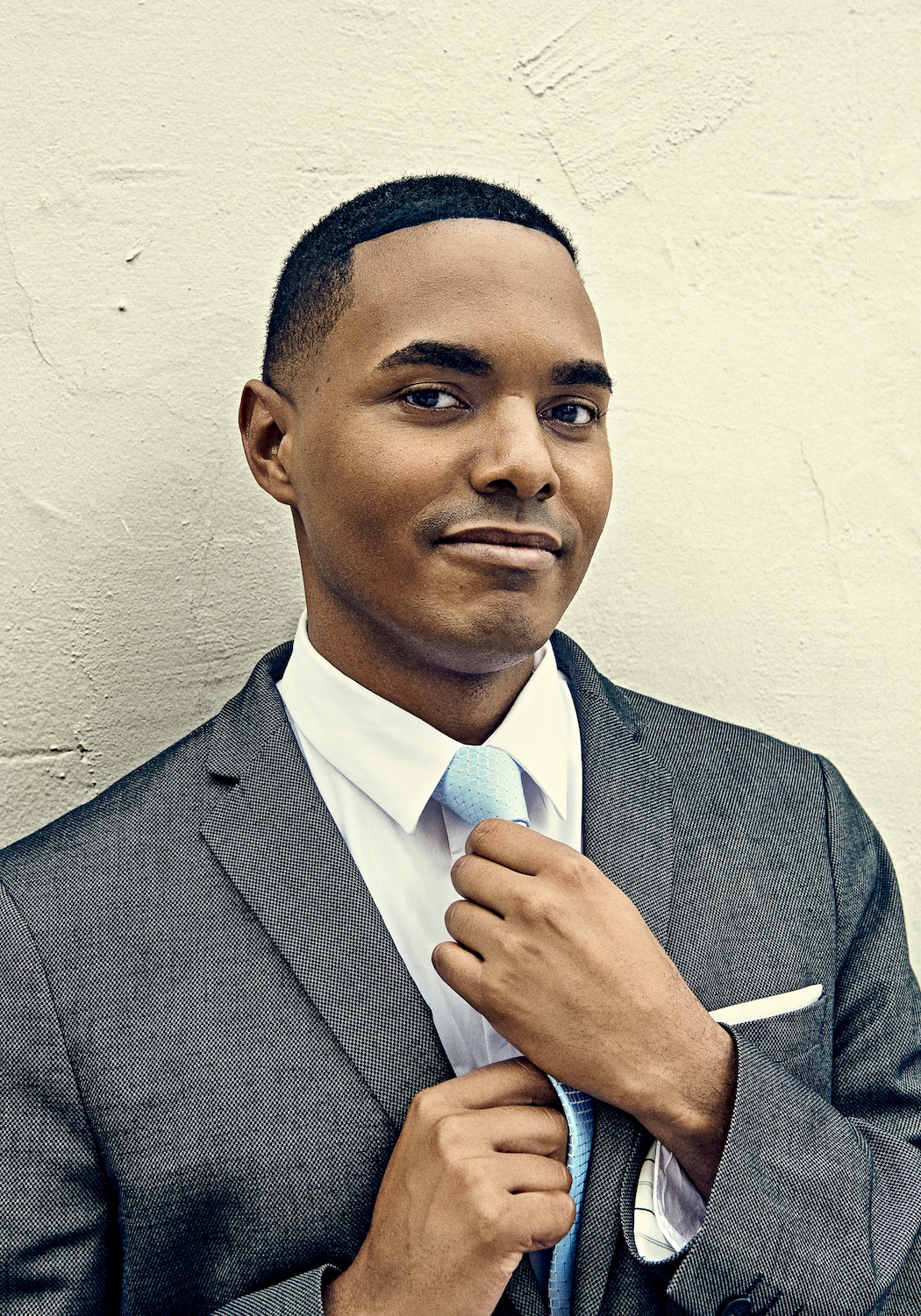 Torres, 32, is all but guaranteed to succeed Serrano in the House of Representatives, since the South Bronx congressional district is overwhelmingly Democratic. That would make Torres the first openly gay Latino member of Congress. Because he is Afro-Latino, he will also join Mondaire Jones, the Democratic nominee to replace Rep. Nita Lowey in Westchester and Rockland County, to be the first openly gay Black members of Congress. The achievement was especially significant because Torres overcame the Bronx's socially conservative streak to beat Rubén Díaz Sr., a Penetecostal minister with a history of homophobic remarks. In a field stacked with fellow ambitious progressives such as Mark-Viverito and Assembly Member Michael Blake, some on the left feared that Díaz could have won. 
When I met Torres on Zoom in August to discuss how he pulled it off, he seemed reluctant to talk. When not out in the field, his days are usually filled with an endless array of Zoom meetings, and this day was no different. "My condolences to you," he said wryly, upon turning on his Zoom camera. He wore a coral polo with white stripes and an open collar, and sat in a gray, upholstered chair positioned in a nondescript corner of the living room in his Belmont apartment. Asked if he was offering condolences because he anticipated a bad interview, he replied, smiling, "We'll see, I guess." 
This is how Torres jokes, when he does joke. Cautiously friendly, he has a muted, mildly sardonic conversational manner. He disagrees that he's soft-spoken – "You should see me at a City Council hearing, and then ask yourself if I'm soft-spoken" – but he accepts the characterization of being contemplative. "But I never want to be Hamlet: contemplation to the exclusion of action," he said. "In politics, it's important to be decisive, to take a stand, which is what I do."
In a field as crowded as the Democratic primary in New York's 15th Congressional District this year, having a distinctive narrative is how a candidate stands out from the pack. Torres' narrative is that of a progressive pioneer. He was raised by a single mother in the Throggs Neck Houses, a NYCHA development in the East Bronx. He overcame poverty, homophobia and racism to become the youngest member of the City Council and the first openly gay man elected to public office in the Bronx. 
While Díaz's conservatism never seemed to stand in his way when running for City Council or, previously, serving in the state Senate, Torres was able to use it against him in the House race. But during his campaign, Torres spent a lot less time highlighting Díaz's controversial remarks about the LGBTQ community than he did tying Díaz to President Donald Trump. Flyers portraying Díaz and Trump as one in the same appeared in mailboxes across the South Bronx, with pictures of Trump and his MAGA hat next to Díaz and his trademark cowboy hat. (Torres for Congress did not send these mailers.) A notice for absentee voters on Torres' campaign website underscored these links, stating: "Democratic primary voters in New York's 15th Congressional District need to see that Councilman Ruben Diaz, Sr. is not the same person as his son, the Bronx Borough President Ruben Diaz, Jr. They need to see that Ruben Diaz, Sr. is a Trump-Republican pretending to be a Democrat and that he is a close Trump ally and supports Trump's dangerous agenda that hurts families in the South Bronx." The notice also mentions that Díaz invited Trump to speak at his church and quotes him saying that he likes Trump. "That was really, really effective," said South Bronx transit and housing activist Ramona Ferreyra, who supported the Working Families Party-endorsed Samelys López in the race. "People really started looking at (Díaz) Sr. and saying, 'Shit, he's a Republican.'"
"People really started looking at (Díaz) Sr. and saying, 'Shit, he's a Republican.'" – Ramona Ferreyra, South Bronx transit and housing activist
If the Bronx Latino electorate has indeed evolved on progressive issues enough to accept a gay candidate, it could be because circumstances have worsened so much in what is one of the poorest districts in the country, reducing Torres' sexuality as a factor. "I think, just like every other place, we've gotten to a point where rhetoric and politics are just not matching what's happening on the ground, and the average voter is becoming hip to that," said Amanda Septimo, a progressive, WFP-endorsed candidate for the Assembly. "I think it's because our struggles are so heavy, in this moment. In these last few years, we've seen wealth inequality at its worst. You see everything happening with NYCHA, health disparities, education disparities and income disparities. Everything is just exasperated." 
And it's worth noting that many older Bronx residents might not have even been aware of Torres' sexuality, depending on how they get their news. "I think it's all about mainstream media and how much voters paid attention to the mailings they received as well as the mainstream commercials," said Bronx City Council Member Vanessa Gibson. "A lot of people assume that conservative Democrats — older, African American and Latinos — are anti-LGBT. Many of them are faith-based leaders. They are women and men of faith, meaning they go to a church. But I don't think that Ritchie was necessarily promoted as the LGBT candidate to everybody. Many of the abuelas, our seniors at our senior centers, probably didn't necessarily know that Ritchie was even a gay Afro-Latino."
The bottom line, said Gibson, is that, especially facing the ramifications wrought by the coronavirus, Bronx residents are struggling to survive and meet their basic needs. They're on food stamps and lack health care benefits, and Torres was the leading candidate talking about those issues. By focusing on Díaz's relationship to Trump and highlighting the needs of the district, Torres was able to overcome the Bronx's historical social conservatism. "In a struggling district where people had finally connected Rubén Díaz Sr. with Republican values," Ferreyra said, "people saw (Torres) as the alternative, without having to risk embracing (Democratic Socialists of America) progressivism."
"The assumption there is that it's unthinkable that a young, poor kid of color from the Bronx raised $1.7 million on his own." – Ritchie Torres
Unable to knock on doors because of the coronavirus pandemic, Torres raised a ton of money, he blasted out mailers, flooded airwaves and sent mass texts. In total, Torres raised $1,715,179.08. Reports noted that a large share of that money came from real estate developers, as well as a stream of donations from outside the district. Raising money from the much-despised real estate sector is the kind of more moderate, or perhaps conciliatory, move that led some on the left to mistrust Torres and back López, a first-time candidate, against him. 
Torres frequently countered that the overwhelming majority of donations came from small donors. He resents depictions of him as a tool of monied interests, arguing that they undersell his individual savvy. "The assumption there is that it's unthinkable that a young, poor kid of color from the Bronx raised $1.7 million on his own. There must be a white male puppeteer that made it happen for him, and whatever," Torres said. "I think, given what I've accomplished in public office, and given my talents as an elected official, it's entirely reasonable to think that I would be effective at fundraising, and effective at running a campaign, because I'm a competent person who knows how to build a competent team and run a competent operation."
A cohort of Torres' supporters, including The New York Times editorial board, considered him the logical antidote to a populist demagogue. And where some left-wing Democrats saw Torres' friendly relationship with elements such as the real estate community as a flaw, to many mainstream Democrats it was a feature. To them, his candidacy is a course correction – an opportunity to balance the scales of a rapidly shifting New York congressional delegation. "He has a very centrist point of view – he was not (Rep. Alexandria Ocasio-Cortez)," explained George Arzt, a political consultant who once served as then-New York City Mayor Ed Koch's press secretary. Arzt doesn't use "centrist" as a slur. He means that Torres is pragmatic. "People were becoming fearful of where the city, and state, and Congress was going in the wake of AOC's victory, and they felt that he was a person who would have his feet on the ground and get more accomplished than the others in the race."
Arzt and Torres have been friends for as long as Torres has been in the City Council. "Ritchie is unbelievably articulate, charismatic and a very welcoming human being," said Arzt. "I think all of this comes out on the campaign trail, where people like to touch the candidate – even in these COVID times."
"I came to conclude that if you are deceitful about your personal life, then you're likely to be deceitful about your professional life." – Ritchie Torres
For his part, Torres rejects overly complex narratives about how he won. "Voters are intuitively more intelligent than most people in politics. You cannot fool them," he said. "You have no choice but to be who you are and to run on the strength of your personal story and your personal narrative, which is exactly what I did. I forged a human connection with the electorate in the South Bronx. The median voter is a Latino or African American woman at or above the age of 55. Those voters came to see me as their son and their grandson, who represents the next generation of leadership."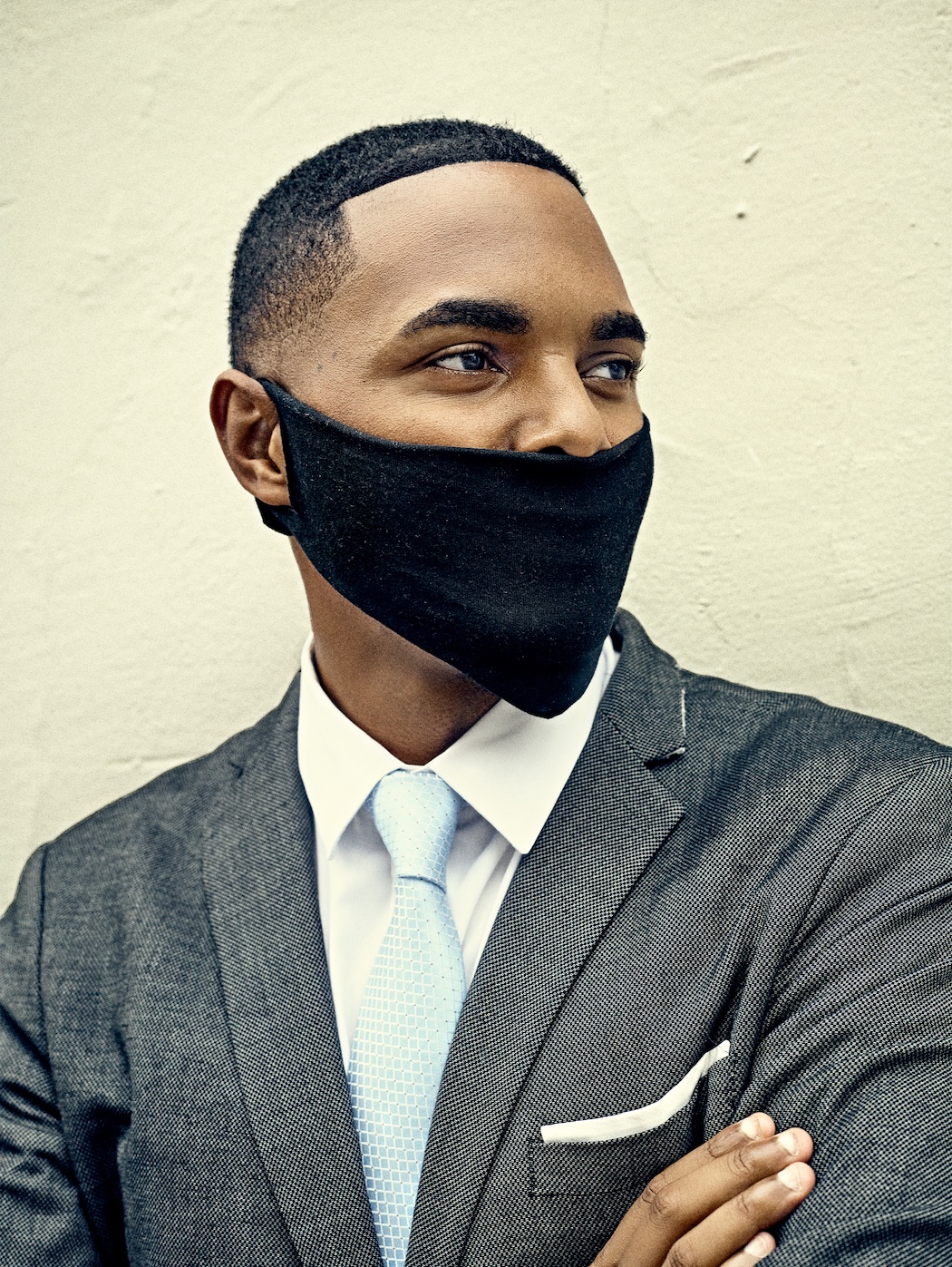 It is impossible not to notice the way that Torres speaks, which is formal and deliberate, and also self-conscious. Torres resents being called articulate, because of its racist connotations. However, his manner of speaking is frequently characterized as such by his white, Black and Latino friends and colleagues alike. The way that he talks is always mentioned in passing when he is described by those close to him, as well as anyone who's watched him stump. It's worth noting that unlike many other famously well-spoken politicians such as former President Barack Obama or U.S. Sen. Cory Booker, Torres is not a graduate of Harvard Law. In fact, Torres didn't graduate from college at all. He briefly attended New York University before withdrawing due to his lifelong struggle with depression. (Before running for the City Council, Torres worked in the office of Council Member Jimmy Vacca as housing director.)
Torres contributes op-eds to leading publications, including a recent piece for The Washington Post about why he wants to break with precedent and join both the Congressional Hispanic Caucus and Congressional Black Caucus, and his prose style is equally as sophisticated as his speech. "I think part of it is raw talent," Torres said. "I feel like I have something of a gift for both written and verbal communication." 
Like many millennials, Torres has an astute and studied grasp of the ways in which he experiences his identity in the world and borrows from the language of critical race theory to explain how being both Black and Latino has defined him throughout his life. In his Washington Postarticle, Torres describes race as "chosen and given." He believes that, though he's chosen to identify as a Black man and as a Latino, identity is equally the world's perception of you.
When Torres first entered the City Council, there was a meeting among the Black members of the Black, Latino, and Asian Caucus, about the lack of representation of Black people in the leadership of the City Council. While initially invited to participate in the call, minutes before the meeting, Torres received a call from one of his colleagues saying, "There are people who object to your participation in the call." When Torres asked why, his colleague responded, "Well, because you're Latino." Torres pointed out that he's both Latino and Black because, like many Puerto Ricans, he has mixed racial ancestry. That wasn't good enough for his colleague. "You have to choose," his colleague said.
"If the speaker is against you, and the mayor is against you, and the NYPD is against you, then there's a limit to what you can accomplish, right?" – Ritchie Torres
There have been times in his life where Torres has felt racially homeless, as he puts it, and this was one of them. However, he has also had to contend with the phenomenon of colorism within the Latino community. Raised by his mother's side of the family, which is largely light-skinned, Torres felt like an outlier.
"There were moments when I was made to feel less authentically Latino and Puerto Rican than the rest of my family," recalled Torres. This, despite the many famous Afro-Puertorriquenos, he notes, like Arturo Alfonso Schomburg, a leading intellectual figure during the Harlem Renaissance.
Growing up in the Bronx, the schools Torres attended were mostly Latino and African American.(The Bronx is 56% Hispanic or Latino and 44% Black, according to census data. The 15th Congressional District is 65% Hispanic and 28% Black.)In middle school he was assigned to a gifted program, a separate track of coursework for qualifying students. The students in those classes were mostly white. "I remember experiencing what we would now call microaggressions. Comments like, 'You're smarter than I would expect,' or, 'You're so articulate. You're so well-spoken for a Black person,' or, 'What is it like to have nappy hair?'"
Those microaggressions continued through high school and in college as well. "People were shocked that I had a functioning cerebral cortex, or that I could piece together a sentence," Torres recalled. "I would respond sarcastically whenever anyone said that I spoke white. I would simply point out, 'I speak better than most white people.'"
Torres attended Herbert H. Lehman High School, which at the time was a school of about 5,000 students in a building designed for no more than 2,000. "It was one of the largest high schools in New York City, and I was the intellectual equivalent of the captain of the football team," Torres said. "I was the captain of the law team, something of a celebrity within the boundaries of the school." Torres participated in moot court, in which students argue a case before a panel of judges in the face of rigorous questioning. He credits it for his ability to think critically, and on his feet. "The purpose of a trial court, mock trial, is fact finding," he explained. "But moot court is about legal interpretation, which is much more abstract, much heavier in critical thinking, so I felt that was helpful." 
Though he wasn't ideological, and he was never a member of the student government, Torres' peers thought the internship he accepted at the deputy mayor's office was a good fit. He said he was viewed by his classmates as a person destined for political leadership, but that he had no thoughts about running for City Council or Congress. But, Torres explained, "I had an inchoate sense of myself as a political animal."
One day, while Torres was browsing the internet, he stumbled across the MySpace profile of a teacher who identified as gay. It was the first time in his life that he had encountered an openly LGBTQ person. Torres had never considered the possibility of coming out before. He overheard insidious expressions of homophobia in his community growing up – casual use of the anti-gay slur that starts with F, for example – and saw no LGBTQ visible presence. People hardly suspected his own homosexuality – "I might qualify as a straight-acting gay," he said – but Torres never spoke about girls.
Torres spontaneously came out to this teacher, who became a mentor to him, taking him to his first Pride parade in 2005 and to the LGBT Center in Manhattan. The sense of acceptance was new to him, but coming out is a process for many queer people. When he was a junior in high school, Torres came out publicly, in a debate about the definition of marriage. 
It was a seesaw of returning to the closet and coming out for many years, until he ran for the City Council in 2013. "That was the definitive moment of coming out for me," he remembered. "I came to conclude that if you are deceitful about your personal life, then you're likely to be deceitful about your professional life."
Torres said that he never considered how he would approach his sexuality on the campaign trail. There was no special strategy, nor any intentional obfuscation. He believes that the distinction often drawn between the personal and the professional is a false compartmentalization. "Your character, your integrity, your authenticity, cuts across those artificial categories," Torres said. "I felt I owed it to myself, and I owed it to the people that I was going to represent to be honest and open about who I am."
"Ritchie's really acool guy," said Gibson, who is friends with Torres. "For those that have the chance to hang out with him, going out to dinner and being in social settings, they see that Ritchie's very laid back. He's not loud. He's very quiet. You wouldn't think that he talks a lot."
Gibson confesses that because of his age and stature – he is slender and stands 5 feet 10 inches tall – she tends to regard Torres as a little brother. Last summer, at community parties in the Bronx, they danced with residents. "We're all people of color, so I assumed that Ritchie could dance," she recalls, laughing. "So I was like, 'Come on, Ritchie, come on let's dance to bachata, hip hop." At first Torres was a little bit awkward, she recalled affectionately, before he eventually got the hang of it. "I said, 'Ritchie, come on, now, you're a Black man, you have to have rhythm!'"
Because she chaired the public safety committee, Gibson was involved in what Torres characterizes as his most challenging legislative battle to date. Her committee heard the original Right to Know Act – the law that set new measures for police interactions with civilians – which was two bills, one authored by Torres and one by Council Member Antonio Reynoso.
Not unlike today, it was a tumultuous time in New York City. Eric Garner had been killed by NYPD officers on Staten Island, and his family and many enraged New Yorkers were asking for accountability and transparency in the police department. "The Mothers in the Movement and many other advocates, (Communities United for Police Reform) and the Justice League, and civil rights organizations were demanding that we try to put legislation into law that would really change the behavior of cops," Gibson said.
The advocates wanted all traffic stops included in the bill, and the de Blasio administration was adamantly against that, wanting increased rules for police identification to only apply in limited circumstances. "We got to an impasse, where Ritchie, as the prime sponsor, had to make a decision," Gibson said. "Do I conform to what the administration wants, which is a watered-down version of the bill, and pass that, or do I hold off and stand with the advocates and the Mothers in the Movement, knowing the opposition?"
Without consulting the advocates, Torres moved forward with the revised bill. "I made a decision to broker a compromise, not with the police unions, which is a lie that's often told, but with the administration, the mayor and the speaker's office," Torres said. "I felt, if the speaker is against you, and the mayor is against you, and the NYPD is against you, then there's a limit to what you can accomplish, right? There's only so much you can accomplish in the face of overwhelming obstructionism and opposition from the three most powerful forces in city government." 
Torres said he still thinks about this often. He believes, with the momentum of the current political moment, they could have gone farther. Gibson agrees. 
"Was it the right decision to broker the compromise over the objections of the advocates?" Torres asked himself aloud. "Was it the right decision to even take, agree to the bill?" 
Torres argued that he is most effective when he's free to operate independently, but with progressive values, rather than as a movement progressive like the rising tide of elected officials who belong to the Democratic Socialists of America. "There are some elected officials who can operate effectively as an agent of a coalition, and enact the will of the coalition," Torres said. "I am admittedly not one of those. I operate best when I'm operating independently. So am I an effective legislator? Yes. Am I the ideal movement progressive? Admittedly, no."
For the Bronx, Torres didn't need to be a movement progressive. In the end, being who he is was enough to make history.
Powered By
NEXT STORY: This week's biggest Winners & Losers