How NYC is trying to prevent a second wave
Health Commissioner Dave Chokshi on school reopenings, hyperlocal targeting and pandemic politics.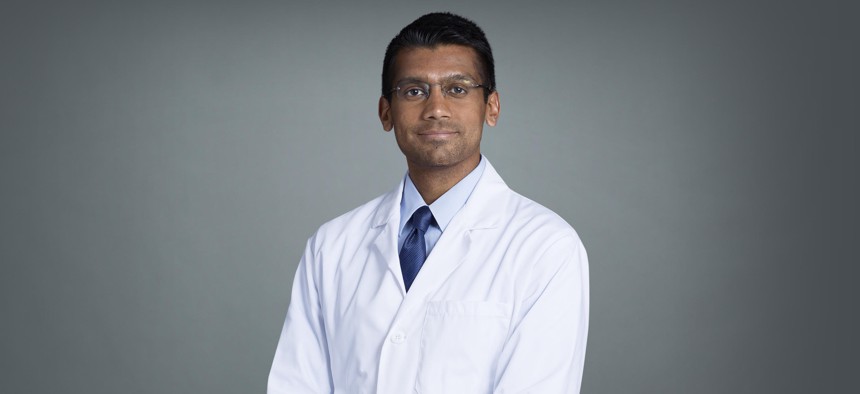 Dave Chokshi took the helm of the New York City Department of Health and Mental Hygiene last month in the midst of the worst public health crisis in generations. And while New York has managed to bring down COVID-19 transmission rates dramatically and keep the spread of the deadly virus in check, the return to school for many students and the reopening of additional businesses, including restaurants offering indoor dining, pose new risks this fall. On top of it all, the crisis has been exacerbated by political tensions, not only in Washington, D.C., but also locally.
During a one-on-one interview at City & State's Virtual Healthy New York Summit on Thursday, Chokshi shed light on how the city has proceeded in reopening schools, outlined contact tracing efforts and weighed in on the political factors at play. This interview has been edited for length and clarity.
New York City has kept the COVID-19 infection rate remarkably low for months. But with schools reopening, including some in-person classes at public schools and on college campuses, and limited indoor dining coming to the city, will there be an inevitable spike in cases?
My starting point on this is that we know what works from our experience over the past several months here in New York City. As with many public health efforts, it's not rocket science. It's things that are tried and true with respect to interrupting transmission. It's social distancing, making sure that people are washing their hands, making sure that when people are feeling ill, they stay home – and then really importantly, wearing face coverings. We should make sure that we have learned those lessons, but also that we don't become complacent about them as we head into the fall and the cooler months.
There are a few ways that I'm thinking about this. The first category is we have to take all of those individual actions that I mentioned, to make sure that we're communicating about them, but also supplement them with other things that we can do at the community and city level as well. I think about this as really being data-driven and making sure that our COVID-19 efforts are hyperlocal as well. Data-driven means we have to pull from every single information stream we can get our hands on with respect to understanding the evolution of the virus and its spread in New York City. We have a number of ways of doing that at the health department ourselves, but we also partner with a number of other people to make sure we have the firmest grasp possible about what's happening with respect to COVID-19. That in turn leads to our hyperlocal efforts, which is to take advantage of the fact that because as a city we are at a better level of virus transmission, we have a chance to prevent further spread, and look at the community level, the neighborhood level, or the ZIP code level, places that may be emerging with respect to further spread of the coronavirus. We did this in Tremont, in the Bronx, as well as Sunset Park and Borough Park in Brooklyn, really bringing to bear all of the resources that we can, whether it's knocking on doors, making robocalls, working with community leaders, faith leaders, fellow clinicians and clinical leaders, but also bringing our testing resources, including mobile testing resources, to bear in those areas. Those are the ways we are thinking about how to ensure that we prevent any resurgence.
Just this week, New York City Mayor Bill de Blasio announced a phased in approach to in-person classes, starting with pre-K and special needs students sooner, and with other students now coming back to school in October. What role did you play? And does that pose an increased risk?
I'm part of the team that is working on all of the major policy decisions that bear on health and the coronavirus. Our overarching philosophy on reopening has been to do it in a methodical way. We know that reopening of any type comes with some risk associated with it. As a doctor, I'm used to dealing with risk. But also making sure that we … (are) really making decisions based on weighing relative risks and benefits. What you heard from the mayor is reflective of that philosophy that we have to make sure that we do things in a way that manages risk appropriately. What the mayor has been very clear about, and which I strongly agree with, is to think about those areas that have the greatest benefit for the people of New York. I think about it from the health perspective, but we also have to think about the economic benefit as well, which ties into people's health, frankly. School reopening is a particularly important example where we know there are so many health benefits for reopening schools for in-person instruction. We need to do it as safely as possible, but the health benefits that I keep in mind are the direct benefits of kids being able to learn, the social and emotional development that comes along with it, but also all of the health services that are provided through schools, whether it's making sure that people have meals so that they're eating nutritiously, to the mental health services that are provided through schools, to ways of managing asthma in children.
This week, President Donald Trump contradicted the Centers for Disease Control and Prevention director, who had said a vaccine would not be widely available until the middle of next year and that masks were perhaps more important even than a vaccine. What's your reaction?
We should get away from the false dichotomies. We need masks and we need a vaccine. That should be inarguable with respect to the direction we need to go as a country and as a city. I think what Dr. (Robert) Redfield was alluding to was the fact that we don't have a vaccine today, but we do have masks today. We do have other efforts that we know have been effective to help control COVID-19. So let's focus on those things today even as we plan and prepare for a reality which, just as much as the next person, I hope it will be a reality in our near future where we have a COVID-19 vaccine as well.
You are a veteran of New York City Health + Hospitals, which was assigned to run the city's contact tracing efforts, despite the health department's long history of doing so. And your predecessor, Dr. Oxiris Barbot, was critical of the administration in her resignation letter, expressing "deep disappointment" that the "health department's incomparable disease control expertise was not used to the degree it could have been." Do you agree with her assessment?
What I know is that the virus respects no boundaries. It doesn't respect geographic boundaries, it doesn't respect individual boundaries, and it certainly doesn't respect organizational boundaries. So we want to have the most robust response to the coronavirus. We have to just be as aggressive as the virus is. That means that we have to take a whole of government approach, as the city has done across multiple different departments with respect to how we're fighting COVID-19. For testing and contact tracing, that's a partnership. The health department plays a deep and fundamental role with both. For contact tracing, we have some of the most experienced disease detectives in the entire world working within the New York City Department of Health and Mental Hygiene, and I can assure you that we're bringing every single resource that we have to bear to support contact tracing in New York City. We're working with the Test & Trace Corps, and they've done a remarkable job in standing up the efforts they have and scaling up rapidly in the last few weeks and months, and we work in a hand in glove partnership across Health + Hospitals and the department of health.