New York State
Khaleel Anderson makes history
He will be the youngest Black Assembly member ever.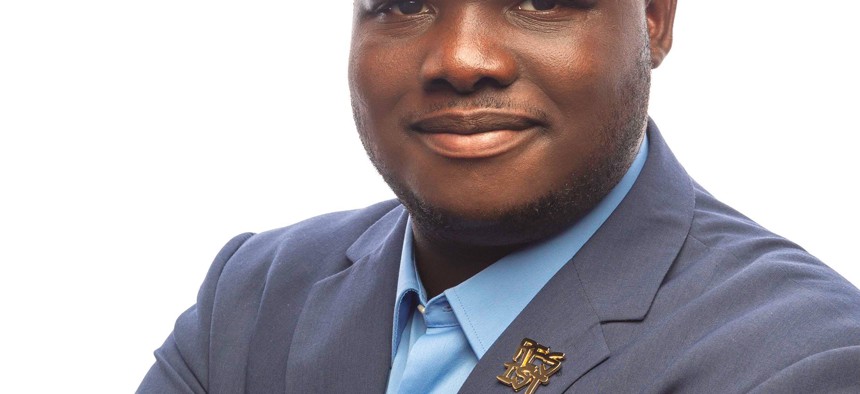 At the age of just 24, Khaleel Anderson has emerged as the youthful new voice of political leadership in the 31st Assembly District, in Queens. Anderson, who won the Democratic primary for the open seat in June, is virtually certain to win the November election in the heavily Democratic district, which would make him the youngest member of the state Legislature in 20 years, and the youngest African American member of the body in history. 
Growing up in Far Rockaway, Anderson got into politics at a young age, thanks to parents who were community organizers and union members. At age 19, Anderson became a member of Queens Community Board 14. He also serves on the New York Police Department 101st Precinct Community Council and in the Far Rockaway NAACP chapter as youth chair. In 2019, when he announced his candidacy, Anderson had recently graduated from Queens College with a master's and bachelor's degree in urban affairs. 
District 31 lies next to John F. Kennedy airport, yet people in the district have trouble getting to and from there, according to Anderson, because it is far from Manhattan and much of it is on an isolated peninsula. Anderson proposes extending bus lines further in the Rockaways in order to serve more individuals of his community. He has supported the Atlantic Ticket Discount program which allows LIRR riders, including those from the Rockaways, to gain more access to public transportation by offering a cheaper option to commute. Prior to his candidacy, he lobbied to extend the Q-52 bus line in Far Rockaway.
Although a recognized activist, Anderson did not enter the race as the favorite for the Democratic nomination. In July, after all the absentee ballots were counted in the close race, Anderson won a packed Democratic primary of six candidates to fill the seat of former Assembly member Michele Titus. Richard David, a Democratic district leader, who trailed Anderson by 795 votes, was the party establishment pick, supported by the Queens Democratic Committee. Anderson was the candidate of what one might call the progresssive establishment, supported by the Working Families Party. 
Shaniyat Chowdhury, former Democratic candidate for Congress who challenged Rep. Gregory Meeks in Southeast Queens district, which includes the Rockaways, told City & State that Anderson's victory was not surprising. "Khaleel, he's someone who's been able to gain the trust of a community for his own childhood basically," Chowdhury said. "He's been an activist – a youth activist, a teen activist – so he knows his community pretty well. So even if they were part of the county establishment or if they were not, just your everyday voter, people trusted him so I think that because he's had all these years of experience."
The district includes neighborhoods with large South Asian American communities, such as South Ozone Park, along with the predominantly Black eastern portion of the Rockaways. David, 34, was vying to make history as well: he would've been the first person of South Asian ancestry to win a state or city office from Queens. However, like many district residents, David is also Caribbean-American, as he grew up in Guyana. "I think just about every single elected official has let down this community," David said. "Not a single elected official here has a Carribean or South Asian person on their staff in any kind of decision-making role. None of us have an office in the neighborhood, although they say that they will do that when they are campaigning. None of them translate material to flyers or services they offer to Spanish or Punjabi which are the two largest foreign languages in the district."
Anderson's Assembly district has seen increasing diversity over the past few years. According to the Census Reporter, in 2018, nearly half the population was Black, with 22% Hispanic and 15% Asian. Chowdhury said that, because of this diversity, some in the Queens Democratic Party felt that David would represent newer immigrant groups that haven't yet been elected to the Assembly from Queens. "I think that, because of how diverse this district has become, and I'm talking about the congressional district overall, it's become really diverse with the African American community and now with an overwhelming South Asian community and the Caribbean community. So I think that, in my opinion, it was a political test move on the behalf of the Democratic Party to support someone that was in the Caribbean and South Asian in order to diversify the establishment," Chowdhury said.
David pointed out that Anderson's win should not be categorized as one of establishment versus progressive, however. "I wouldn't read it that way," David said. "The reason I wouldn't read it that way is because I think emotions were really high at the time and it was the peak of Black Lives Matter, we were just coming off of looking at the community – the Black community – which was the hardest hit from COVID, and the weekend before the election, the police department choked out a person on the boardwalk in the district." David said he is hopeful that Anderson will provide the right representation for South Asian and Carribean communities. 
Moreover, David noted, establishment picks in other elections in the area had won. Chowdhury lost to Meeks, who has held the congressional seat since 1998. The Queens borough president primary winner was Council Member Donvan Richards, who represents Far Rockaway and was backed by the county party. David did not think youth played a factor in the race, since he too is fairly young for a legislator, but David said Anderson's win at 24 attests to his intelligence and motivation. 
Racially polarized voting may be part of why Anderson won, but it's not the only reason, especially since the other four candidates were all Black. Anderson credits the appeal to youth and minorities of his progressive platform, which includes universal health care, decarceration, better education and improved transportation for communities across the district. "We were interested in providing a new perspective and a new voice to a district that has been historically, again, left behind and forgotten about and, by bringing in, a voice for a new fight together we truly felt that it's something that resonates to the people," Anderson said.
District 31 sits next to Jamaica Bay and the Atlantic Ocean. Rising sea levels threaten to flood the Rockaways and storm surges have dilapidated infrastructure and marshes in Jamaica Bay, so combating climate change is a crucial feature in Anderon's platform. Anderson experienced firsthand the negative effects of Hurricane Sandy in 2012 when he was displaced from his home. Houses were crushed after the hurricane and still, there are houses in ruins which Anderson has proposed to have the New York City Housing Authority help to rebuild to be sturdier and more sustainable. "We've talked to people in the community, as well about economic and social disparities that hurt people, lack of access to food, lack of access to school funding," Anderson said. "We see the communities ups and downs and Superstorm Sandy has greatly impacted parts of the district and, all in all, as a nation, we really needed strong representation in Albany to address these issues from a holistic perspective." 
Anderson's win comes after a surge of young people of color have taken office over the past few years in New York City, including U.S. Rep. Alexandria Ocasio-Cortez and a number of state senators elected in 2018. Although Anderson's policies are those of a rising generation determined to take issues like racial justice and climate change more seriously, he says his platform appeals to some older members of his community, as well. "I got older folks telling me, giving me a cautious warning, don't be too radical, don't be this or don't be that. So we get a fair amount of positives and negatives in terms of what our tenure should look like, but most of the comments we're getting are overwhelmingly positive and excited and also surprised, too, that a young man, a young person of color, could kind of achieve this great feat." 
Chowdhury, himself attempted to defeat a more moderate, establishment candidate. Chowdhury said that Anderson's win, among others, represents more changes to come. "I think that the tides are definitely turning the right direction," Chowdhury said. "From New York City to throughout the country, I think that young people have something to believe in and are seeing that they can make a difference."
Powered By
NEXT STORY: Is Jackie Gordon the new Long Island?