New York State
How Mondaire Jones made history in the suburbs
A gay, Black, progressive first-time candidate showed that Westchester and Rockland counties are ready for change.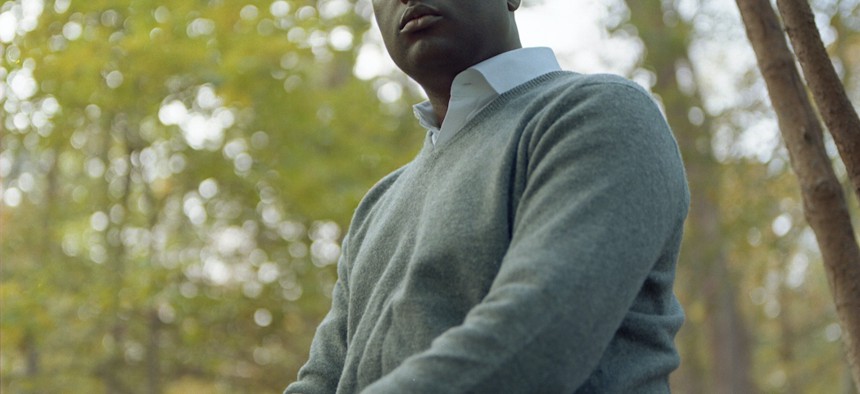 It was the first day of early voting for the general election, 20 minutes before the polling place opened at 9 a.m., and more than 100 Rockland County residents had already lined up outside. The voters looped around three sides of Orangetown Town Hall in the drizzling rain, while cars carrying more voters clogged the already full parking lot.
As the Democratic nominee in the 17th Congressional District, which covers Rockland and part of Westchester County, Mondaire Jones' victory was virtually assured. Donning a gray blazer and white mask with the letter "O" to represent the Westchester town of Ossining, he went to chat with voters before going to join the line himself. "This is so cool," said one woman standing in line with her daughters when he approached her to chat. "You have my vote." Jones went on to talk with more voters down the line, when a man yelled, "You're the man, Mondaire." The two tapped elbows, in place of shaking hands. 
Later that day, Jones made his way to Peekskill, a Westchester city of 24,000 along the Hudson River. At a small gazebo in the center of town, local elected officials, campaign volunteers and members of the service workers union 32BJ SEIU were rallying for the reelection of state Sen. Pete Harckham. Harckham, a former Westchester County legislator and alum of Gov. Andrew Cuomo's administration, won as part of the 2018 blue wave that gave Democrats control of the state Senate, ousting Republican Terrence Murphy. 
"I think what made Mondaire stand out was, while everyone else was running to fill big shoes, he was running in his own shoes." – state Sen. Pete Harckham
Harckham faced what has turned out to be a competitive challenge from Republican Rob Astorino, the former Westchester County executive. But Harckham, a more moderate Democrat than Jones, showered his left-wing ally with praise. "How about Mondaire Jones, our next congressman?" Harckham shouted to cheers from the small, energetic group. "Mondaire ran in a primary with a lot of people, looking to fill very big shoes. I think what made Mondaire stand out was, while everyone else was running to fill big shoes, he was running in his own shoes."
The widespread support for Jones in his primary race upends conventional ideas about suburban voters. He ran to the left of other candidates in the race, emphatically supporting policies such as "Medicare for All" and the Green New Deal. The district is 60% white and home to one of the largest Jewish populations of any district in the country. But Jones, who is Black, managed to far outperform seven other primary candidates, most of whom were white. Like retiring Rep. Nita Lowey, several of them were also Jewish. Jones won over 41% of the vote, around 25 percentage points more than second-place candidate Adam Schleifer.
Jones' primary victory made national headlines in June, as he would likely go on to become the first openly gay Black member of Congress – an achievement he will share with Afro-Latino New York City Council Member Ritchie Torres of the Bronx, who won the Democratic nomination to replace retiring Rep. José E. Serrano. 
But whereas Torres followed a more traditional path to political stardom, Jones went his own way. He was the first to jump in the race, declaring a challenge to incumbent Lowey before she announced her retirement, and he assembled a coalition of support from local activist groups, national progressive figures and their fundraising networks. Perhaps just as important, he did something none of his opponents were able to manage as successfully: connect the policies and change he championed to his own personal story, which added conviction and authenticity to his calls for policies such as Medicare for All and universal child care. Jones' oft-repeated maxim that "policy is personal" apparently resonated with voters.
And that success has upended expectations that the mostly white and wealthy suburbs prefer moderate candidates. If Jones' victory is any indication, the opposite may now be true.
Jones was born in Rockland County, and he often talks about growing up in Spring Valley, a working-class suburban village with a large Black population, where he was raised by a single mother. She juggled multiple jobs, and they lived in Section 8 housing and relied on food stamps. "My grandparents helped raise me," the 33-year-old said in an early campaign advertisement. "My grandfather was a janitor. My grandmother cleaned homes. I didn't come from money." After attending Stanford University, he went on to work in the U.S. Department of Justice under President Barack Obama, then attended Harvard Law School. Part of his job at the Justice Department involved vetting nominees for federal judgeships, many of whom were blocked by Senate Republicans. Frustration with Republicans' obstructionist behavior pushed him further to the left politically. After law school, he eventually returned to the lower Hudson Valley, working as a litigator in Westchester County's Law Department starting in 2018.
The district he will represent, however, has typically been understood as moderate-liberal. The leafier villages of northern Westchester such as Bedford and Katonah are home to rich and famous residents, including George Soros, Martha Stewart, Ralph Lauren and Glenn Close. Hillary and Bill Clinton are among Jones' future constituents. Small post-industrial cities in the district are more economically diverse, but not necessarily more progressive. Former Republican Gov. George Pataki came from Peekskill, where he had served as mayor. 
Like some other suburban areas, Westchester County has seen a decisive shift leftward since the 2016 presidential election, with Democratic voters less likely to split their ticket and back a Republican down ballot than they once were. "I think there are more people in Westchester that would describe themselves as being real progressives, not moderate Democrats," said Catherine Parker, a Westchester county legislator who ran in the congressional primary but ended up dropping out and endorsing Jones. 
Republican County Executive Astorino, once seen as a rising star among conservatives, lost his reelection bid by 14 percentage points in 2017. The 2017 election also resulted in Republicans losing control of the Westchester County Legislature, which eight of them had held in a power-sharing alliance with two Democrats. There are currently no more Republican officials in the legislature, and just one member of the Conservative Party remains. 
"Some other candidates … likened themselves to Congresswoman Lowey. … That doesn't speak to today. It speaks to yesterday." – Catherine Parker, Westchester county legislator who dropped out of the race
Rockland County, across the Hudson River, is generally a little more exurban, bordering on rural in its outskirts. Although its median household income is almost as high, it boasts far fewer celebrities than its neighbor on the other side of the Gov. Mario M. Cuomo Bridge. The county is currently led by Republican County Executive Ed Day, though Democrats retain narrow control of its legislature. 
The congressional district has a pronounced Democratic lean in national politics. Nearly 47% of active voters are registered Democrats, compared with 23% registered Republicans. In 2016, the district went 58.6% for Hillary Clinton versus 38.4% for Trump. But Rockland is more closely divided: Rockland went for Clinton 51% with 45% voting for Trump. In Westchester, the result was much more skewed in Clinton's favor: She won more than double the votes Trump did. The area has been represented for about 31 years by Lowey, who has had a fairly liberal voting record but is considered an establishment Democrat. The last time she faced a serious Republican challenger, in 2014, she won by about 12 percentage points. 
Even so, Republican elected officials have historically seen success in New York City's northern suburbs by highlighting their work on local issues. For example, Rockland County Executive Ed Day has focused more on the county's fiscal growth and curbing overdevelopment in the region. But partisan polarization driven by national politics has made Democrats in the lower Hudson Valley more receptive to left-wing primary candidates. "The suburbs have moved to the left," Jones said. "Particularly in highly educated communities like Westchester County." Still, he added, "There is more of a strain of Trumpism in parts of Rockland County, and that continues to be a challenge for Democrats."
That much was clear as in-person ballots cast in the general election were tallied last week, showing Trump with a comfortable lead in Rockland, despite losing to Clinton there in 2016. In the nearby 18th Congressional District in the Hudson Valley, just north of Jones' district, incumbent Democratic Rep. Sean Patrick Maloney maintained only a slight lead over Republican challenger Chele Farley. But absentee ballots are expected to skew to Democrats, and the counting of those ballots could see Trump's lead diminish and Democrats' margins widen in some of these districts. 
From the start, Jones positioned himself as the progressive candidate. Three months prior to Lowey's retirement announcement in Oct. 2019, Jones launched the first primary challenge Lowey would have faced in her three decades since first winning election to the House of Representatives. While he might have seemed like a long shot initially, he had a head start when Lowey dropped out. "That gave him the opportunity to define himself in the context of the race before anybody else had, and then everyone was trying to play catch up," said Doug Forand, a senior partner at the consulting firm Red Horse Strategies, of Jones' early entrance into the race.
Vanessa Agudelo, a member of the Democratic Socialists of America who serves on the Peekskill Common Council and who was among the first elected officials to endorse Jones, knows a thing or two about running to the left in the suburbs. To her, Jones represented a long overdue shift in the status quo. Though Jones is not a democratic socialist and was not endorsed by the organization, he supported ambitious progressive policies including canceling student loan debt and has been a vocal supporter of adding more justices to the Supreme Court, even prior to the death of Supreme Court Justice Ruth Bader Ginsburg. "I think people were really excited that we had a chance to elect someone – after watching what happened in the Bronx and in Queens with AOC – the possibility of being able to have someone that was that progressive, that was that bold in speaking to these issues and someone who kind of had the lived experience," Agudelo said. 
"If you're a hedge fund manager running on a 'Medicare for All' platform, that just doesn't vibe. Everything in Mondaire's story felt authentic." – Jones primary campaign manager Charles Blaettler
Jones himself has suggested that he would not have seen a path to running if it weren't for Rep. Alexandria Ocasio-Cortez's success. Later, endorsements from Ocasio-Cortez – and other progressive leaders such as Sens. Bernie Sanders and Elizabeth Warren – would draw national attention to Jones' campaign and open up access to their national cadre of supporters.
It's not always the case that the first out of the gate gets to take home the prize, but Jones' willingness to take on a powerful incumbent signaled to progressive activists his commitment to changing the status quo in the district. "I think Congress Member Lowey dropping out certainly brought out a lot of opportunistic candidates, and I use the word opportunistic not to be overly critical, but I think it shows only when an incumbent drops (out) do you see someone stepping up and running for office," said Ricky Silver, co-lead organizer of Empire State Indivisible, a part of Indivisible, the Democratic activist organization that formed in the wake of President Donald Trump's election. "Maybe it suggests that they didn't actually believe that true change was needed, they just saw a window of opportunity for themselves."
Eight candidates appeared on the ballot in the Democratic primary, representing a mix of experienced lawmakers, D.C. veterans and political newcomers. There was state Sen. David Carlucci, a former member of the GOP-aligned state Senate Independent Democratic Conference from Rockland; Assembly Member David Buchwald from Westchester; former federal prosecutor and billionaire's son Schleifer; former Defense Department official Evelyn Farkas; former board chair of the NARAL Pro-Choice America Foundation, Allison Fine; and foreign policy adviser Asha Castleberry-Hernandez. Parker also appeared on the ballot, but dropped out before the primary. 
Though the field was somewhat varied by background and professional experience, Jones offered voters a different choice. "I think if you're looking at a field of candidates and there are like five moderate white folks and this dynamic young Black guy who has a totally different message than everyone else, you look at the field and it's really easy to understand who Mondaire is, and sometimes it's a little harder to understand who the other candidates are because they look similar and they're saying similar things," said Charles Blaettler, who served as Jones' campaign manager during the primary, and who now works for the Working Families Party. Castleberry-Hernandez, an African American Army veteran, was the only other person of color who appeared on the ballot. 
The race was officially called almost a month after primary night, though his apparent victory had been evident for weeks: Jones blew his seven opponents out of the water, winning over 41% of the vote.
Even some of his opponents agreed that distinguishing themselves in a crowded field of similar candidates proved to be impossible. "I thought I could contrast myself with Buchwald to be like, 'OK, he's in the Legislature, but I've passed so much more legislation,'" Carlucci told City & State of his attempts to differentiate himself from Assembly Member David Buchwald. "But I think when we're debating, the voters – they don't really go to that level of detail. They see us as kind of the same. Here we are, both David."
Some who were involved in or kept a close eye on the race explained Jones' success with a variation on the idea that while other candidates ran to be the next Nita Lowey, Jones ran to be a new lawmaker entirely. Parker, the Westchester County legislator who dropped out of the race in May, put it plainly: "Some other candidates who likened themselves to Congresswoman Lowey – I think that felt a little anachronistic in that that doesn't speak to today," she said. "It speaks to yesterday."
"You're looking at a field of candidates and there are like five moderate white folks and this dynamic young Black guy who has a totally different message than everyone else... It's really easy to understand who Mondaire is." – Jones primary campaign manager Charles Blaettler
Insurgent candidates naturally fall into the role of underdog in any challenge to an incumbent or establishment politician, and that remained the case for Jones even after Lowey dropped out. The first-time candidate wasn't the highest fundraiser in the race – that was fellow first-timer Schleifer, who boosted his war chest with over $4 million in loans to his own campaign. At the outset, Jones didn't have the most name recognition – state lawmakers Carlucci and Buchwald had an edge on him there. 
But Jones did have eager support from local activist groups, strong fundraising and a well-oiled campaign machine that was poised to succeed in virtual campaigning after the pandemic stopped candidates from knocking on doors. Groups such as Rockland United and Empire State Indivisible – offshoots of the national Indivisible movement – endorsed Jones, as did other local grassroots groups such as Irvington Activists and the Rockland Coalition to End the New Jim Crow. 
Progressive activists like these aren't an entirely new phenomenon in the suburbs, but they certainly grew in size and influence after Trump's election. Harckham said that Indivisible groups were essential in helping him flip his Senate seat from red to blue in 2018. "They are a very formidable force right now, as a field force, and they keep getting stronger," Harckham said. "That's a critical ally that we have in our campaigns, but also in holding us accountable." 
That doesn't mean Democrats in the suburbs north of New York City aren't still vulnerable, however.As of printing, Astorino, the former Westchester County Executive, was beating out Harckham in the race to represent a district spanning Westchester, Putnam and Dutchess counties. Still, an influx of about 38,000 absentee ballots, many of which were submitted by Democrats, could allow Harckham to surpass the 7,491 vote gap between the candidates. The state senator also maintained a narrow lead in Westchester specifically, while Astorino overwhelmingly was favored in the more conservative, less-densely populated Putnam and Dutchess counties to the north.
"I was elected to be a Democrat who votes like a Democrat, not be a Democrat who votes like a Republican because it's a safer thing to do," Harckham explained.
Having the support of activist groups lent legitimacy to Jones' run, Blaettler said, offering the campaign something money can't buy. "They were like community validators. They're people who say, 'We support this candidate,' and they're telling their friends," Blaettler said. "If you're just blanketing the airwaves with a billion dollars worth of ads and there's no groups that are saying they're behind you, it's sort of difficult to present yourself as having any real support."
In more concrete terms, support from these groups also grew the campaign's ranks of volunteers. Blaettler said that the primary campaign included three central pillars: texting, phone banking and relational organizing – spreading the word about a candidate among friends and acquaintances. While volunteers from groups including Rockland United were on the ground canvassing and getting the campaign signatures prior to March, they were quickly able to plug into those remote operations such as phone banking once the pandemic made in-person campaigning impossible. "It was nearly one million phone calls to people all throughout the district, hundreds of thousands of text messages, students creating social media content, and making sure that their parents knew about me and voted for me," Jones said.
Although Jones pledged to not take donations from corporate PACs, he had access to formidable national fundraising networks, as well as his own networks, including Harvard Law School. "If all of a sudden, you can tap into the AOC network of donors, for example – all it takes is a tweet from her and all of a sudden, you're on the radar of literally millions of people across the country," Forand said. "And if they all give small amounts, you're gonna see your fundraising numbers spike." By mid-June, Jones had raised over $1 million, and to date he has raised roughly $2.7 million.
Blaettler said those networks are part of what makes progressive candidates like Jones more viable today than they might have been five or six years ago. "I think if you were running a progressive candidate in 2014, there's no Bernie Sanders email list, there's no AOC email list," he said. "Previously, there was much less of a national political movement behind sending progressives to Congress."
"If all of a sudden, you can tap into the AOC network of donors – all it takes is a tweet from her and you're on the radar of literally millions of people across the country." – Doug Forand, senior partner at Red Horse Strategies
Progressive candidates taking on incumbents or establishment politicians are fairly universal in their strong rebuke of corporate PAC and special interest money. But a candidate still needs money to get his or her name out there, to run ads and to hire talented people to run their campaign. "I think the most successful progressives understand that yes, we need to run nontraditional candidates, but that doesn't mean we need to throw out traditional campaign tactics, like fundraising and earned media and polling and TV ads," said Monica Klein, a founding partner at Seneca Strategies, who worked on Jones' campaign. "There are so many things in campaigns that need to change, but there are still tactics that need to be used, and I think the left is getting even better at that."
For Jones to campaign on a message that resonated with voters, he first had to make sure that message reached voters. "Had I not had the grassroots fundraising capacity to introduce myself to people, folks still would have been deciding between Adam Schleifer, Evelyn Farkas and maybe David Carlucci," Jones said.
As the recession leaves millions of Americans unemployed and without health care during a global pandemic, ideas like Medicare for All may seem less radical to voters. "The petri dish that we're in is laying bare a lot that maybe suburban voters were shielded from," said Lessie Branch, director of The Think Tank at the Thinkubator, a youth-oriented research center in the Bronx focused young and marginalized communities. "Because the reality within which we are now living makes clear – or at least lays bare – some of the things that suburban voters may not have had to contend with, I think that their selection of policy choices might be broadening." 
In different times, Jones might not have been as successful, said Branch. "What would happen, I think, under normal circumstances – if we weren't at this Overton moment – incumbents and more established status quo-type candidates likely would have won," Branch said, referencing the Overton Window, the political science concept that refers to a range of policies that are acceptable to the mainstream at a given moment and her belief that the window is currently shifting leftward. 
Jones' messaging also may have been more palatable as he connected progressive policies to his own personal story growing up in a low-income household. When he campaigned on universal child care, for example, he talked about how his grandmother had to take him to work with her because his mother couldn't afford day care. "If you're a hedge fund manager running on a Medicare for All platform, that just doesn't vibe," said Blaettler. "Everything in Mondaire's story felt authentic." 
Castleberry-Hernandez, Jones' opponent in the primary, doesn't think Jones' victory signifies a leftward shift in the local electorate. "This district is still center-left in my opinion," Castleberry-Hernandez told City & State. She credited Jones' win not to a major ideological realignment in the suburbs, but to Jones' relatively high fundraising, his high-profile endorsements, his early entrance into the race and the racial reckoning that was sparked by police killings of Black people this summer. Jones argued that might have inspired more white voters to pull the lever for a Black candidate. While Jones wasn't the only Black candidate in the race, he was oftenreferred to in the media as the leading candidate of color in the race, and he spoke at Black Lives Matter rallies in those months, advocating for criminal justice and police reform.
Jones isn't the only young, Black progressive candidate who won in Westchester this year. Jamaal Bowman, who was endorsed by the Democratic Socialists of America, defeated Rep. Eliot Engel, a 16-term incumbent, by about 15 percentage points, in the Bronx-Westchester district immediately to the south. Both Bowman and Jones will make history by being the first Black members of Congress representing suburban New York. Their successes may indicate that Democrats no longer need to run to the center to win suburbanites' support – at least in a primary. "I think for now, in the foreseeable future, what you're seeing in Mondaire's race is going to be much more the model of suburban campaigns," Forand said. 
Jones' and Bowman's successes indicate that when Ocasio-Cortez broke the mold of who gets to represent New York in Congress 2018, it wasn't a fluke, but the start of a movement. "You can have spent decades in Washington … and still not be who the New York Times Editorial Board described as 'the most promising and the most prepared' to offer real change in this district," Jones said, referring to his New York Times endorsement in the primary. "I remember people being so confused – some people who supported other candidates – by that endorsement and by that language." How could he, a 33-year-old first-time candidate, with no experience in elected office, be the most prepared to serve in Congress, Jones remembered people wondering. "It's because they themselves are completely divorced from the everyday experience of working people, including right here in New York's 17th Congressional District." 
Jones was up against four opponents in the general election on Nov. 3, including Republican Maureen McArdle Schulman, but Jones secured a roughly 14-point lead as in-person ballots were tallied, and the race was called in his favor. When Jones heads to Washington, he will be part of overlapping groups making history: as one of Congress' first openly gay Black members, as one of the first Black members of Congress from suburban New York, and as part of the growing caucus of young progressives. "Growing up poor, Black, and gay, I never imagined someone like me could run for Congress, let alone win," Jones said on the night of the primary. "Indeed, in the 244-year history of the United States, there has never been an openly gay, Black member of Congress. That changes this year."
Powered By
NEXT STORY: This week's biggest Winners & Losers