Winners & Losers
This week's biggest Winners & Losers
Who's up and who's down this week?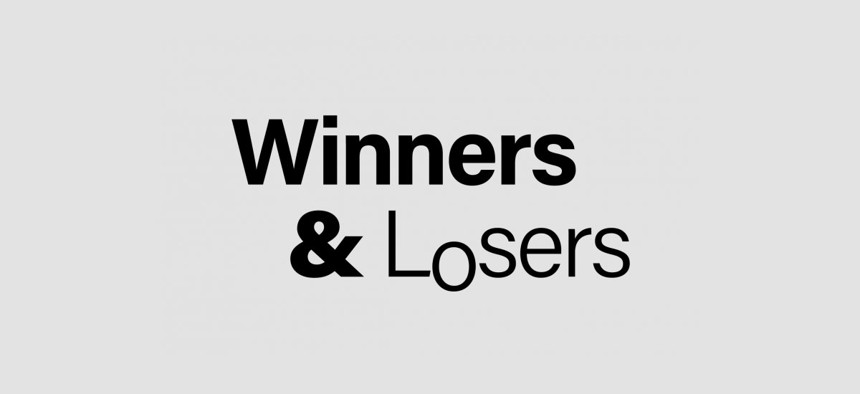 Neither presidential candidate spent election night in Midtown, the Legislature was never going to flip, and our state's preference at the top of the ticket was never in question. Isn't it sad when New York isn't in the spotlight? Step away from the cable news and check into a place where New York always matters: City & State's weekly Winners & Losers poll. 
WINNERS:
Nicole Malliotakis -
Rep. Max Rose and Assembly Member Nicole Malliotakis both agreed that they love cops and hate Bill de Blasio, but apparently voters found Malliotakis' NYPD-loving and mayor-hating more convincing. Getting President Donald Trump's "Complete & Total Endorsement" probably helped, too, in a year when the president seems all but guaranteed to win the 11th Congressional District once again. As does Malliotakis, who seems destined to go from The Rock to The Swamp.
Nick Langworthy -
The Grand Old Party has been revived in New York, and state Republican Committee Chair Nick Langworthy couldn't be happier. Republican incumbents and challengers had strong showings at the polls on Tuesday, and that state Senate Democratic supermajority doesn't look like it'll happen, after all. Absentee ballot tallies are expected to diminish or even close some Republicans' leads over Democrats, but for now, Republicans' better-than-expected performance means Langworthy gets to take a victory lap.
Sochie Nnaemeka & Gerard Kassar -
A lot remains unknown in New York after election night, but one thing's for certain: the Working Families and Conservative parties both came out on top, regardless of how any of their candidates may have performed. Both easily surpassed the new, higher voting thresholds required to keep their legal status as official minor parties. And it's all thanks to their ability to cross-endorse the two major party presidential candidates. Now WFP State Director Sochie Nnaemeka and state Conservative Party Chair Gerard Kassar can continue supporting major-party candidates of their choice unimpeded. Ain't fusion voting grand?
Samra Brouk, Jeremy Cooney, Sean Ryan -
The three Western New York state Senate hopefuls flipped longtime GOP districts in the Rochester and Buffalo areas. That's little solace to downstate Dems despondent over probable losses closer to home, but the election of Brouk, Cooney and Ryan should be something of a wake-up call to Republicans. GOP leaders might even want to tone down the bragging about the 2020 elections, now that there'll be more upstate Democratic senators than ever.
Rebecca Seawright -
After an epic paperwork fail kept her off the ballot lines for both the Democratic and Working Families parties, it looks like the incumbent Assembly member will still hold on to her seat. Seawright faced off against Lou Puliafito, a Republican who works as a doorman – and even set up her headquarters in the building where he works. Although Puliafito pulled a bigger share of the votes than his failed bid for the same seat in 2018, Seawright, running on her own independent party line, surged ahead in the count. Maybe next time she runs for re-election, she won't need to enlist big names like Joe Biden and Hillary Clinton just to remind constituents she's a Democrat?
LOSERS:
John Cummings -
As it turns out, money isn't everything when you're a Republican running in a district where Democratic voters outnumber Republicans 6 to 1. John Cummings raised a massive $10 million in his long-shot bid to replace Rep. Alexandria Ocasio-Cortez. But those funds unshockingly could do little to propel the Catholic high school teacher to victory, despite Republicans' deep distaste toward America's most high-profile progressive.
Nate McMurray -
For Nate McMurray, the third time was not the charm. The Democrat is almost certain to lose his bid to unseat Rep. Chris Jacobs in the 27th Congressional District, the reddest in New York. That's McMurray's third failed shot at the seat as the Democratic nominee – the first was in 2018 against then-Rep. Chris Collins, who'd been arrested on insider trading charges, and the second was this June against Jacobs, as the two battled to replace Collins in a special election. At the very least, we admire this guy's persistence.
John Campo -
Believe it or not, cops are supposed to catch criminals, not help them. But ongoing revelations and secret recordings exposing police corruption in the city of Mount Vernon indicate that some local officers may have been struggling with that basic tenant. One officer, John Campo, has been suspended after one recording reportedly revealed that he helped hide crack cocaine on behalf of a well-known drug dealer. And it's just one of many damning claims that have emerged about the city's police, which includes officers admitting to framing and beating residents.
Jay Jacobs -
Absentee ballots still have to be counted, but based on early results, New York Democrats didn't have a particularly good election night. They're on track to potentially lose at least two congressional seats and many Republicans lead in state legislative races. And state Democratic Party Chair Jay Jacobs couldn't even relish in the death of the Working Families Party after they met the new ballot access requirements he pushed for that many political observers considered a vendetta on behalf of Gov. Andrew Cuomo.
Cody Anderson, Gloria Mattera & Peter LaVenia -
Talk about collateral damage. Although Cuomo (allegedly) tried to eliminate the Working Families Party with new ballot access requirements in retaliation for backing Cynthia Nixon, the Green and Libertarian Parties were the ones to pay the price. Both fell well short of the new vote threshold in the presidential election to maintain their party status in New York. Unlike the WFP and Conservative Party (which survived) and the Serve America Movement (which did not), Greens and Libertarians always run their own candidates, as one would expect a party to do. State Libertarian Party Chair Cody Anderson and state Green Party co-Chairs Gloria Mattera and Peter LaVenia probably didn't expect their candidates to win, but at least they offered alternative choices to voters.