New York State
How Black women became New York's power players
Firsthand accounts of the barriers and triumphs in New York's political world.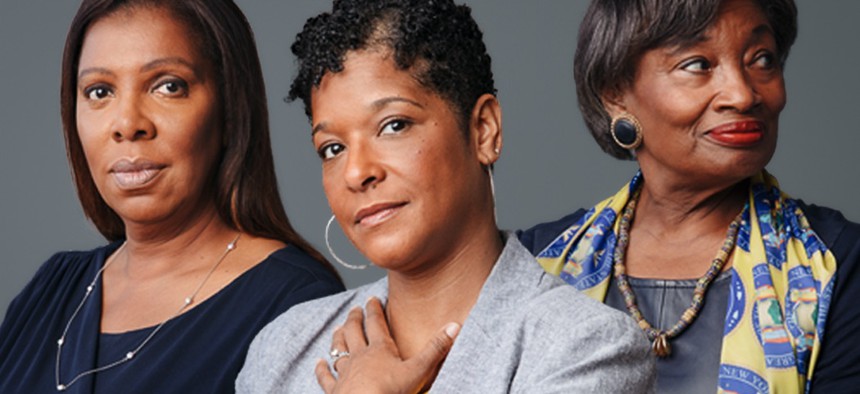 In the early 1990s, the city of Yonkers was several years into a battle to resist a Justice Department order to desegregate schools and housing. At the time, many Black residents said racism in the community just north of the Bronx was as blatant as in parts of the South.
The Saw Mill River Parkway was the dividing line between Blacks on the west side and whites in nicer neighborhoods on the east side. Almost 100% of public housing was confined to the west side of the city and schools were segregated along the same fault line. As noted in a 1985 federal court decision, a parade of mayors had perpetually reappointed school board members committed to keeping Blacks and whites separate. When Blacks tried to rent or buy on the white side of town, they were turned away. An NAACP lawyer working with the Justice Department received death threats. 
In 1991, Yonkers resident Andrea Stewart-Cousins volunteered to campaign for mayoral candidate Terry Zaleski, a fellow Democrat who supported desegregation. When Zaleski won and took office in 1992, he appointed Stewart-Cousins director of community affairs. Part of her job was to help foster communication between racial groups and neighborhoods in the troubled city. It was the first venture into politics for Stewart-Cousins.
"I was the first woman and woman of color to hold this position and it was my job to bring the city back together after this divisive period," Stewart-Cousins, now majority leader of the New York State Senate, told City & State and The New York Amsterdam News. "It's then I realized how government can create and remove obstacles, whether it be because of race, ethnicity, religion, socioeconomics, gender, etc.," she added.
Pundits are acknowledging Black women's role in tipping toss-up states in the hotly contested presidential race.
In her current role, Stewart-Cousins takes her political power seriously, pushing to pass statewide laws that empower women, help the environment, diminish racism and more. She is one of nearly 40 Black women elected and appointed officials, political consultants and political power brokers in New York State who responded to a survey by City & State and The Amsterdam News about their motivations, their backgrounds, the obstacles they've encountered and their future plans. 
Nationally, Black women in politics are experiencing a moment. Pollsters and pundits are acknowledging Black women's role in tipping toss-up states toward blue in the hotly-contested presidential race, and shattering another glass ceiling.
"This month, we celebrated the historic win of Vice President-elect Kamala Harris, the first woman and first Black person and person of South Asian descent to be elected to this role," said Glynda Carr, president and CEO of Higher Heights for America, a nonprofit supporting Black women in political leadership roles. 
"There is no way to overstate the significance of having a woman of African descent serving at the highest levels of leadership in a country that once denied Black women full citizenship," she added. "This is not only important at the upper levels of government, but at all levels."
In January, a record number of Black women Congress members will be sworn into the U.S. House of Representatives, and the number of Black women candidates who vied for local, state and national races was groundbreaking, Carr said.
In New York State, Black women in politics are having a moment too. Letitia "Tish" James, the state's first woman and first Black attorney general, is conducting an investigation of the Trump Organization which could add to the president's legal woes once he leaves the presidency in January. She is also preparing a lengthy list of legal actions aimed at reversing Trump administration initiatives once he's out of office. Stewart-Cousins, the first woman Senate Majority Leader in state history, has guided legislation guaranteeing a woman's right to choose and also a climate bill that is one of the most aggressive clean energy pieces of legislation in the country. 
Rochester Mayor Lovely Warren, the city's first woman mayor, has received national attention as she navigates policing reform following the controversial death of Daniel Prude, a mentally distressed Black man, at the hands of local police. Last year, April Baskin of Buffalo became the youngest person to chair the Erie County Legislature at the age of 36. Maya Wiley and Dianne Morales are among the Black women vying to become New York City's first woman mayor in 2021. U.S. Rep. Yvette Clarke, a Brooklyn Democrat, is the only non-Hispanic Black woman among 27 U.S. House members representing New York. (U.S. Rep. Alexandria Ocasio-Cortez, a Democrat representing parts of the Bronx and Queens, has said that her family is "Afro-Latina.")
"There is no way to overstate the significance of having a woman of African descent serving at the highest levels of leadership in a country that once denied Black women full citizenship." – Glynda Carr, president and CEO of Higher Heights for America
The notable shift on the national level prompted the Siena College Research Institute in Loudonville, N.Y., to ask state residents their thoughts on Attorney General Tish James and Vice President-elect Kamala Harris. 
Their recent poll of 803 New York State registered voters from Nov. 15-18 showed that James and Harris are popular among Black voters, and Harris is popular statewide.
Harris had a 55% favorable rating overall, with 66% among New York City residents and 83% among Black voters. 
Meanwhile, James has a 33% favorable rating among state voters overall, 46% among Democrats and 49% among New York City residents. Among Black voters, 58% found her favorable. 
"Among Black voters, she's far better known and appreciated," said Don Levy, the institute's director. Also, "Tish James is one of the most important elected officials in the state of New York. I think that the change in D.C. and the role that she's playing in some of the investigations relative to Trump's business interests is going to (push her to the forefront) even more."
The margin of error was plus or minus 4.1%.
James, Stewart-Cousins and Wiley were among the survey respondents, along with New York State NAACP President Hazel Dukes; State Assembly Member Inez Dickens, a Manhattan Democrat; New York City Council Member Farah Louis, a Democrat from Brooklyn; former borough president of Manhattan and New York City Council Member C. Virginia Fields; Higher Heights co-founder Kimberly Peeler-Allen; publicist and political adviser Rachel Noerdlinger; and other movers and shakers. Many called late U.S. Rep. Shirley Chisholm, the first Black woman to run for U.S. president under a major party, their "shero." A number cited her oft-repeated quote, "If they don't give you a seat at the table, bring a folding chair."
Said James, "There were times earlier in my career when individuals either expressed to me that I didn't deserve to be where I was, ignored me or refused to take me seriously. I was not welcomed at their table."
The attorney general said she has taken Chisholm's advice and expanded it. "I brought my own chair and, in some instances, created my own table," James said.
Black women are typically put in positions where they have to work hard and serve as their own cheerleaders, said Lupe Todd-Medina, public relations specialist and president of Effective Media Strategies.
"I was not welcomed at their table. ... I brought my own chair and, in some instances, created my own table." – Attorney General Letitia James
"In the political space, I have found that Black women are expected to do a lot of the everyday, laborious tasks – plus the job we were hired to do – for less pay and credit," Todd-Medina said. "I have watched many men – Black and white – failing up while I struggled. I no longer want the proverbial pat on my head for helping to get my girlfriends to the polls or getting that elected official out of a sticky situation. Give me pay parity and credit when credit is due."
A handful of the respondents said that service is in their future – whether it's through elected office, volunteering or acting as mentors themselves. Many came from humble beginnings, working their way through school and earning every rung that they climbed on the career ladder. Some entered politics by way of activism.
Many said they were working on running for office or on getting more women elected to public office, in New York State and around the country.
Stacy Lynch, deputy director of intergovernmental affairs for NYC Mayor Bill de Blasio, has filed the financial paperwork to run for a seat on the New York City Council. Political consultant Amelia Adams said she hopes to get 21 women onto the New York City Council in 2021 through the "21 in '21" nonprofit that she chairs. Yvette Buckner, managing director of Tusk Strategies and vice chair of 21 in '21, said that she has similar goals. She referred to the 1920 ratification of the 19th Amendment, which gave women the right to vote (though many Black women had to wait another 45 years for the passage of the Voting Rights Act).
"In this centennial of women's suffrage, I'm working to get more women elected to public office on a city, state and national level…to get 21 women elected to the New York City Council in 2021, and with Vote Mama Political Action Committee to get mothers elected across the country," Buckner said.
As with most people in the world, the respondents said the coronavirus pandemic has affected how they do their jobs. Many said it affected the direction and focus of their work too.
C. Virginia Fields, who now leads the National Black Leadership Commission on Health, said she is focusing more on the health disparities that were spotlighted by COVID-19. New York City Council Member Inez Dickens is connecting people who've lost their jobs in the pandemic to the U.S. Department of Labor, and connecting small-business owners to emergency grants. Rose Pierre-Louis, chief operating officer of the New York University McSilver Institute for Poverty Policy and Research and former New York City commissioner of the Mayor's Office to Combat Domestic Violence, said she is directing more attention to the welfare of people in marginalized communities amid the pandemic. The New York Urban League is opening a small business center to support enterprises derailed by the coronavirus, said Arva Rice, president and CEO.
Respondents also said one of the other major developments of 2020 is guiding their work too: the global racial reckoning spurred by the death in May of George Floyd at the hands of the Minneapolis police. 
"Companies are rushing to put together their diversity statements," Arva Rice of the New York Urban League said. "We are challenging them. Once they have put together their statements, how will [they] work towards eliminating systemic racism? Statements need to move towards action."
 "I no longer want the proverbial pat on my head for helping to get my girlfriends to the polls or getting that elected official out of a sticky situation. Give me pay parity and credit when credit is due." – Lupe Todd-Medina, public relations specialist and president of Effective Media Strategies
Rice added: "As a result of our nation's racial reckoning, we are creating a diversity lab which will be an opportunity for corporations to come together and share best practices for diversity and inclusion, and have access to our employment pipeline."
Reaching the point where they can have an effect on society did not come without a price, the women said in their responses. As New York City Council Member Farah Louis said, microaggressions are as prevalent in politics as they are in the private sector.All of the respondents said they've experienced bias in one form or another and from all demographics. Sometimes it was subtle, as in colleagues who smiled at them but suggested someone else handle their assignment. Other times, it was blatant.
Jennifer Jones Austin, chief executive officer and executive director of the anti-poverty nonprofit FPWA and chair of the New York City Board of Correction, said that she has experienced slights from all directions, even from other Black women.
"For examples, I've had white staff who reported to me openly express surprise about my analytical, strategic and problem-solving skills; I've had Black men who reported to me challenge and defy my decisions; and I've had Black female staff actually follow the desires of men who also reported to me, all the while ignoring my directives," Jones Austin said.
Maya Wiley recalled a time when she was trying an employment discrimination case as an assistant U.S. attorney. She walked in the courtroom for a pre-trial hearing and saw that the opposing attorney was a Black woman too. 
"We were both wearing business suits, of course," Wiley said. "This white, male judge entered and sat down, and angrily shouted, 'Where are the lawyers?' She and I looked at each other and in that moment, we were on the same side."
Several of the Black women political figures who responded in the survey said they've learned to navigate a sometimes turbulent work landscape by staying true to what they believe – even if it means earning less money or losing potential supporters or friends. 
Kia Floyd, Facebook's head of public policy and community engagement for the eastern United States, said the worst advice she'd ever received was: "Choose stability over passion."
Alexis McGill Johnson, president and CEO of the Planned Parenthood Federation of America and the Planned Parenthood Action Fund, remembered an instance involving Perception Institute, the nonprofit she co-founded that researches race and bias. 
"We signed a client and they weren't really in it for the right reasons," McGill Johnson recalled. "I was really struggling with how to deliver the right kind of product for them, and somebody said: 'Just take the check.' That terrible advice actually clicked, because it was so inconsistent with anything I would have ever said to anyone. It freed me to do the opposite, and realize that I had the power to actually quit my client, which was kind of liberating."
Another respondent who said she sticks by her principles is Leecia Eve, vice president of public policy for Verizon and a scion of one the state's best known political families. Her father is Arthur Eve, retired state assembly deputy speaker, founding member of the New York State Black and Puerto Rican Legislative Caucus and one of the negotiators in the 1971 Attica prison riot. Her mother is Constance Eve, first Black tenured professor at Erie Community College in Buffalo and founder of Women for Human Rights and Dignity, a nonprofit helping incarcerated women.
As a child, she watched her father champion social justice issues in state government, she said. 
"He had many battles in the legislature and with governors. He won pretty much all of them, benefiting New Yorkers not just in his district, but across the state," Eve said. "I still remember during one of the epic battles, my father saying to me: 'Everyone may not like me, but they respect me because they know who I am, what I believe, what I am fighting for and why I am fighting for it.'"
Eve added, "What my father said to me decades ago was a powerful lesson then. It is just as powerful – and even more pertinent – today." 
Many of those surveyed said they believe in mentorship. They've had mentors and in turn, they mentor less-experienced women in politics. They also rely on friends and allies to support them in the sometimes raw and vicious world of politics. Many engage in self-care through exercise, especially running, as well as travel. These stress reducers help them stay fresh to navigate the world of politics.
For many of the respondents, including Juanita Scarlett, a partner with Bolton-St. Johns public affairs firm, the critical key to all of this is to know one's own value in a world that tends to undervalue Black women.
"Success to me is being happy, healthy and rewarded for doing what I love," Scarlett said. "There is no obstacle too great to overcome when you know your worth."
Powered By
NEXT STORY: Friends and colleagues remember David Dinkins