Personality
Kevin Riley, NYC's newest City Council member
A Q&A with the Bronx lawmaker who's replacing Andy King.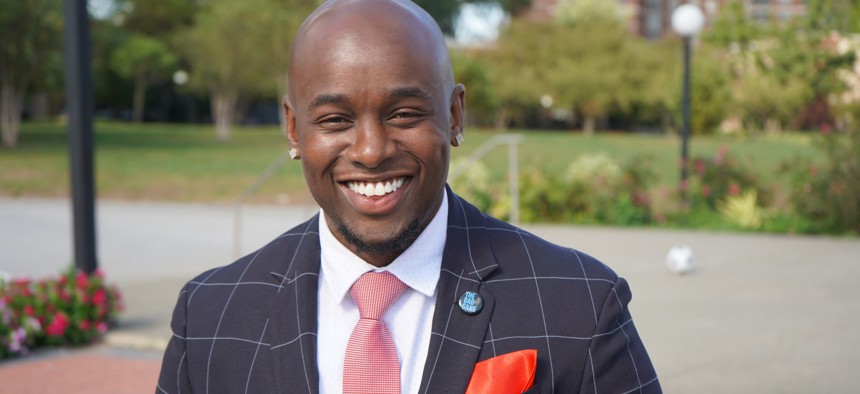 New York City's newest City Council member, Kevin Riley, has some friends in high places. He has worked for Assembly Speaker Carl Heastie for the last 10 years, and has known state Sen. Jamaal Bailey, the new leader of the Bronx Democratic Party, for more than 20 years. 
But Riley will have the opportunity to stand on his own as the newly elected representative for the 12th Council District in the northeastern Bronx. He won the Dec. 22 special election that was called because the previous council member, Andy King, was expelled from the Legislature for ethical violations including harassing his staff. Riley, a Democrat, was sworn in on Wednesday morning, and immediately named chair of the Subcommittee on Landmarks, Public Sitings, and Dispositions.
City & State talked to Riley about how he would have voted on the budget, whether a new member should be the next speaker and why he's a proud member of the Dad Gang.
Given the pandemic, are they even giving you an office downtown? Or are you and your team just working remotely?
I don't think we'll be having one anytime soon, being that 250 Broadway won't be opening up anytime soon to my knowledge. But we'll be working remotely, and we're actually looking for office space within the district. 
You won the special election for Council District 12 in the Bronx to replace Andy King on Dec. 22 and were sworn in Wednesday morning, but you're up for reelection this year already. Do you expect to have a serious challenge in the June primary?
Of course. We have so many amazing people in our community that want the position to advocate and bring resources back to our community. So I'm pretty sure that we're going to have some dope people wanting to be candidates and run against me, which I have no problem with. This is a democracy and we all have the best interest of our community at heart.
On that note, you were endorsed by some of the city's biggest unions, but one of your opponents criticized that, saying the unions had never even met with him, and that you were only endorsed as a favor to Assembly Speaker Carl Heastie, whose office you have worked in for a decade. Did you meet with the unions?
One of my favorite unions, Local 372, President Shaun Francois says, "You've got to stay ready." I announced I was running in the 2021 election in February (of 2020). Since February, I've been reaching out to the unions, even though a lot of them told me that it's way too early. But I just wanted to introduce myself, have conversations, make sure that they know who I am, and know that I'm running for this seat. 
When the special election (was called), I had to reach out to them again. I had to do (candidate) screenings, we had to do our questionnaires, and we had to do tons and tons and tons of interviews. To my knowledge, none of my other opponents reached out to any of the unions. I think they were under the assumption that the unions reach out to the candidates. But to my knowledge, you have to reach out to the unions. And that's what I've been doing since the beginning of last year.
What are your thoughts on the reduction to the NYPD budget that the City Council approved last June? Would you have voted yes on that budget?
Right now, the city is broke. We have to come up with new, creative ways to get revenue within our cities, from the popular – taxing the rich, legalizing marijuana, legalizing gaming – and other ways where we can bring revenue within our city and our state. But as of right now, we do have to focus on reallocating funding from certain city agencies to better equip our communities, especially after this pandemic. So to your original question, I did not like the allocation that was taken away, I think a little bit more could have been taken away from the NYPD to reallocate within our other city agencies. And I possibly would not have voted yes for that budget. But this is going to be my first time doing the budget this year. So I do have to find out how the process goes, and see how my voice could bring back more resources to my community.
Do you have any bills you want to introduce in the Council?
I want to focus on a resolution that encourages the Department of Health and the state to educate communities, especially communities of color, on vaccination. We do want to encourage everyone in our community to take the vaccine, but what we're finding is a lot of people in that community (are concerned with) what's in the vaccine, (and) the side effects. Also, I do want to help the hospitals within our communities, because in a few months, they're going to be seeing a whole lot of cases coming in, and they're not prepared or equipped. We were at a rally for (the New York State Nurses Association) about two months ago, and they were kind of scared because they feel like they aren't properly staffed, they don't have proper (personal protective equipment). 
So legislation to focus on the COVID-19 pandemic, and also education. I am a remote educator now. My fiancee, who's an essential worker, has to go to work every day. So I've been home educating my daughters and running my campaign at the same time. And it's very challenging. Very challenging for the students, mentally, and it's very challenging for the parents, mentally. So I want to put in a mental health aspect in finding out how the remote learning and this pandemic is going to interfere with our children and our families.
The neighborhoods of Wakefield and Woodlawn in your district now have the highest coronavirus test positivity rates in the city, suggesting that the disease is spiking in your area. Is there anything the government should be doing to stop the spread?
We need more testing sites in the district. As I was driving around the community yesterday, we saw very long lines at the different testing sites. I was able to bring in one walk-in testing site to Dreiser Loop (in Co-op City), but the line was around the corner. So if we're going to encourage people to get tested and track this disease, we need to have more testing sites within our community. 
You're close to Jamaal Bailey, the new Bronx Democratic county leader. Do you think he and other county bosses should play a major role in choosing the next City Council speaker? 
I definitely do believe that we should have a say-so who the next speaker will be. Everyone needs a seat at the table. Jamaal is very transparent, he loves to be held accountable. And I have known Sen. Bailey for the last 21 years, being that we attend the same clergy within our community. I do believe that he'll make the right choice for electing the right speaker - or giving his say on who he believes the next speaker of the City Council should be.
And do you think the next speaker should be a returning member, or somebody who was newly elected? 
I think that's something that we could discuss. We do have a lot of great council members who are coming back next year, hopefully, that will make amazing speakers. I don't want to get into any names right now, because I don't want to say I've endorsed anybody. But there are tons of dope individuals that can control the body. Because we do have an amazing body coming in next year. I'm so eager and encouraged to work with a bunch of candidates who will hopefully be members next year. So, I do believe having somebody who has that experience, especially during this pandemic, will play a very good role with New York City moving forward.
Did any current City Council members come and campaign with you?
Every single one (laughs). Almost every single one. But to be honest, I've been working in government since 2008. So outside of me working with the speaker's office, I've volunteered with many campaigns. I've been around for a very long time and I've built my own personal relationships with a lot of elected officials. So when a lot of people see the support and the love and the recognition that I've been getting, that's all the hard work that I've been putting in for the last 12 years.
You mentioned your daughters earlier – tell me a little about The Dad Gang you're a part of.
A few years ago one of my fraternity brothers, Sean Williams, who's the founder of The Dad Gang, when he was in Walmart one day with his daughter, a Caucasian woman walked by and told him, "I'm glad you stuck around." And he realized that, wow, I have a bunch of other friends who are Black dads that have stuck around their children's lives. I lost my father when I was 7 years old to the criminal justice system, and then he was deported back to Jamaica. I became a father in 2015, and it was very challenging for me to become a father, being that I didn't have a father present. I always had a strong, single mother who raised three beautiful children, but she had to work a lot of jobs, and it was very stressful and very difficult. I didn't have a male perspective on how to become a father. So when we created The Dad Gang, we just wanted to put out positive imagery of Black fatherhood. But we didn't realize that there are a lot of young Black fathers who did not have their fathers present, who don't know what it is to be a dad. So creating this organization and creating this support group called The Dad Gang has blossomed. We were able to give out $75,000 last year to Black dads who were struggling during the pandemic. This is a pandemic within itself that Black families are suffering across the nation, and we really just want to focus on changing the narrative of Black fatherhood.
Powered By
NEXT STORY: City & State's best covers of 2020