New York State
Rep. Jerrold Nadler on the second Trump impeachment
A Q&A with the member of Congress who led the historic proceeding for the Democrats.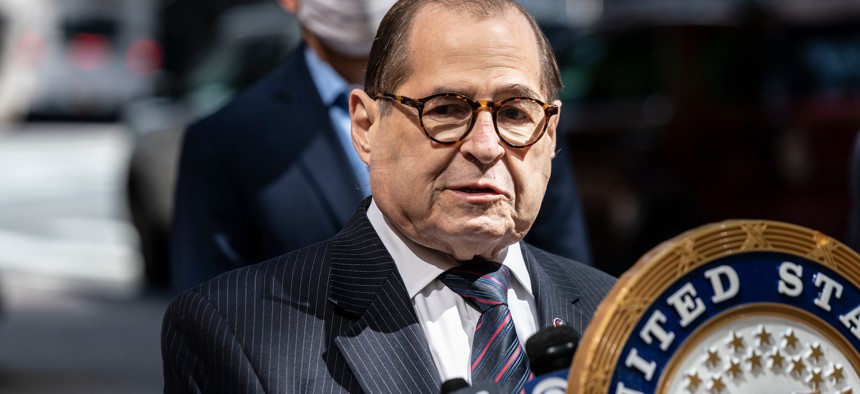 In a historic vote, the House voted for a second time to impeach President Donald Trump, making him the first president to be impeached twice. Every Democrat as well as 10 Republicans – including Rep. John Katko – voted in favor of impeachment. The single article of impeachment accused Trump of inciting a riot on Jan. 6, when Trump-supporting terrorists stormed the Capitol as Congress was in the process of certifying President-elect Joe Biden's Electoral College victory. Rep. Jerrold Nadler, chair of the House Judiciary Committee, once again oversaw this week's impeachment process – albeit a much quicker one than in 2019.
Shortly after the vote, he spoke with City & State from Washington, D.C.
Obviously, this is the first time in history a president has been impeached twice, what's the significance of what we just saw?
The significance is that the United States faced for the first time a tremendous plot against democratic government, against the self-government of the country. We've never seen that before. And we had to do what we did. And the fact is that we impeached him the first time. Unfortunately, it didn't succeed in the Senate. Hopefully it will now. But we had to do it. The attack last week made it clear that he learned nothing – just as I said, and other people said, in the first impeachment. In the Senate, (Sen.) Susan Collins said, "Well, he'll learn from this." And we said, no he won't. If he's not convicted, he'll just learn that he can get away with anything. I think that's now proven.
What was it like for you? It's not every day that you get to say you helped impeach the same president twice?
It's not fun. I mean, the fact is that it's a terrible necessity, but it had to be done. I don't enjoy it.
This time was obviously much faster, the incident was last week and the impeachment was today. How else was this time different than the first go-round?
I think what was different than the first go-round was that people were more willing to see what was going on. I mean, we, even in the Democratic Party, the first time, it took a long time to persuade people. We were pushing, some of us were pushing impeachment from the beginning, the very beginning of 2019. It took a long time to persuade people that it had to be done. This time I think people had seen that and we had that experience, and so they were willing to go much faster.
And I understand this was the most bipartisan impeachment in history, with 10 Republicans voting in favor of impeaching a president from their own party.
Well, in one sense, yes. But in one sense, no. Technically yes, because it's an impeachment. But remember with (Richard) Nixon, he was not impeached by the House only because the Republican leaders went to him and told him that if he didn't resign, he would be convicted in the Senate. I think you have to say that that was the equivalent of a successful impeachment because he avoided the technicality of impeachment only by resigning from the Senate. The Republican leaders of those days were more honest than these days. They were willing to go through with it.
What was it like entering a Capitol occupied by thousands of National Guard troops for this impeachment vote? I've never seen anything quite like it.
It felt good that they were there to protect us. (With) the experience we had last week, I was very glad to see all those troops there, it felt good. I wasn't happy about the necessity obviously, but we knew about that since last week.
Powered By
NEXT STORY: Can disgraced politicians get back in the game?