MTA
A conversation with Quemuel Arroyo, the MTA's first chief accessibility officer
He's just as sick of inaccessible subway stations as you are.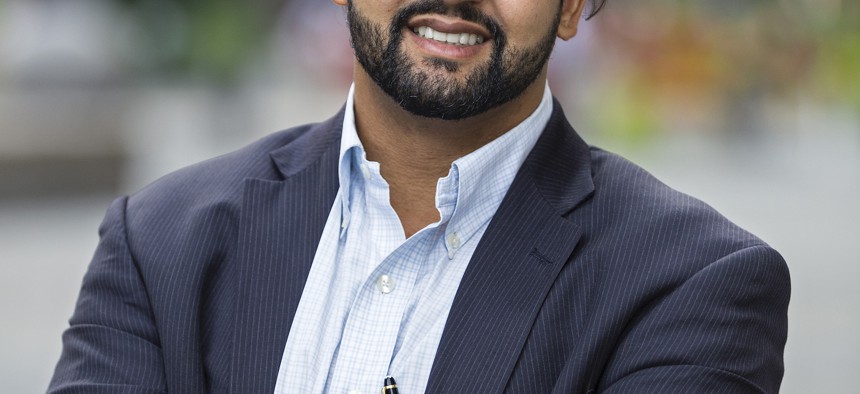 The Metropolitan Transportation Authority has a less than stellar track record when it comes to providing accessible transit options for New Yorkers. The majority of its subway stations are still not fully accessible under the Americans with Disabilities Act of 1990. But a new executive at the authority could shake up that record. 
Quemuel "Q" Arroyo is joining the MTA as the agency's first chief accessibility officer, where he'll work to improve accessibility systemwide and provide better transit options to all New Yorkers. Arroyo uses a wheelchair and previously served as head of accessibility at the city Department of Transportation, and more recently worked at the micromobility company Charge. His hiring for the new position has been praised by transit advocates and elected officials. 
On his first official day on the job, Arroyo spoke with City & State about his plans for his new position, his transition back to the public sector and his promise to accessibility advocates and disabled New Yorkers. 
This conversation has been edited for length and clarity.
You're coming on as the agency's first chief accessibility officer. What kind of obligation does that carry for you?
It is an absolute honor for me to have this role and to be speaking with you about it. As a New Yorker with a disability, I know personally the trials and tribulations that so many New Yorkers face when trying to get around the city and really access all that the city has to offer. Particularly as a New Yorker who was not born with a disability – I'm able to see both sides of the narrative. The biggest shift that we've seen over the last five, maybe eight years, in government as it pertains to the Americans with Disabilities Act, has been the understanding that the only way to change is by bringing on people with disabilities, bringing them to the table, and really having that voice be heard. Now you see that manifesting at the MTA where Pat (Foye) and the leadership have created an opportunity for someone to sit here on an executive level, and build on the hard work that has already been going on in New York City transit to understand disabilities and provide access for all New Yorkers.
What does your own typical commute look like?
I am an Access-A-Ride user. Before the pandemic, I loved riding the bus, because on Sunday – I live in Harlem – it was the best way to see all these beautiful women decked out in their Sunday hats and gear. That was always fun. Unfortunately, that doesn't happen now. But I live in Harlem, and I don't have access to an accessible station near me, but I do enjoy the half-mile walk over to the 125th Street station where I can catch the A train. And that would normally be how I would get down here to the office (in Lower Manhattan). Unfortunately, the snow on the sidewalk, the snow that is prohibiting a person in a wheelchair to cross the street and get to where they need to go, prevented me from doing that this morning. So I did rely on my paratransit services to get to the office today.
You were at the city Department of Transportation, then you went to the micromobility company Charge, and now you're at the MTA. What brought on the initial departure to the private sector and what's bringing you back to the public sector now?
I'll be honest with you, micromobility was and continues to be a very sexy industry. There are many people who do not have access to transportation right now – and that's just the sheer nature of the existing footprint of where transit is, and the fact that it doesn't go to every neighborhood in New York City. That's just a reality. I think micromobility has the opportunity to bridge that gap, and bring people from their home to a subway station, or from a railroad station to their homes. I left the public sector because I did not see anyone in the private sector talking about accessibility. So I left DOT, because I wanted to be that voice, and I did it. I'm back (in the public sector) because despite the attraction and how fun it was to be in that industry, I missed my ability to make change happen. At DOT, I woke up every morning knowing that over a million New Yorkers relied on me to get them down the sidewalk, to get them to cross the street. I was doing a lot of cool things at Charge, and I was talking to governments in Tel Aviv and Mexico City, all over the United States, but I wasn't able to make change happen for the masses. And I know that we desperately need that. And that's why I'm back in government, and so thrilled to be at the MTA.
What are the first steps that need to be taken to accelerate the building of elevators, escalators and other accessibility features at subway stations?
I would have to start by saying, I need to listen. I need to make my rounds with the agency chiefs and the heads of the organizations and departments, and understand what work has been done. Because I know a lot of work has already been put into this, I need to understand where they're at today. And where I see gaps, it's on me to fill in those holes. And I'll do that by creating relationships throughout the organization. This is the first time that the MTA has someone at the 1,000-foot level overseeing the entire organism. That view will allow me to see where the missed connections might exist, or what teams could leverage the work of another team to really create that congruence throughout the organization so that we have a shared accessibility agenda.
How does the current pandemic and potential future cuts threaten the agency's progress and plans for accessibility projects?
It's a major concern for me. The Capital Plan that was unveiled prior to COVID looks very differently today. Those funding sources and that pot of money might not be what people expect it to be today. We need to be cognizant of the impact that the organization has had because of COVID. No different than what every other business or organization throughout the world is facing. We need to come back to the table, take the temperature, understand where we're at today and what we're able to deliver. 
Disability advocates have praised the Access-A-Ride e-hail pilot, saying it's been a godsend. But there's concern over pre-pandemic plans to amend the program – widening the pool of participants but capping monthly rides and providing $15 per-trip subsidies instead of a flat $2.75 rate per trip. What's the latest on those plans, and do you think the e-hail pilot is important to preserve?
Absolutely. Even before the e-hail pilot came to fruition, I recall a conversation with (former Taxi and Limousine Commissioner) Meera Joshi and (former city Department of Transportation Commissioner) Polly Trottenberg, their teams and I talking about what a great thing it would be if paratransit could leverage the yellow and green taxi industry, who were hurting from business going to other companies. I still believe in that. I still think we could do great work through such matchmaking. However, I think we have to be realistic and sensitive to the fact of costs. Again, coming back to what our budgets look like after this pandemic. I, myself, have been part of that pilot since I am also an Access-A-Ride user, but I understand that the system as it is today may not be the best solution for the MTA. It may be controversial, but we have to think about resource allocation and what we can, in full honesty, provide to New Yorkers.
Any final message you'd like to send to advocates and MTA riders?
My door is open. I understand a lot of the advocates' experiences because I've lived them myself. However, I only have my paraplegia. It's on me to get educated and informed by the advocacy community about other types of disabilities out there. I said earlier in a previous interview, I do not believe that accessibility is necessarily synonymous with disabilities. There are many people that are stakeholders in this conversation about accessibility – and that includes parents. There are over (100,000) births in the city of New York a year, that's over (100,000) strollers that we see hit the sidewalk, hit our transit systems. And there are hundreds of thousands of New Yorkers with invisible disabilities, for whom we also have a responsibility to provide access and service. I'd like to bring them to the table and hear their experiences and learn from them about ways that we can enhance the network today to make it serve them and their needs.
Powered By
NEXT STORY: This week's biggest Winners & Losers