New York City
Prove you're New York enough to run for mayor
Just answer these simple questions.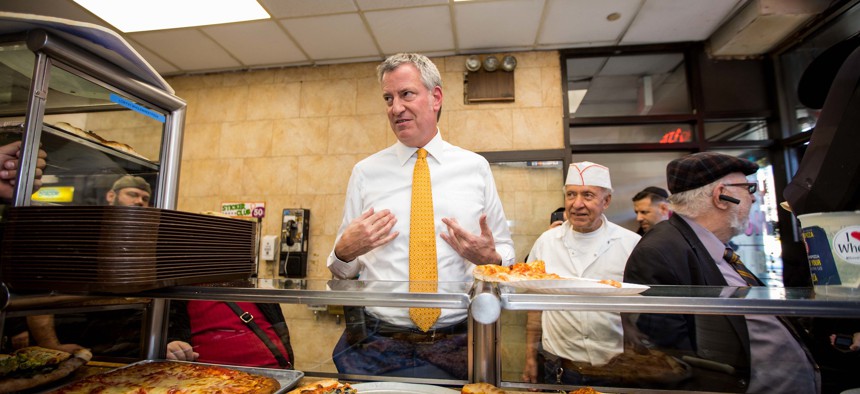 Candidates running to be mayor of New York City have a lot of tough and substantive policy questions to answer: How will they approach specialized high schools and school segregation? What are their ideas for affordable housing? Where do they stand on the NYPD's budget?
Candidates also have some non-substantive questions they need to answer: What's their favorite pizza place? Do they have a favorite New York City movie? Which New York sports teams do they root for? It's a fraught balancing act to project authenticity while blatantly pandering. Past mayors and candidates have played themselves, as New Yorkers might say: Mike Bloomberg admitted to being a Red Sox fan, then backtracked, and Bill de Blasio got clowned on for eating pizza with a fork. More recently, Andrew Yang became the butt of Twitter jokes for claiming allegiance to bodegas from the confines of what some considered a full-fledged grocery store. With less than five months until the Democratic primary, we'd like to propose a streamlined questionnaire for measuring their New York credibility. 
Are you New York enough to be mayor?
1. In 500 words or less, please define "bodega" as a socio-historical concept. You may cite up to five sources.
2. Which term accurately describes New York's winter weather?
A) cold
B) freezing
C) brick
3. A pair of tourists are walking too slow directly in front of you. How do you handle the situation and where will you be burying the bodies?
4. Under what circumstances are you allowed to toast a bagel? Please show your work.
5. Yonkers is upstate. True or False?
6. How many flights is too many flights for a walk-up apartment? 
7. How many World Series have the Yankees won?
A) 12
B) 27
C) MORE THAN ANY OTHA TEAM
8. New Jersey is:
A) the armpit of America
B) a penal colony where they send the world's worst drivers or
C) a made-up place to scare children
9. List the benefits of drinking New York City tap water, alphabetically.
10. In the enclosed packet, you have all the requisite materials to construct a pair of Timbs from scratch. You have five minutes.
Powered By
NEXT STORY: Carolyn Maloney: Still standing