New York City
Taxi medallion crisis hits home for one candidate
A Q&A with New York City Council hopeful Felicia Singh on her family's experience navigating bankruptcy.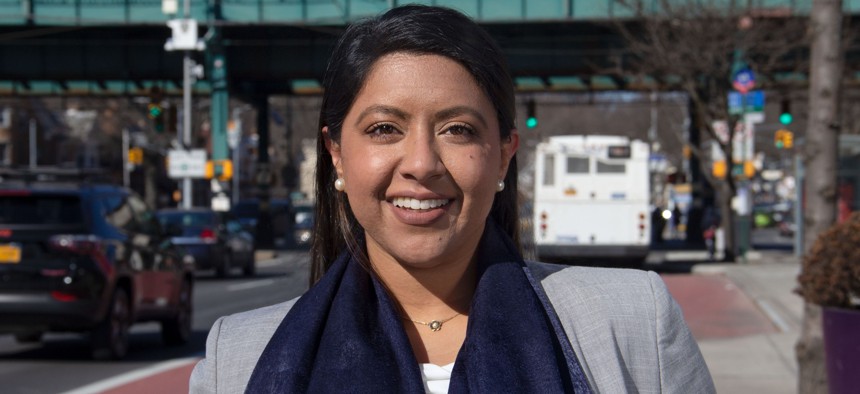 Nearly two years after a New York Times investigation revealed the extent of the New York City taxi medallion crisis, many largely immigrant drivers remain drowning in debt that has been compounded by the coronavirus pandemic. The New York Taxi Workers Alliance has proposed a debt relief plan, and a task force created by the City Council proposed a plan early last year for a bailout. But little concrete aid has actually been passed as drivers continue to feel the effects of the predatory lending practices and lack of government oversight that plunged them deep into debt. One of those drivers is the father of Felicia Singh, a teacher who's running for City Council in District 32 in Queens. Singh, who still lives with her family in the house she grew up in, said her father declared bankruptcy in 2019. He lost his taxi medallion this past summer during the pandemic. But this month, their situation grew more dire when the bankruptcy court put their house up for sale and gave them a few months to come up with the money to keep it. Singh spoke with City & State about her personal experience with the medallion crisis, and how she hopes to use her platform as a candidate to bring light to an issue that has taken a back seat during the pandemic. This interview has been edited for length and clarity.
Can you tell me about your personal experience and the experiences of your family members with the taxi medallion debt crisis, bankruptcy and the threat of losing your home?
I always describe myself as a daughter of working-class parents, as a daughter of a taxi driver. I've always grown up living – most of my life, we've been living paycheck to paycheck. I was just talking to my dad, actually, and I was like, 'I haven't gotten this question yet, but just in case I do, what does the month of bills look like again?' We were always just scrambling to maintain a mortgage on a house, and then any other occuring bills. But on his side with a taxi, it's like $3,200 a month, plus $800 insurance, plus another $800 on repairs for taxis, plus surcharge. That was anywhere between $800 to $1,200. So you're looking at anywhere between $6,000 to $8,000 a month if you add up all your bills. Do we make that much in a month driving a taxi? Absolutely not. The idea of purchasing a medallion was supposed to be about our ticket to this middle-class life. But really, it just was a ticket to debt. I've always known a life of debt. And now you have people like my family at risk of losing their home.
I haven't heard lawmakers speak on such personal terms. Do you think you would bring a unique perspective based on your experiences if you were elected?
This is absolutely a unique experience that I'm bringing to City Council. No one that I know of that's an elected official right now has this personal experience of navigating a broken, corrupt system that was made by this design to put working-class immigrants in debt. No one. And in fact, the hard part about this is I've tried to reach out to everyone I know in political power. No one knows about this system of bankruptcy, and how bad it actually is, and what the medallion crisis has caused all of these predatory lenders to really have this great power. I get directed from one city agency to the next, from to this pro bono lawyer to the next. This is so serious that people in power don't even know what to do.
What, if anything, has concretely been done to help families like yours since this crisis came to light?
I don't know. Because I feel like it would have helped us by now. So is it fair to say nothing? We're at a place where like, for example, at the congressional level, (Rep.) Gregory Meeks has a bill on the floor for tax exemption on medallion debt forgiveness. Great, that needs to be passed. Then you have the stimulus bill, using some of that money at the congressional level from federal aid to provide debt relief. That means that our city also needs to come to negotiate or agree with the New York Taxi Workers Alliance's plan to restructure loans at $125,000 so that we're paying – over 20 years – $757 per month at a 4% interest rate. Apparently, quote-unquote, to our city elected officials, as the mayor said, it would cost too much money. But really, when you break down that amount for the amount of people who need debt relief, it's holistically, it's not. It's not a lot of money.
How much did this experience impact your decision to run for City Council?
I'm coming from the world of teaching, into the world of politics, and having navigated and lived through and worked through systems that just don't work, (that) pushed me to run for office. Now going through this terrible crisis in the middle of our campaign, and then in the middle of a pandemic, it just pushes me even more to realize that no, we actually need folks like me in (the) City Council, who can speak on how terrible these systems are. And then do what we can to change them.
You said you have, I guess at this point, fewer than 80 days to come up with $125,000 to keep your house?
Or more, because we also have to pay bankruptcy fees, even though we're not the ones as individuals putting our house up for sale. But the bankruptcy court hired a realtor, hired a broker to show the house to put the house up for sale. That's part of our fees at the end of this. So we're acquiring fees by force, and not by actual want or desire in any capacity. I don't want someone to see my house. I don't want my house to be on sale. But now that is my responsibility as someone who's filed for bankruptcy, our family.
What happens if you don't get the money? Do you and your family have some place to go? 
I honestly don't know where we would go. Because when the bankruptcy court takes and sells the house or auctions it off, we get $170,000. That's all we get, because of the deed. And literally, I don't know where in New York City we're going to be able to put a down payment on something else for $170,000 or like, you know, or even find another place. So I literally don't know where we would go. Most of our stuff would have to go in storage. Five people live in this house. Where are we going to go? That's literally my question. That's my worst nightmare to have to figure that out. I don't want it to get to that place. And that's why I'm fighting. I don't want it to get to this place for anybody else after us.
What is the biggest, more important message you want to get out there about this crisis?
I want people to understand that our immigrants in New York City are the people who make this city run. They're the people who pay taxes, whether they're undocumented or citizens. They're folks who do all sorts of jobs in this city. And we have yet to prioritize their needs, as people, to live a dignified life. I want people to fight. I want people to learn about the medallion crisis, I want them to read about it. Now I'm coming face to face with folks who know me because I'm a candidate. That's my privilege. And now I'm going to use that for good. I always have and I will continue to in order to make sure that people pay attention. You cannot look away, we cannot look away to this issue. Not anymore. Not any longer.
New York City Case Studies
Powered By
NEXT STORY: How NY's political couples are enduring the pandemic together