Personality
Fernando Cabrera's next move
An interview with the term-limited New York City Council member, who is running for Bronx borough president.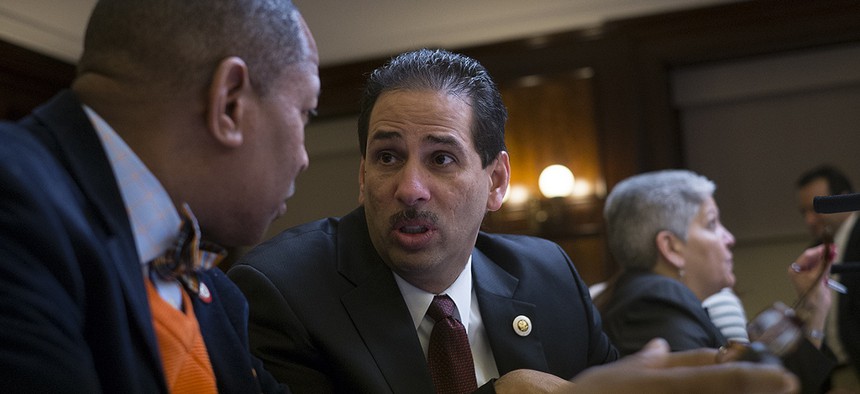 Some of the candidates for Bronx Borough President might look familiar – especially Council Member Fernando Cabrera, a veteran politico who worked in substance abuse counselling and city schools before serving three terms on the Council. Representing District 14 in the northwest Bronx, including University Heights and Kingsbridge Heights, he is a relatively moderate Democrat who dropped a previous attempt at unseating Rep. Alexandria Ocasio-Cortez. He's now competing against Assembly member Nathalia Fernandez, Council member Vanessa Gibson, retired NYPD lieutenant Samuel Ravelo,and state Sen. Luis Sepulveda.
City & State recently spoke with Cabrera about why he is running for the Bronx's top job, the issues he is focused on and his native borough. This interview has been edited for length and clarity.
So, you're running for Bronx borough president. Why that position specifically?
We need leadership, in light of everything that we're going through in the Bronx. We see the highest unemployment rates in recent history. Our children right now are facing educational challenges. We have a housing problem that continues to permeate throughout the Bronx, and wider healthcare issues. I feel that I bring the competency and capacity due to all the experience that I had working as the longest Council member in the Bronx, the majority (whip) leader, the co-chair of the Gun Violence Task Force, the former chair to the Black, Latino, and Asian Caucus, and even as a DNC delegate for President Obama. 
I'm the only candidate that was, ironically, born in the Bronx in this race. I've been doing the work longer than any other candidate, for 33 years. I've been working in the community in different roles, whether as a school counselor, college professor, or the graduate program at Mercy College for mental health and counseling programs, worked as a substance abuse counselor, pastor, so I wear many hats and I'm bringing those skill sets. 
One last thing to me that is dear to me: My mom passed away last year in six weeks, as a result of COVID-19. And I have felt the pain that many of our fellow constituents in the Bronx are feeling right now. And I want to turn that pain into purpose and passion for our community and for the leadership that we so desperately need.
My condolences on your mother's death, first and foremost, I'm really sorry to hear that. What would you say are the most important issues in the Bronx right now that need to be addressed by the next borough president, and how do you plan on addressing them?
Let me start with jobs, because in our polling, we have seen that the economy and jobs is the foremost issue that we're facing right now… I want to be able to have an apprenticeship program, and ask the big corporations doing business in the Bronx to provide that level of apprenticeship, especially for young people.
Health care is one of our biggest needs… Until we change the way our young people are eating and create a culture of wellness, we're going to continue to see obesity; we're going to continue to see diabetes. I believe that we could turn that around. As the author and a co-sponsor of the Ban the Baloney resolution which we were able to get their administration to move away from having processed meats being given to our children, that's the kind of a path that I want to continue putting forth in our community. 
And the mental health piece, you know, I'm a licensed mental health counselor, worked as a school counselor, even taught at the college level and ran the program. I want to have an on-demand (drug addiction) treatment center. When somebody wants to get off of drugs, you have to be able to receive treatment immediately.
I'm a UFT member, and the only candidate that worked in a public school. I know what happens inside of our schools now, brought more funding than any other council member into our school, funds for $70 million. I want to be able to have science labs in all the schools, bring back technical and vocational schools.
Public safety is an issue that keeps resonating here in the Bronx. I'm the co-chair of the Gun Violence Task Force, and right now it has the most effective Cure Violence Program, literally, in the nation. I challenged the first deputy mayor to double the amount of funding. 
My district is one of only seven, according to the Furman Center at NYU, that didn't experience gentrification, and that didn't happen by chance. That was intentional, strategic approaches that we took here: funding affordable housing units, having rezonings that make sense, and bringing forward responsible development. The borough president has the debt capital funding that is going to be able, as myself being the next board president, to infuse a high level of affordable housing for people in our Bronx.
As the Chair on the Committee on Government Relations, what do you think of the rollout of ranked-choice voting?
We have seen some challenges. I would like to see more funding devoted towards ranked-choice voting education. At this point, the last time I checked, we are at $2 million. We should be $5.7 million, based on what we saw in our plan and based on what we saw in San Francisco and the investment they made in order for them to have an effective rollout. And so without that, we're not going to be able to communicate… There should be a TV rollout like we have never seen before, because whoever wins now, it's likely that they're going to be there for the next eight years. So it's crucial that we get this right the first time.
Do you think it matters if the Bronx's next borough president is Hispanic and/or Latino, or speaks Spanish?
I think that the first thing the Bronx is looking for is leadership. I think that cannot go unnoticed in terms of having a Latino. I am half-Puerto Rican, half-Dominican: I represent a large portion of the population in the Bronx. But at the same time, I want to be a borough president that represents everyone in the Bronx. When one community hurts, and one part of the Bronx is hurting, everyone else feels that because we're like the human body, we all need to connect. 
One of the things that I have noticed is that our people who speak another language, they do get the information but they often get it late, and it is because of a language barrier. As someone whose first language was Spanish, I know the challenges, the fears, the forms of avoidance sometimes we take, and being able to inquire about certain things, because sometimes you'll be made fun of because of the accent or syntax. And so I think it is very helpful to have a borough president that speaks the language of many people in the Bronx, who prefer speaking Spanish as a first language, and also to be able to communicate that in the media. 
Amongst other endorsements, you've received one from the Sergeants Benevolent Association. Especially given your platform goals surrounding fair criminal justice, why did you accept the endorsement, and do you think it'll affect how people perceive your campaign?
I don't think it has affected it at all, because people know the work that I have done. They know the work that I had done regarding police and community relations. Our people are looking for somebody who's going to bridge the gap. I've done that. In my district, crime went down 66%, in the last 11 years. And the reason that happened is because I was able to work with a community with a Cure Violence program that I got started with a mentorship program to be able to work with local precinct and to forge those labor relations. 
The Bronx is obviously home to Bronx Science, which has been embroiled for a long time with the debate on the SHSAT; much of the student body there does not hail from the Bronx or demographically line up with the city or borough. What's your take on that?
We need to still keep the tests. You know, I went to a specialized school in Puerto Rico for science and math, and I also saw what happened when students were allowed to be there as a result of relationships with elected officials or somebody of influence. So you had a student there that was not qualified to be there. It was grueling to that poor student, but we need to balance this approach. 
And I think I found the solution. Most of our students that don't get in, it's not because they're not smart enough to get in, it's that they haven't been prepared for the test. I took the challenge to provide funding to one of our local middle schools who didn't have any student, for years, able to get into Bronx Science or Stuyvesant. So they conducted a class based on the funding that I gave them, and they took the test and we have students now who went to Bronx Science and Stuyvesant, so it only proved this. This city should make available to any student who wants to prepare themselves for that test, to learn how to take the test, because wealthy kids can afford it, that's the reality. They'll go to a private training place on how to take the test, and they'll have an edge. We should balance the equation here.
Powered By
NEXT STORY: This week's biggest Winners & Losers