Interviews & Profiles
Shelley Mayer: Show me the education money
The state Senate education chair says new federal money should supplement, not replace, state funding.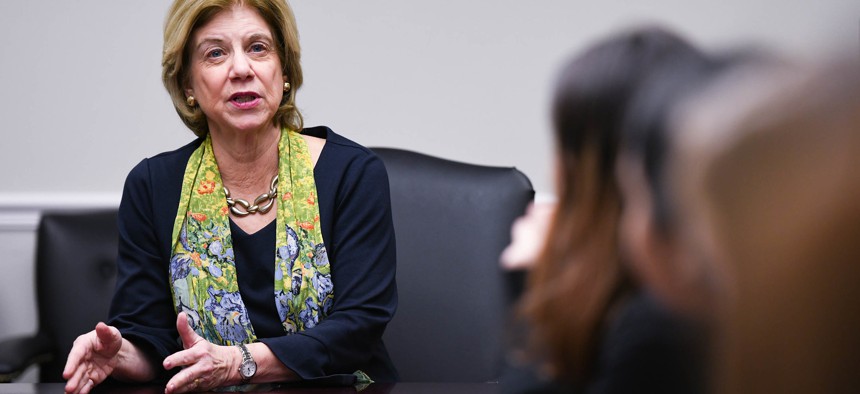 The coronavirus pandemic changed a lot about the Empire State, especially when it comes to public schools. Many students in New York City and across the state have yet to return to full-time in-person learning nearly one year after schools shut down at the onset of the COVID-19 pandemic.
Gov. Andrew Cuomo and state lawmakers agreed to hold school funding "harmless" – fiscal speak for keeping funding levels at the same level as the prior year – in the state budget they approved last year. This time around, state lawmakers hope new federal aid can help local school districts adjust to the new needs of the pandemic. An influx of billions of dollars and potentially higher taxes on the wealthy could also help Albany Democrats prevail in a yearslong dispute with the governor over whether the state owes billions in outstanding funding to local school districts. Winning a supermajority in the state Senate last year also gives Democratic legislators another source of leverage over Cuomo as ongoing scandals over nursing home deaths and alleged sexual harassment threaten his political future.
City & State recently spoke with state Senate Education Committee Chair Shelley Mayer to hear the latest with school funding as the governor and state lawmakers get ready for the final weeks of budget negotiations before the April 1 deadline. This interview has been edited for length and clarity.
Congress appears likely to approve somewhere around $12 billion in new aid for New York, how is that affecting state budget negotiations on education?
The CARES Act was intended to preclude governors from supplanting their own contribution towards education by using federal monies. But the language did not seem to preclude what this executive has proposed, which is basically a cut in the state's education spending by holding it harmless again by using federal money.
What is he specifically proposing to cut?
We want money for the cost of reimbursable aids (expense-based funding streams that reimburse schools for buying things like textbooks and school buses). We want to change and reject many of the long-term changes he made that will be permanent, including offsets in STAR funding. And then we want to make sure that this next tranche of federal money goes to schools, not to the state, and is used for expenses related to COVID, including compensatory learning, summer school, the costs of paying for PPE, new air filtration systems – all the costs related to having kids come back and addressing their mental health needs. Whether it's psychologists, social workers, or guidance counselors, these kids are going to face quite a bit when they get back to school full time.
Before the pandemic, you were talking about updating the funding formula for public schools, what's the status of that – and efforts to get the state to provide billions in additional funding per the 2006 Campaign for Fiscal Equity state court decision?
We're calling again for the full funding of Foundation Aid phased in over three years as we did two years ago in our one-house budget, and I think we would have done (that) last year had COVID not come. The concept of deciding how much school districts get based on need is a very appropriate way to go forward. The changing demography of the suburbs and upstate requires that we really rethink this reliance on property taxes.
Democrats have supermajorities in both chambers of the state Legislature, why not use them to get the funding levels you want over the objections from the governor?
The 2004 state Court of Appeals decision in Silver v. Pataki still gives the governor extraordinary power in the budget process. Yes, we have a supermajority. We do want to have (an) on-time budget. I was there for some late budgets, where then-Gov. (David) Paterson imposed all kinds of things in his budget. This is a bit of uncharted territory now. I am hopeful the Senate and the Assembly will be united as much as possible to push back with our big majorities.