Homelessness
Christine Quinn's on the other side of the table now
The former candidate weighs in on homeless policies in the New York City mayoral race.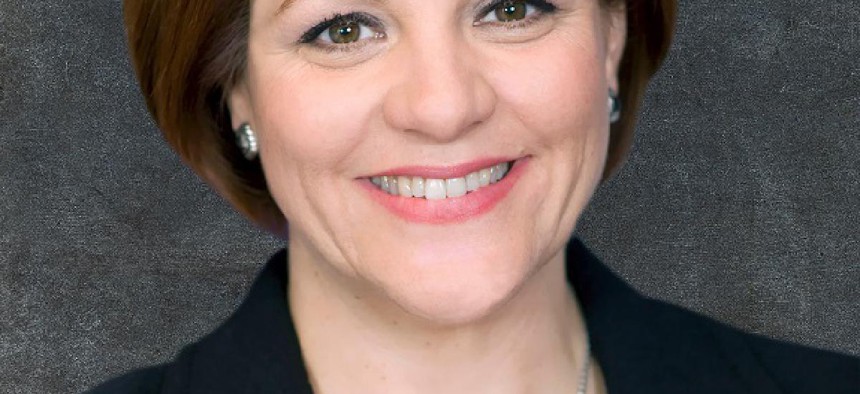 Now eight years removed from her own run, Christine Quinn is asking questions of the candidates for New York City mayor rather than answering them. The former City Council speaker is now president and CEO of Win, the homeless shelter operator and services provider that is co-hosting a mayoral forum Thursday morning on family homelessness and poverty. Win also released a detailed report on how the next mayor could end family homelessness.
"The report is filled with very specific programmatic ideas, very specific ideas for stay-at-home vouchers, changing when you're eligible for this voucher, for that voucher, etc.," Quinn told City & State. "As a candidate, you don't want to get too into the weeds of specificity, but if you don't on this issue, and it's all bland rhetoric, nothing will ever get any better."
Quinn spoke with City & State about how the next mayor needs to have a backbone – unlike the current one – why the city's homeless response should be like a hospital, and why she decided not to run for office this year.
A number of mayoral candidates have direct cash assistance plans. Andrew Yang proposed giving about $167 more per month to the poorest 6% of New Yorkers. Eric Adams proposed increasing the earned income tax credit and paying it out monthly. Maya Wiley would focus on caretakers. Are the candidates on the right track here, or is there a different approach?
Anybody who thinks there is a singular answer doesn't understand the complexity or the depth of the problem. It really is an "all of the above" kind of answer. The most important thing the next mayor has to do is decide that they're not going to manage family homelessness, as every other mayor has done, but that they are going to end family homelessness. Changing the outlook, changing the goal, will change the work and change the strategy. Giving homeless people more financial aid will absolutely be helpful. But we also have to change the amount of money that is allocated to the homeless rental vouchers so homeless people can actually rent apartments. If you only do cash assistance and you don't change the vouchers, for example, you're not really going to have made a significant difference.
We see a lot of rhetoric talking about homelessness in the subways, and the streets – mostly single men. But Win's report is on family homelessness. Is that a growing problem in the city, a steady problem or a shrinking problem?
At the moment, during the pandemic, it has been a steady problem. I believe that once the eviction moratorium ends, that it will spike significantly. But even if it stays steady, putting it in perspective, there's more children in shelters than there are seats in the Barclays Center. That's a humanitarian crisis. If that was happening in another country in the world, we would single them out as failures for how they treat children. Yet we allow this to exist in New York City.
Win is focused on homeless women and homeless families. Can you have a plan just to end homelessness in New York City, generally, or do you think that single men have to be dealt with separately, politically and policywise, than families and children?
Sixty-five to 70% of the people in shelters in New York City are families with children. And that's not to say that single homeless people do not need assistance – they do. But you have to respond in proportion to which they exist. Sixty-five to 70% of the people in shelters are families with children – that's point one. I believe you can put an end to the entire homeless crisis, but what you do for families with children is different than the response of what you do for singles just by definition of the makeup.
In hospitals, we build specialized units. You don't send 60-year-old men with heart conditions to the NICU. You send sick babies. We shouldn't have a system that's built in a way that doesn't have the services that are needed, that doesn't have treatment for the diseases. For example, one of the biggest challenges homeless women have is getting and maintaining a job. Yet our contracts with the city do not contain money for job training. Money we have at Win for job training, we raise privately. If you talk to any advocate for single homeless people, they will say their shelters don't have enough resources to deal with mental health issues. Why not, if that's one of the biggest problems that single homeless people have. It's like we built a hospital with a dermatology (unit) and an OB-GYN wing and everybody has cancer and we didn't build a wing for that.
Does it bother you that so much of the political conversation is focused on single men and serious mental illness, rather than what you're saying is the majority of the faces of homelessness in New York?
It doesn't bother me at all that people talk about single homeless people and mental health services. Ninety-two percent of the families at Win are headed by single women. They're in desperate need of mental health services also, so that doesn't bother me at all. What bothers me is the conversation and the debate where people say, "Well we don't need more shelters." Or, "We just need affordable housing." We do need affordable housing. But by law we are required to house the homeless. And they should be housed somewhere where it is going to be safe, humane and productive, filled with services that can prevent these folks – single or families – from being homeless again.
The opening of a family homeless shelter proposed for the North Shore of Staten Island was delayed because of political opposition –
No, no, it didn't get delayed. There was a lot of political opposition. It got delayed like a brief period of time having to do with permitting and the city agency being too slow. So it's right on track (to open up). Not behind at all.
Well, my broader question is we've seen New York City Mayor Bill de Blasio, over the past seven years, have mixed success placing shelters where he and his Department of Homeless Services want to place them. What can the next mayor do better?
I think what the next mayor can do is twofold. One, they can have a backbone and they can just stand up to opposition and not cave in. Two, they can do better outreach. In Coney Island, when we opened our shelter, which is now operational, we didn't really have a lot of opposition because we did a lot of outreach in advance. So one, do better outreach and two, be stronger.
The vocal minority will be loud. But we've done polling, and the vast majority of New Yorkers, especially those outside of Manhattan, are very open to having shelters and helping the homeless. Ninety percent of the New Yorkers we polled thought we didn't do enough to help homeless New Yorkers. Whether it's shelters for 5-year-old children or it's anything else, you can't kowtow to the vocal minority and that's what the next mayor has to do. I do though think it's fair – and they don't do enough of this – to reach out to communities in advance so they don't feel blindsided. The administration's saying, well if we do that, then we're going to have opposition. Well they're going to get terrible opposition anyway. So at least then that way you'll get some people who support you. And when we had terrible opposition in Brooklyn, it was very, very vocal. It wasn't a lot of people. And then, very, very, very organically support developed. And when those two shelters opened, the neighborhood called in advance and said we want to give them welcome wagon gifts and (asked), "What can we do?" That's the truth of who New Yorkers are, but sometimes you just get people who are ill-informed and loud. And the more you give into them, the more you empower the next group of them.
What do you think about development in general? Is your view that any housing is good since it helps defeat the housing crisis, or do you think that luxury housing doesn't trickle down?
Well I don't think luxury housing trickles down. That's not to say we should never build any luxury housing again in New York City. You can have projects that are a mix, that have a bunch of different rent levels in them. But I don't think it trickles down.
Now that we've seen some years of Mandatory Inclusionary Housing, has it been a success for homeless people, or near homeless people in New York City?
I don't think it's what we had hoped it would be. I think the whole issue of how you use zoning to generate and facilitate housing is a huge agenda item for the next mayor, whether they want it to be or not. And – I'm sympathetic to this – it's tough because no neighborhood wants something bigger, taller, bulkier. But we do need to build new and affordable housing. And I started doing affordable housing work in the late '80s, and when I said affordable housing then, they knew that I meant for the very low income and the formerly homeless. Now when you say affordable housing, yes you mean those groups, but you also mean middle-income people. And look, if we don't have economic diversity, this city will cease to be what it is.
Shifting away from Win and toward your status as a state Democratic Party leader and former candidate for mayor – we're about a month out from the primary, which was around the time that de Blasio took over the race in 2013 and never looked back. What's your assessment of the mayoral race at this point? Is there still a chance for it to be shaken up?
There's always a chance in any race for things to get shaken up, for sure. I think it's very noteworthy how early the Times and the Daily News have endorsed. They've given Kathryn Garcia quite the runway to use that endorsement. I think that must be the earliest endorsement ever (for those papers). It is certainly significant. Now everybody, just about, seems to be up on television. So I think that's going to be interesting to see how the different ads play and how the different ads either motivate or don't motivate people. So far, with the ads, I don't think there's a Dante (de Blasio) ad. That ad just blew everything away and was not the only thing, but one of the key things that took control of the race. I haven't seen one like that yet. So I'm not really sure where folks are going to go. Although Yang and Adams continue to hold the front, I still think things could change.
You of course got both the Times' and the Daily News' endorsement in 2013. Do you think the early timing of those endorsements might be enough to give Garcia the push over the finish line?
I do. I'm very proud of the fact that I got the Daily News and The New York Times. I remember wishing I had gotten the Times earlier because we could have used it more. So I do think this has the potential of giving Kathryn Garcia that little oomph that her campaign needs.
Are you planning on endorsing in the mayoral race?
I am not sure.
What if you're too late? What if you're the oomph that somebody needs?
You never know what the oomph is. They say 95% of what you do in campaigns doesn't matter. Only 5% does. You just don't know what 5%.
You've worked for years with Scott Stringer. What do you think of Jean Kim's allegation of sexual harassment and sexual assault? Are Kim and Stringer being given a fair shot to be heard?
I think that every time a woman comes forward with an allegation like this, they need to be heard and the allegation needs to be thoroughly and transparently investigated. There's no question in my mind that always has to happen, period. That said, I think Scott has used the press to respond and make his position clear, as is his right to do, and Kim and her lawyer have been speaking as well, as is their right to do. But I think the most important thing is that the charges get really, really thoroughly reviewed. They're very, very serious charges.
Your successor in the City Council, Corey Johson, is running for comptroller now, trying to make history as the first openly gay comptroller. What do you think of his candidacy? Is that race getting enough attention?
Well the down-ticket races never get enough attention compared to mayor or president. So it's not getting enough, given the significance, but I think Corey is running a really good race and has just a terrific, terrific chance of victory.
You were thinking about running this year yourself. Was there one deciding factor that kept you out? 
My work at Win didn't feel done. And I really wanted to take this opportunity and the position I had and utilize it to end the family homelessness crisis.
If the next mayor asked you to join the administration, is that something you'd consider? Maybe leading the Department of Homeless Services or something?
(Laughs.) One should never comment on jobs they have not been offered. Like I said, one of the reasons I didn't run for mayor is my work at Win was not done.
Homelessness Case Studies
Powered By
NEXT STORY: Barbara Bowen still wants more for CUNY