Interviews & Profiles
How can NYC build back faster?
New York City Department of Design and Construction Commissioner Jamie Torres-Springer talks COVID-19 capital project delivery, East Side Coastal Resiliency and borough-based jails.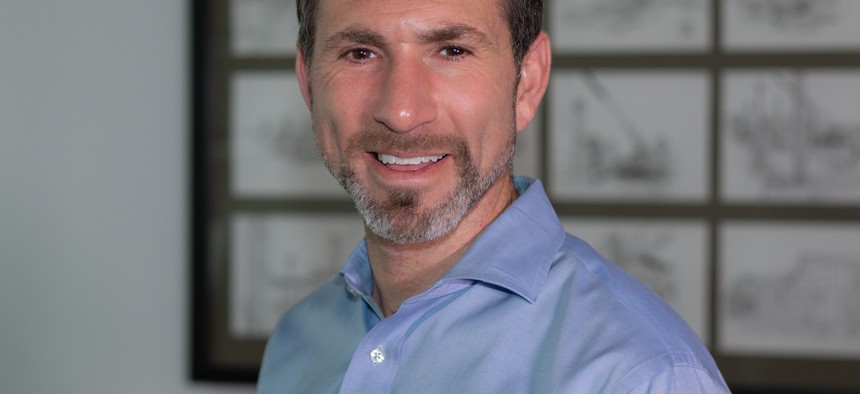 When the coronavirus pandemic hit last spring, New York City's Department of Design and Construction was tasked with quickly putting up temporary field hospitals, testing sites, and long-term care centers. Now, they work on vaccination sites. 
Though construction can be a notoriously slow process, the delivery of these projects happened more quickly than usual, the department says. For example, one of the two temporary field hospitals created in Queens and Brooklyn last spring started to accept patients 11 days after work on the site began. (The lowutilization of those two field hospitals is another story, however.)
Jamie Torres-Springer, the recently appointed commissioner of DDC, partly attributes the speedy delivery of these pandemic capital projects to procurement and construction rules suspended during the crisis, such as the requirement that the city go with the lowest bidder on capital projects. Now, as New York City makes its way out of the worst of the COVID-19 pandemic, Torres-Springer hopes that those rule changes can stick around. He, along with research groups like the Center for an Urban Future, is advocating for the state to make permanent changes to city procurement law – including nixing the lowest bidder requirement. 
City & State caught up with Torres-Springer last week to discuss the department's work on COVID-19-related construction projects as well as the other work of his department, including climate resiliency projects like East Side Coastal Resiliency, and the construction of the city's borough-based jails program.
Responses have been edited for length and clarity.
The Department of Design and Construction has overseen the development of many pandemic-related construction projects – field hospitals, vaccination sites – and you've said that that work happened more quickly during the pandemic than it would have under normal circumstances. How fast are we talking?
You listed some of our big projects that we built during the pandemic; the two large field hospitals, these three acute care post-COVID treatment facilities for (New York City) Health + Hospitals, which are permanent facilities. The 28 COVID testing sites, the eight mobile testing trucks. Very importantly, we also helped to upgrade these four laboratories to process specimens that were collected at the testing sites. And that was how the city got to PCR results within 24 to 48 hours when the rest of the country was taking two weeks, back last spring. And then we've built out 18 vaccination sites throughout the city. To your question, I think that we have delivered in days what would normally take months, and in months, what would normally take years. And in doing that, we've also achieved really high quality, great (minority- and women-owned business) results.
Do you have any statistics on what percentage of pandemic-related contracts were awarded to minority- and women-owned business enterprises (MWBEs)?
We don't have all of the results pulled together yet. And it does vary program by program. But we were able to really prioritize MWBE participation. Just as an example, the Centers of Excellence that I described, which are the acute post-COVID treatment centers that we created in three neighborhoods for Health + Hospitals, that was about a $120 million program, and we achieved 46% MWBE utilization. We also have done very well with the vaccination sites as well, and that's because we were able to partner with very good MWBE firms who were able to lead some of that work.
As to why the pandemic-related capital projects have been delivered more quickly, what has changed to allow that to happen? What rules have been suspended?
The big things are when we're in an emergency, we're able to forego the arcane system of requiring that we go with the lowest bidder for any construction project. And we're able to select someone very quickly based on quality. So we still are able to protect the integrity of the process, but we're able to ensure that we're selecting for quality, in addition to the cost. Very closely tied to that, we're able to use alternative delivery models … The way we're required to work now is we have to fully design a project in a silo, isolated from the folks who are going to construct it. And then we have to bid it out to the lowest bidder, and then the folks who are going to construct it have really no access to those who have designed it. Instead, the much more sensible approach is that we're able to integrate a design and construction team together so that they can work quickly, solve problems, have feedback loops with each other, and just deliver much, much more quickly. Those are the really big things. Both of those would require state legislation for us to have that on a permanent basis. The other thing that was really important is that because we're in an emergency, we sped up approvals from our oversight agencies within city government, who are required to go through a lot of different steps in order to approve a contract or a change order. As well as the comptroller; during an emergency, our contracts are not subject to review by the comptroller. 
You previously worked with the mayor's office on resiliency projects, and DDC oversees projects including East Side Coastal Resiliency. What's your response to the pushback that that project in particular has drawn from some Lower East Side residents, and how do you plan to handle any similar pushback to other resiliency projects across the city that might come up?
We're very proud and excited about this project. It's going to protect 110,000 Lower East Side residents, 28,000 of whom live in New York City Housing Authority apartments. And not only protect them from flooding in the future, like (Superstorm) Sandy, but also vastly improve open space and recreational opportunities. These large scale infrastructure and development projects are very difficult. We completely understand some of the concerns that we've heard from the community over the years. I have to say that some of it does come out of misconceptions that we have freely admitted we can do more to dispel. We can do better to communicate with folks. There was a misconception about a prior approach to building the project, that it wouldn't have these impacts that this project is going to have; it's simply not true. Any project that's renovating 2.4 miles of the East River waterfront is going to have significant impacts. But because of that input and feedback, we've been working really hard to try and address those concerns. 
How has the department been working to address concerns about the East Side Coastal Resiliency project, including about limiting access to green space while the project is underway?
We've got lots of interim recreational opportunities that are being created by the Parks Department. We found a way to build the project while only closing half of East River Park at a time. So about half of East River Park will always remain open throughout construction. We're very pleased with that. And we understand, building resiliency in communities that are so dense and built out and have so many different folks living in them and working in them – it's gonna be hard. It's like the more general problem of addressing climate change, both the mitigation, decarbonization side, and the adaptation or resiliency building side. There are trade-offs between the short term and the long term. We have to make some short-term investments in order to have these long-term protections and these long-term improvements.
DDC is also charged with construction of the city's borough-based jails, and part of the intention of these jails was to create "more modern and humane" facilities. From a design perspective, what does a more modern and humane jail look like?
First of all, I think the borough-based jails program and the effort to close Rikers (Island) as a whole, just by moving our detention facilities off of the island and into communities, will improve criminal justice outcomes and make our system much more humane. That's the purpose of it. It reduces the time in detention by linking the facilities more closely to the court system. It allows for much improved access by families, caregivers and people that are providing programming to people who are in detention. Just building these four new facilities is going to greatly improve outcomes. And then we are really putting design in the lead here in terms of producing great outcomes for the buildings. We have a real sentiment across city government, and many, many stakeholders, that environment drives behavior. And so we're working to ensure that we create normative spaces where those in detention can feel more comfortable, where they can access programming, where they can feel that they're living in a place where they have agency, where they have privacy, within the bounds of safety that we have to preserve. All of that is really embedded within the specifications that we're creating. And we're not just making it up. We've been intensively running design workshops with community members, justice-involved New Yorkers. We've also created an architectural peer review panel from around the world. A delegation of us went to look at very impressive detention facilities in the Netherlands and Norway, prior to starting all of this. We've found a lot of ways to embed these best practices within the design work, and we're going to continue to do that.
Is there an updated timeline for the construction of these jails?
We're on track with the program. Despite lawsuits and despite the pandemic, we're on track to close Rikers by 2027. And we're also on track to have contracted work for all four sites by the end of this year. So we'll be in contract to start construction work by the end of this year. We did start construction last month on the Queens site, which is very exciting.
Powered By
NEXT STORY: Restoring service and avoiding another Summer of Hell