Interviews & Profiles
India Walton on her history-making campaign
Four-term Buffalo Mayor Byron Brown appeared to be a lock for reelection, but he made the crucial strategic error of ignoring a viable primary challenger before it was too late.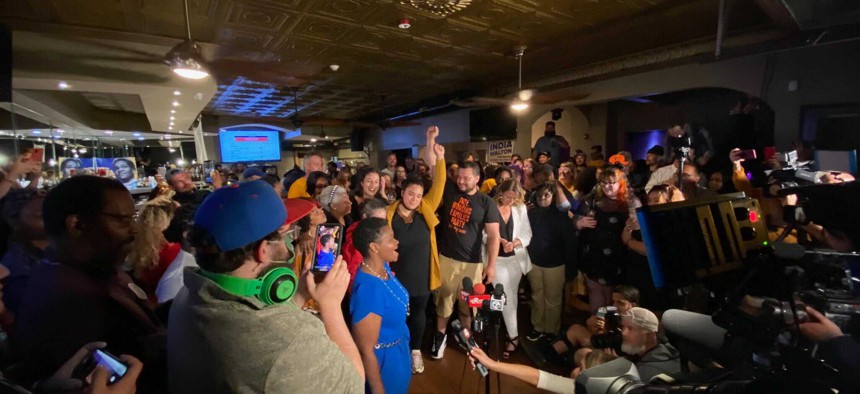 Four-term Buffalo Mayor Byron Brown appeared to be a lock for reelection, but he made the crucial strategic error of ignoring a viable primary challenger before it was too late. That created a big opening for socialist India Walton to team up with the Working Families Party and pull off what is arguably the biggest mayoral upset in Western New York history.
Walton had some unique advantages in appealing to Buffalonians, especially those struggling from long-term economic malaise and the impacts COVID-19 alike. The 30-something Democratic mayoral nominee was once a teen mom who later became a registered nurse and community activist. While Brown is reportedly considering a write-in campaign against her in the November general election, Walton appears to nonetheless have an easy path to becoming the first Black woman (and first woman) to become mayor in New York's Democratic-dominated, second-largest city.
City & State caught up with Walton after the race was called to hear how she beat Brown, what it means for Buffalo and how she will stay true to her ideals moving forward. This interview has been edited for length and clarity.
What sort of coalition did you put together?
I put together a coalition of the willing – really people from all socioeconomic backgrounds, races, cultures, gender identities, sexual orientations, anyone who was ready for change – we brought them along. We had the support of the Working Families Party, so we were able to train ourselves up and bring home the win.
How did the WFP specifically help?
Everything from planning our media strategy and attracting national media, to our fundraising campaign, to our field game – you name it – the Working Families Party was very involved and super helpful to every single part of this campaign. We could not have done it without them.
A lot has been said about how your opponent underestimated you. Was this a "Tortoise and the Hare" situation?
I did see the race this way. From day one, I was running to win and put everything in it. I resigned from my job and the Working Families Party knows what works politically. I have 39 years of institutional knowledge about Buffalo. We put that together and ran a very exciting and successful campaign. The mayor was especially vulnerable this year, after four terms, after his lack of an active response to the uprisings after the murder of George Floyd and after the lackluster pandemic response.
Socialist candidates downstate have appeared to do better with relatively high-income white voters and less well in communities of color. How does your campaign reflect or refute that?
I would be interested to look at the numbers, but anecdotally, I can tell you that I spent a lot of time at voting sites yesterday and we did pretty well among Black primary voters in Buffalo. People are just ready for a change.
You will also be the first female mayor of Buffalo. How significant is that?
We have made history on so many levels. It's incredible. Turnout was low, but those who did turn out voted for me. For once, we don't have to be voting against something. We're voting for hope, for change and for a bright future for our city.
A lot of idealists end up changing once they are in office. How will you avoid that?
I am begging my people to hold me accountable when promises are not being delivered in a timely manner. I want the protesters to come out and bang on my door – not my own door – but my office door. City Hall is going to be open and accessible. Not everything is going to happen the way we want, when we want, but I'm not going to mislead people.
If you could travel back in time to speak with yourself as a teen mom, what would you tell yourself?
I'd say: "Girl, you're going to be OK. All of this is so that you can learn the skills you need to help everybody else."
History-making shoe leather campaigns show their wear. What is something from your own experience that demonstrates how busy you've been?
The condition of my bedroom is a good indicator of how little time I've been spending at home – just clothes everywhere.