Interviews & Profiles
Judicial nominee stands out on many fronts
City & State spoke with reform advocate Christopher Kang about New York public defender Eunice Lee, who among other things, would be the only Black woman on the Second Circuit if confirmed.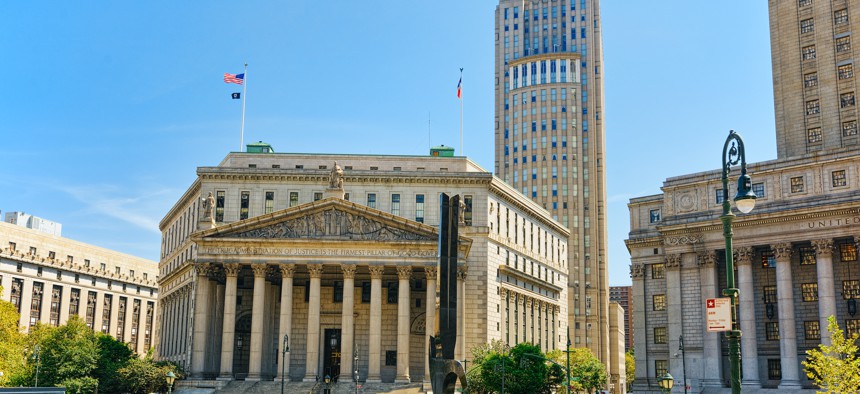 Eunice Lee, a longtime New York public defender, has been nominated by President Joe Biden to the U.S. Court of Appeals on the Second Circuit. Her nomination, if confirmed, would make her the only Black woman serving as a judge on the Second Circuit. 
Lee also would be the only judge on the Court of Appeals with experience as a public defender, and the first one with such experience since 1978. Plus, she would be the longest-serving public defender to become a circuit judge.
City & State spoke with Christopher Kang, a co-founder of Demand Justice, a court reform advocacy group, about Lee's nomination and what her confirmation would mean to the Second Circuit. This interview has been edited for length and clarity.
Can you talk about Lee's experience and why she was nominated? 
Eunice Lee has dedicated her entire career to public defense. She's spent more than two decades representing indigent clients who have been accused of a crime. While this role is incredibly central to our criminal justice system and the guarantee of constitutional rights, unfortunately we don't see enough public defenders serving as judges, even though we see an overwhelming number of prosecutors. What's so unique and important about Ms. Lee's experience is (that) she's represented almost 400 people on appeal (who were) really wrestling with difficult legal issues at both the state court and federal court, and she would bring this perspective and this experience to the Second Circuit.
Have there been many public defenders nominated to the courts? Is this a growing trend?
I worked for (former) President Obama as lead lawyer in the White House Counsel's Office in charge of the selection, vetting and confirmation of more than 200 of his federal judges. One of the things that we would say is that President Obama nominated more public defenders to the circuit courts than all presidents in history combined, which sounds impressive, and certainly felt like it, until I realized that the number (of public defenders he nominated) was five. President Biden now has matched that number five. All five of his nominees to the regional Courts of Appeals are...or were public defenders, and so he's definitely showing a greater prioritization of restoring some balance to the court, but we still have a ways to go. I think that even if Ms. Lee is confirmed to the Second Circuit, she would still be outnumbered five to one by the prosecutors who (sit on) that court. 
Lee would be the only Black judge on the Second Circuit. What does this say about the current state of diversity in the American judicial system?
I think over the last four years, diversity in our federal judicial system has taken a huge step back. (Former) President Trump's judges were 85% white and 75% male. To the Circuit Courts of Appeals, he didn't nominate a single Black judge. It's so incredibly important now for President Biden to come forward and nominate judges who look like America, who reflect the diversity of our country. Ms. Lee would be the second Black woman to ever serve the Second Circuit, and the first one in decades. President Biden also was taking the important step of making sure that these lawyers reflect the professional diversity of the legal profession, and I think that that is just as important as we seek to restore balance and legitimacy to our courts.
What do you think can be done to continue this upward trend of diversity in our courts?
I think the president has set the tone and priorities, but...for the district courts Democratic senators are the ones who make the recommendations to the president, and in some cases, senators are doing a very good job of following the president's directive and recommending lawyers from underrepresented aspects of the areas of the legal profession. Unfortunately not all Democratic senators have gotten on board yet, and I think that we need to see that happen in order to truly reach professional diversity across the country.
You've also been behind efforts to reform courts at Demand Justice. What are you working on in that capacity?
In 2018 I co-founded Demand Justice, which is an organization that's working to educate and activate progressives around our courts, whether that's structural court reform or changing the model of judges that Democrats put on the bench. In particular now, over the last six months or so, we've been working to help fulfill President Biden's vision of a judiciary that includes more lawyers who have represented individuals, as opposed to corporations or the government.
Powered By
NEXT STORY: Why Lindsey Boylan spoke up