Small Business
Bill pending Cuomo's signature requires mandated savings plans for small-business employees
Employers with at least 10 workers would be required to offer the Secure Choice Program if the measure is signed into law.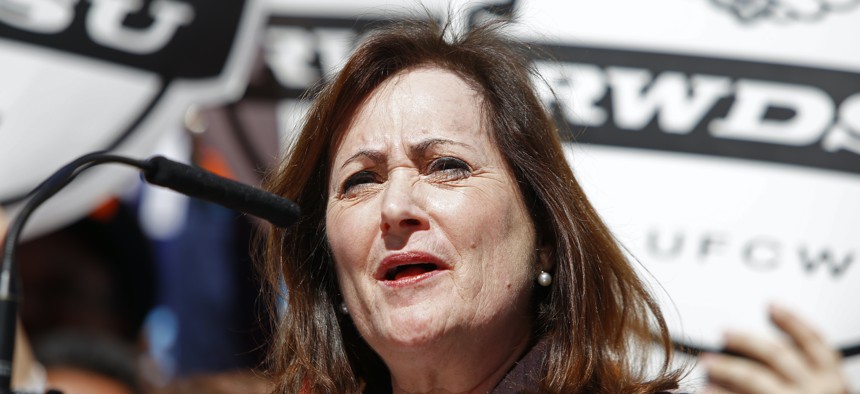 A bill passed by both the state Senate and Assembly would create a mandated savings plan for private sector employees throughout New York. Legislation creating the Secure Choice Program goes back three years, and supporters are now lobbying for Gov. Andrew Cuomo to put his signature on an amendment that would give workers at small businesses with at least 10 employees the chance to put their money into a Secure Choice IRA. Employees also would be able to opt-out under the current legislation, which has support from state Senate Majority Leader Andrea Stewart-Cousins and Assembly Speaker Carl Heastie.
City & State caught up with Beth Finkel, New York state director for the AARP, which has been among the groups hoping to see the bill signed into law. Finkel in a Q&A interview discusses why her group representing the interests of aging New Yorkers is backing the legislation, its origins and how the latest amendmendment impacts the small businesses. This interview has been edited for clarity and length.
What does the Secure Choice Savings Program do and why do you want to see it signed into law?
This is a state facilitated retirement savings program, and there are over 3 1/2 million New Yorkers who haven't been able to save for their retirement through the workplace. We know that if you can save for your retirement through the workplace, then you are 50 times more likely to save for your retirement. In fact you're 20 times more likely to save for your retirement if it's automatically enrolled. This bill does both of those things. We want to empower people to save for their own retirement so that they can age with dignity and make the decisions that they want to make as they live their lives. 
Doesn't this bill have its origins going back three years?
There was an original bill three years ago and it got passed and which Gov. Andrew Cuomo did sign. They were supposed to create a commission and get it up and running, but it was not done within the three years that it was supposed to be done. And so they put a one-year extension on it. In the meantime, that bill was a weaker bill. It is not mandated for employers to participate and does not have an opt-out for employees. 
How is the new bill different?
So this new bill that state Sen. Diane Savino and Assemblyman Robert Rodriguez shepherded through and which passed both houses, has both of those components in it. Any employer with 10 or more employees will be mandated to participate, which, by the way, is at no major additional cost to them. There's no matching funds from employers. This is really empowering people to save their own money for their retirement.
How badly needed is this proposed law?
Well, it's hard to believe, but that 3 1/2 million New Yorkers who can't save for their retirement through the workplace, that's over 50% of all the state employees who work in private industry. I don't have to tell you that it's pretty hard to live on Social Security alone when you retire. As a matter of fact, the average annual amount of Social Security paid across the country is around $20,000, but it's less than that in New York. Can you imagine retiring in New York with under $20,000 a year of income? You're not able to make any kind of decisions about the quality of your life. You are just surviving. This bill allows people to save for their own retirement, which is so essential to people's security as they age.
How likely are people going to engage in saving money for retirement after the coronavirus had such a devastating impact on the economy, and which led to job losses?
It's Interesting you should ask that. We know that many small businesses in New York are now struggling to find employees. There are a lot of open jobs and a lot of those are in small businesses. That's the beauty of this program, because this and something that you can offer your employees as a recruitment tool and also to retain the employees that you already have. You can help them save for their retirement. 
You said this bill doesn't come with any major economic impact on small businesses. Can you please elaborate on that?
I'm so glad that you asked that question. It's so negligible. The only thing that a business has to do is add another line to their payroll stub. If they use a big payroll company, it's either no-cost or a low-cost. It would not cost more than $500 a year for any business. No matter how many employees you have, it's $500. What can you get for $500 today that makes sure that your employees are going to be able to save for their retirement. And by the way, it is absolutely against the rules for any employer to do any matching funds. And one other point, which is important, it takes away the fiduciary responsibility for the businesses. That responsibility lies solely with the state, once this state-facilitated program is up and running. We know it's been a deterrent for small businesses for a long time, the cost of running a 401k, and having the fiduciary responsibility. Both of those pieces are taken away and the state takes them on. We know that small businesses want to do the right thing by their employees, but before this, they felt that there were barriers. With this program, there will be no more barriers.
New York City in April approved its own mandated employee retirement savings plan for the private sector. Will this compete or clash with the proposed state program?
They actually are mandated to start their savings program in August. With New York City going it alone, their program will take 1 million to 1 1/2 million employees out of the system that the state would have relied upon to join their savings system. They must ensure that they have the most people possible in the state program to make it feasible. So it's really important for the state to jump in right now. Andrea Stewart-Cousins and Carl Heastie understand this and we know that the governor understands this and we hope that they close it up as soon as possible.
Powered By
NEXT STORY: This week's biggest Winners & Losers