Personality
The Eric Adams after-party
What do you do when you've basically won the race for New York City mayor, but inauguration is six months away? Get your ear pierced at Claire's.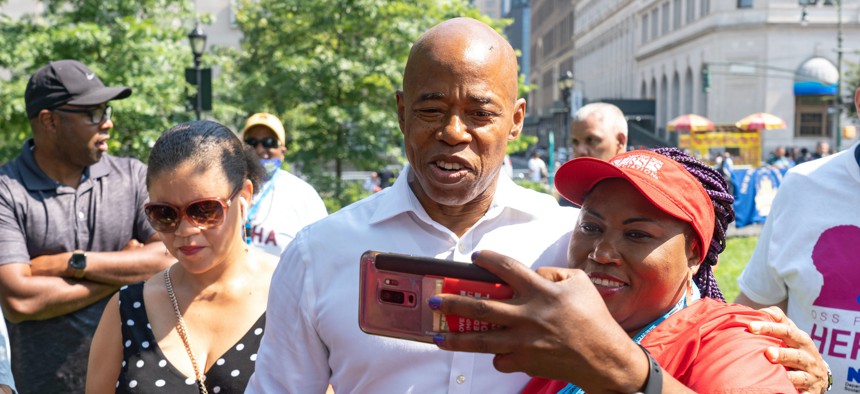 Picture this: you've waited years to become the mayor of New York City, and The Associated Press just called the competitive Democratic primary in your favor. You're all but guaranteed to cruise to victory in November, but that's four months away. What do you do in the meantime? Go on TV, walk in a parade, maybe even get some Italian food? Here's what Eric Adams did in the week following his primary victory.
An impromptu ear piercing at Claire's
According to Adams, a group of kids he met on the campaign trail wanted to know if they could trust him to keep his promises once he was in office. They decided they could ... if he promised to pierce his ear after he won the primary, and lo and behold! Look who's rocking a fresh stud in the window of every tween girl's favorite jewelry store. Really makes you wonder what he'll do for organized labor, huh. Maybe a tattoo of the 32BJ SEIU logo?
An appearance on "Morning Joe"
Are you even qualified to be mayor of New York City if you don't have a passion for going on "Morning Joe?" This one must have hurt de Blasio. Hopefully Joe Scarborough doesn't forget Big Bird completely now that Adams is the presumptive heir to Gracie Mansion.
Walking in the ticker tape parade
Eric Adams was all smiles as he walked in the Hometown Heroes parade the morning after winning the primary. The parade was in honor of New York City's essential workers, but as the confetti floated in the air and hoards of operatives congratulated him on his victory, it must have felt just a little bit like he was already the mayor.
Dinner at Rao's
What's more unusual, the democratic nominee for mayor getting dinner at an infamous Italian restaurant with John Catsimatidis and Bo Dietl, or a strict vegan ordering an eggplant parm without the parm at said Italian restaurant? A photo of them dining out together caused quite the stir on Twitter, but former mayoral candidate Dietl clarified that it was "just social, not political" and added "many jealous people, sorry you weren't invited."
Meeting with President Joe Biden
He's not even mayor yet, but it was Adams, not Bill de Blasio, who was invited to a recent meeting at the White House on tackling rising gun violence. As the former cop who campaigned on public safety, he is a relevant voice on the subject, but the meeting was also an opportunity for kindred spirits – Middle-Class Joe and Blue-Collar Eric – to finally hang out. Adams even went so far as to tell the press afterward that he's known as the "Biden of Brooklyn."