Interviews & Profiles
Rep. Carolyn Maloney wants more paid leave for federal employees
The Congress member's Comprehensive Paid Leave for Federal Employees Act would impact 2.7 million workers.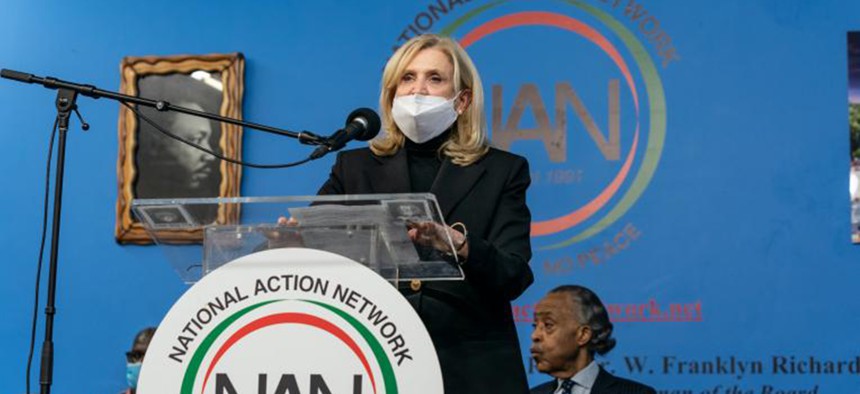 Democratic Rep. Carolyn Maloney of Manhattan has long lobbied for paid family leave. Now with support from the Biden administration's American Families Plan, she's gotten a measure known as the Comprehensive Paid Leave for Federal Employees Act through the House Committee on Oversight and Reform, which she chairs. The legislation would create comprehensive paid family leave for all federal employees including more than half a million working in New York state.
City & State caught up with Maloney to discuss where the bill goes next and what it will mean for government workers if passed into law. This interview has been edited for clarity and length.
How long have you been working on getting paid family leave?
I have been working on it my entire life, and it came from personal experiences. Like many women, we really were told to leave. I remember when I had my first child and I called personnel and asked about leave policies. They said, "We don't have any, but we still expect you to leave. Everybody leaves." I said, "I don't want to leave." And they said literally, "It'll be the first time." I said, "I want to come back. I have to come back. I have to keep my job." Most women have to work, whatever their relationships or their family situations. Most women – and men – have to work, yet the policies are not there. They then said I could take a disability leave, and I said, "Having a child is not a disability, it is a great joy." In any event, I left, I came back. It was very difficult. I even hired a friend to do my work. It was the way to hold on to my job, but it was very hard. I was always a young mother while I worked and even with affordable child care, the slots were not available. I've always worked on child care, work-family balance, ways that people can improve their lives and have a family too. 
How did you get started working on a paid family leave bill?
When I came to Congress, I went to the Government Oversight Committee, which I now chair and is called House Committee on Oversight and Reform, which has jurisdiction over federal employees, and put a bill in to introduce paid leave for the birth of a child. People were laughing at it. They said, "Why are you doing this? It will never pass."So in 2019, we finally passed that bill, and I put in another bill after that to give paid sick leave – a family and medical leave – so you could care for a sick child, a sick parent. That's the reality of many American lives, and all of a sudden Joe Biden and Kamala Harris get elected and they come out with their comprehensive American Families Plan to create a national and comprehensive paid family and medical leave program, which is so exciting to have a president talking about these issues. Part of the plan of course is providing it for federal employees. (There are) 2.7 million, if you include the postal service, federal employees. I passed a bill out of committee and now hope to get it to the floor for passage soon. 
When, when do you think that'll happen? When is it going to get to the floor?
It has to be reported out of the committee. We just had the hearing. I think we'll do that this month. So, I would like to try to pass it before the August recess, but it may go into September. And as I said, it's part of the comprehensive plan that President Biden is putting forward. I do not know if they want to move it as a total package. I think that they will probably accept and be thankful for any package or part of the plan that they can move. 
If your bill becomes law, how many federal employees will it affect in New York, and what can they expect?
There are roughly 600,000 federal employees in New York state. They can expect 12 weeks of paid family and medical leave, which they don't have now. I think the coronavirus showed us how important it is. Most people have to work. So, if you become sick and could lose your salary if you don't work, you'll end up going to work sick. That's why we had temporary paid leave during the coronavirus for federal employees. And all that money was spent. We also have seen many studies and had people testify at my hearing that paid leave benefits both businesses and government. As the nation's largest employer – we are over 2.7 million employees – the federal government should be the model for family friendly work policies.
Wasn't there some pushback on the bill from Rep. James Comer of Kentucky, the ranking member of the committee, at your last hearing for the bill?
There was a lot of pushback during the hearing. I don't know if you saw the exchange with me and Mr. Comer. He called the bill a "perk." I made the point that it's not a perk. You're dealing with serious illnesses. It's not a perk having a child. It's not a perk caring for an ill family member, and it's not a perk dealing with active-duty deployment. As our nation tries to recover from the pandemic, permanent comprehensive paid leave is essential to support workers and their families that depend on them. We are behind the rest of the world. He was calling it a perk, and I was telling him from my own experience that it's not a perk, but a lifeline that should be a right for American families.
Powered By
NEXT STORY: Liz Krueger, the reformer