Interviews & Profiles
Coordinating efforts to help Haiti after a devastating earthquake
City & State spoke with Assembly Member Rodneyse Bichotte Hermelyn on how she and others are sending aid to the island nation.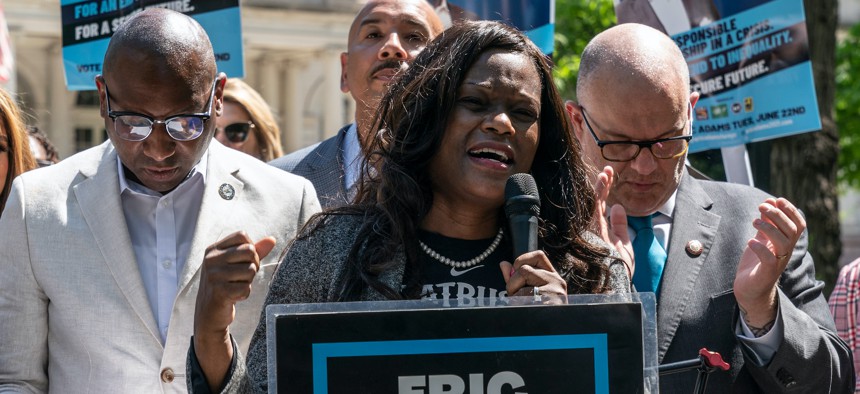 Haiti was rocked by a 7.2 magnitude earthquake on Aug. 14, causing massive destruction and killing at least 1,900 people. It came after Haiti suffered a similarly devastating 7.0 earthquake, believed to be along the same fault as the latest one, in January 2010.
Several Haitian American lawmakers from New York City as well as members of the Assembly's Haitian American Legislative Caucus have mobilized to get supplies and medical help to the country.
City & State caught up with Assembly Member Rodneyse Bichotte Hermelyn, a member of the caucus, to learn how she and others are addressing the needs of Haiti's 11.4 million people as they begin to recover.
Who in New York's government is coordinating relief efforts to Haiti?
It's a concerted effort by government, both city and state. My office has been speaking to Chuck Schumer's office. We reached out to the lieutenant governor's office and the attorney general's office. We've been very active on Mayor Bill de Blasio's side. He announced the Mayor's Fund (to Advance New York City) is working with organizations on the ground. We want help for the smaller, legitimate organizations that are Haitian led.
How has your office contributed thus far?
My office has turned into a donation center. So people are just coming in. News media are coming in. I get calls every day from news outlets on this and we're talking about what's going on currently on the ground in Haiti. As you know, the death toll has risen. It started at 29, then it went to 300, then it went to 704, then it went to 1,300 and now it's more than 1,900. It's just been climbing and it's going to climb substantially.
What lessons did you learn from the 2010 earthquake relief effort that is helping you now?
We were just all over the place and we had a lot of these big NGOs (nongovernmental organizations) come in and take over our country. We've learned since then what organizations are on the ground that we can work with. We've also created our own way of funding. There's a community trust, which is a fund people are donating to that goes to the organizations on the ground. We have organizations led by people who left New York or the United States, Haitian Americans who are now living and have lived in Haiti since the earthquake. They have their organizations there. And so we're more prepared in terms of how to organize a first responder team. We know how to get there. We know who to contact. We know what to expect in terms of supplies needed for the first responders as well as supplies needed for people who are stuck in the rubble and the injured. There were a lot of amputations and a need for orthopedic surgeries. So we're more prepared and we're responding more quickly. There are other countries who are offering their help like Israel. I spoke to the Consulate General of Israel and they are sending their people. I have requested their full medical operational team who came and set up their operations last time and performed a number of surgeries and medical procedures of that nature.
Are you telling the NGOs not to come?
We cannot stop them from coming. I'm not saying they don't do good work. I mean, they do what they need to do.
If City & State readers want to contribute, who should they contact?
I would suggest reaching out to all the elected officials of Haitian origins. We have New York City Council Members Farah Louis and Mathieu Eugene, as well as three incoming council members – Rita Joseph, Chi Ossé and Mercedes Narcisse.
And then there's the Haitian American Legislative Caucus of the state Assembly, which includes myself, Michaelle Solages, Kimberly Jean-Pierre and Clyde Vanel. Also, we have Assembly Members Mathylde Frontus and Phara Souffrant Forrest.
Last, please describe how another earthquake impacted Haiti on the heels of a presidential assassination?
Very bad. Why? We keep getting hit with challenges constantly. We're going through a political crisis because of the assasination of the president. We're going through a health crisis because there's a lack of vaccines and COVID-19 has hit Haiti hard. And now we have to go through a natural disaster. So many lives are impacted. How many more will be impacted? Not to mention we have a tropical storm coming into Haiti right now.
We have been struggling without economic stability ever since the last earthquake. We've had more than 10,000 people die from cholera infection. We had Hurricane Matthew in 2016. So, it's just been a consistent number of challenges year after year. It's disturbed many of us in our communities and to address that we now have to turn our offices around for supplies. We now need to get the attention of our local and federal elected officials. The NYPD is assisting. The Haitian American law enforcement officers are a big group in the NYPD, and right in Little Haiti, one of the commanding officers is turning their office into a supply drop-off (point). So, it's bad. It was bad before and it's bad again. But we have learned and we are rising to the occasion. We know what supplies we need. We know the different avenues to get there. And this time we have a lot more organizations on the ground that are helping.