Interviews & Profiles
School's out, New York City Council's in for Rita Joseph
A Q&A with the teacher and presumptive Central Brooklyn council member.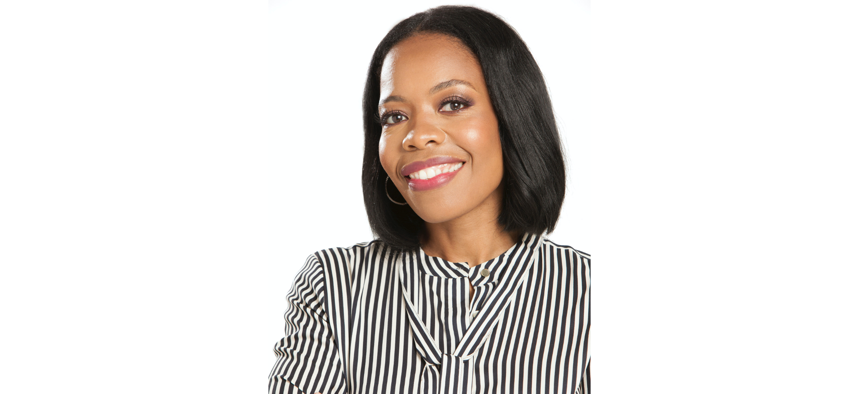 Rita Joseph still introduces herself as Ms. Joseph – a habit that must be hard to break after 21 years teaching elementary school. She'll now have to get used to a new title, New York City Council Member, after winning the Democratic primary for the 40th Council District in Central Brooklyn. Joseph, 51, is all but guaranteed to take the seat long held by Mathieu Eugene and become the second Haiti-born Council member to represent the heavily Caribbean district. However, that doesn't mean that Joseph will be a continuation of Eugene's office. "I was in the race with almost three establishments. I could say four," Joseph explained. Assembly Member Rodneyse Bichotte Hermelyn supported her opponent Josué Pierre, Rep. Yvette Clarke and consultant Una Clarke backed Kenya Handy-Hilliard, New York City Public Advocate Jumaane Williams endorsed Edwin Raymond and Eugene's brother, Maxi Eugene. "I was - what would you say - the orphan in the race," Joseph joked. "But guess what, I had people power."
City & State talked to Joseph about how Gov. Andrew Cuomo lost her district, how the United Federation of Teachers didn't support her and why she wants to build more housing.
When the report on Gov. Andrew Cuomo was released, you reiterated your call for him to resign, and if not, be impeached, and tweeted that "a Governor who repeatedly sexually harasses people working under him is not the role model we want our children to see." I thought that was an interesting framing.
That's one of the models I've always used in my classroom, along with my students. Leaders always lead by example. We woke up every day following his lead during the pandemic, he kept us together, and this was a person I followed. When I go into a classroom in the fall, and my students – I know I have inquisitive students – they would question that. 'Ms. Joseph, how do we handle that?' 'How do we look up to the person that's supposed to be leading us when they're doing the wrong thing?' I have to always lead by example. So I was waiting for that type of leadership, and he fell short. So that's why I have to call him out. 
We've seen Cuomo come to predominantly Black communities in Central Brooklyn multiple times in the midst of scandals, because he sees it to be a community that sticks by him as governor. With the AG's report coming out, do you think that's changed?
I believe he's lost our support here. We were expecting better. Maya Angelou always said that. "You know better, so you do better." So I'm sure the leadership now is rethinking their support for the governor. As an educator, what I do is "glows and grows." So I think now, our leadership needs to (say), "Yeah, he did well. He got us through the pandemic, but this behavior is unacceptable." So we can't tolerate that behavior at that level. And what kind of message does it send to others? This was a big #MeToo moment too. We've been saying for years these things have been happening in offices, and no one took us seriously. So I'm happy with the report that came out. I'm ready to see what the next steps are. I called out for his resignation, and let's see where that goes. He seems strong that he doesn't want to resign. He wants to finish out his time, but I hope he hears the cries of the community. The same voters that put him here. I hope he takes to heart what we're saying.
You're a teacher. What grade level or subjects have you taught, and how did it help you on the campaign trail? 
Of course! I've been an educator for 21 years. I've taught fourth grade, one of my favorite grades, because of the curriculum. I love history because I get to put my flavor in it. We get to do science. I taught fourth grade for a long time, then I went to fifth grade, and for a couple of years now, I've been the ENL coordinator, which is English as a new language, which they're about to change to multilanguage learners, and I'm also a tech coordinator for the building. I campaigned while I was still teaching because to learn a new language, you must have conversation, interaction and socialization. My students were like, Ms. Joseph, we've been away from each other. So their language acquisition was very little, so I told them I would stay on until June. So I was teaching, and after school, I would go campaign and knock on the doors.
I had former students who worked on the campaign, made videos of testimony of how I impacted their lives, and of course, every student deserves a world class education. So I'm also taking their voices with me to City Hall. I'm mandated by them to represent them. I'm representing them and their families.
You have that on-the-ground experience, now you're going to have a say in passing laws. What's one change that you'd like to see regarding education?
One of them, they're working on it. I would love for them to pass small class sizes. That's been very important to me. When I got into the field, I had 32 students sitting in front of me. No matter how great and amazing I was, someone will get lost in the cracks. So I'm looking forward to supporting a bill for smaller classes. 
How did you decide to run for office, by the way? Had you been involved in local politics?
I've been in local politics. That's how I get my Reso A, my capital funding, working with my electeds to make sure my school is never forgotten and the students at P.S. 6 are never forgotten. So in partnership with, whether it's my state Sen. Kevin Parker, Assembly Member Rodneyse (Bichotte Hermelyn), (City Council Member) Mathieu Eugene, I'm always working together with them to make sure that I get that funding. I'm always at their doors, knocking. And when the seat became open, I decided that I would run to represent this district that I live and work and (am) raising a family (in.). And I did it. I went out. I told stakeholders, I told my parents, I told my principal. I said, 'listen, guys, I'm going to run for the seat. I know the district, I know the community, the community knows me.' My son is always teasing me, he's like, 'Mom you raised the neighborhood. You know that, right?' When I walk down the street, while I was canvassing, I ran into so many former students. They're like, Ms. Joseph, you impacted my life, you saved me. And this is an elementary level, and one out of eight of my students live in alternative housing. So I always made sure that I told them that where they live should never ever define who they are. So when they come into P.S. 6, that's their utopia, until they go back home to whatever it is that they consider home.
Are you a UFT member? Did the union support you? 
Not at all. I'm a UFT member, and they decided to go with a noneducator (Josué Pierre). I'm sure they're biting their nails right now. I'm sure quite a few people are biting their nails like, "How did we miss her? 21-year member of the UFT." And 1199(SEIU) endorsed me, and they fell in love. They were like, "What did UFT miss?" Yeah, 1199 endorsed me. I had all the folks like Zephyr Teachout. My very, very first endorsement was 21 in '21, they set the tone. From them on it was great.
You work with English language learners. You were born in Haiti, right? Were you an English language learner yourself? 
I was born in Haiti. I came here with my grandparents when I was a year and a half, going on two years old. At two years old, I guess (spoke) Creole. And once I went to school, I decided to master both, but I found that I'm a much better English speaker than Haitian Creole. I remember one year, my 5th graders used to tease me, like 'oh Ms. Joseph is a fake Haitian!' Because I know survival Creole versus domain-specific. It takes three to five years to learn a new language to master a new language, not just for survival, domain-specific. Like in journalism, it will take you about three to five years to master that journalism language that you use. So having them being tested in a year, that's something I'm probably going to have to lobby my state and federal government as to how we change that back.
You're taking over for Mathieu Eugene, the longest-tenured City Council member, who's been serving for 14 years – since Eliot Spitzer was governor. What will you do differently?
No. 1, be present. Good governance. And that was one of the things I encountered as I was knocking on doors. 'Oh, wow, we've never seen our current Council member, but we see you.' So being present, being available and being ready to serve on day one.
You are representing a district that's economically diverse. What do you see as the future of housing in your district? Do you want to see more growth and or building?
Definitely, we have a low stock. Also keeping them here – maintaining. Making sure they have the support that they need prior to getting evicted. Making sure they have the legal support, and making sure they know, if they need resources, where to go. That's important. That's where the homelessness starts. In the Caribbean culture, for example, if they're struggling with something, they hide it until it's too late. So I'm always like don't be ashamed. Talk to me. Let me know what it is that you need before the problems get out of hand and lose control. So I want to make sure that we build enough stock. We build so they can stay, too. When we build it has to be affordable. And the homelessness crisis - it's real and it's present in our community.
The speaker's race is coming up. What are you looking for in a speaker? Are you supporting anybody specifically yet? And would you support a new incoming member?
I'm weighing all the options. I'm looking at everyone and seeing how, at the end of the day, my district will benefit as well. I haven't decided. I'm meeting with all the potential candidates to hear them out. Just going on speed dating.
I know that Brooklyn Democratic Party boss Rodneyse Bichotte Hermelyn didn't support your candidacy. But would you partner up with other Brooklynites around the party to elect a speaker? Or do you expect to kind of go on your own?
One of the things we're doing, which we've been doing from day one, is all of the candidates that were running in Brooklyn, we've always been talking, we've been hanging out. So all of the Brooklyn delegation, we're talking. We're having lunch, we're enjoying the moment. And then we didn't start talking about who we're looking at in the (speaker) race. I was in the race with almost three establishments. I could say Rodneyse. The Clarkes. Jumaane. And even Mathieu had his brother in the race. So I was - what would you say - the orphan in the race. But guess what, I had people power. The community knew of my work. I don't owe anyone anything except the voters. So going in, making sure that I make the right decisions for them. It's all about them at the end of the day.
Haitian American political power keeps growing in the city. How important is it for somebody with your background to represent this district?
Representation matters on every level. So to see one of their own - I'm like a daughter of the community. So everyone has a hand. If you talk to Una Clarke, she'll be like, that's my Haitian daughter. And actually my grandparents, I always say that they are me, and I am them. I also represent the immigrant experience. So I represent every immigrant coming here with the American dream. My grandparents came here, they were already old when they got here. So I am their American dream.