Interviews & Profiles
Taxi drivers call for debt relief at City Hall protest
A medallion owner said the city's current plan isn't enough to help drivers like him out of underwater loans.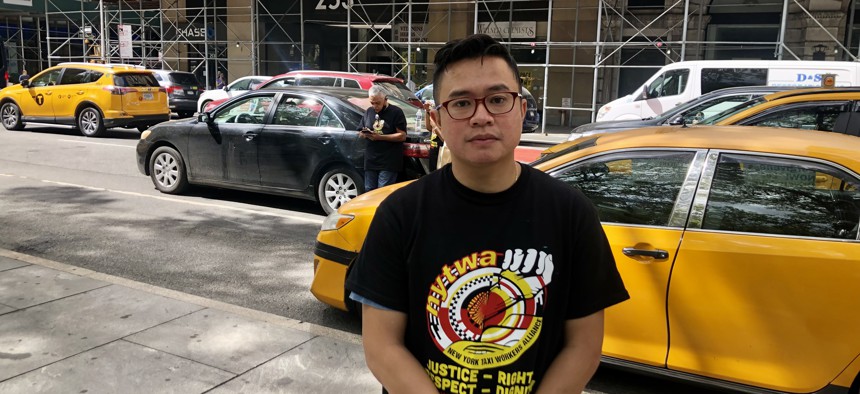 When Augustine Tang's father died six years ago, he didn't know whether or not he would take over the New York City taxi medallion his father had owned since the 1980s. But Tang eventually decided to keep his father's medallion and become a taxi driver himself. "Honestly, I just thought it was the right thing," Tang recalled to City & State on Tuesday. "I was thinking, 'What am I, too good to drive a taxi?' I was like, 'I'm going to try to make this work.'"But Tang's decision to take up his father's legacy came at a high price. Tang's father owed about $530,000 on his medallion, a debt Tang inherited and has since been able to pay down to $490,000. An unknown number of medallion owners in New York City have been similarly saddled with massive amounts of debt following the collapse of the medallion's value over the past decade. Taxi medallions grant the exclusive right to operate cabs in New York City, and though they've been valued at over $1 million as recently as 2014, their value has plummeted to a current average of around $117,000.
Since 2019, when The New York Times reported on the artificial inflation of medallion prices by taxi industry leaders and the toll that reckless loans have taken on a largely immigrant workforce, New York City and state leaders have weighed options for helping medallion owners out of their debt. Earlier this year, New York City announced a $65 million taxi relief fund that will offer no-interest loans of up to $29,000 to help write them down, funded by federal stimulus money. So far, the city has secured a total of almost $700,000 in debt relief for three drivers whose loans were restructured under the program. Negotiations with lenders and other medallion owners are underway. In a press release, the city said that "many" medallion owners will see over $200,000 in debt forgiveness and monthly payments reduced to $1,500 or less. But Tang and other medallion owners are calling for a more aggressive debt relief plan – one backed by the New York Taxi Workers Alliance that would have the city serve as a backstop on loans to incentivize lenders to restructure them to $145,000, with monthly payments of no more than $800.
Protesting outside City Hall, Tang spoke to City & State about his and other medallion owners' calls for greater debt relief and how drivers have bonded over the crisis. This interview has been edited for length and clarity.
How did you decide to take over your father's taxi medallion after he died?
My father passed away six years ago, and I've been an owner-driver for about five years. He owned the medallion and owed about $530,000 on it. I had to make a decision to take over the medallion and also take care of his mom and my grandmother. So I ended up moving back with them, and I wanted to keep his legacy, and I kept the medallion.
You and other medallion owners are protesting outside City Hall 24/7, calling for a more aggressive debt relief plan from the city – specifically, the one proposed by the New York Taxi Workers Alliance that would restructure loans to $145,000. How is it going so far?
This is our third day here. I've been here literally for 48 hours. I have not even gone home to take a shower. But you lead by example, right? I'll stay here as long as possible. I just want to make sure that the city understands we will camp out here as long as it takes.
And what will it take? Is it the city engaging in a discussion about the debt relief plan you're proposing? A compromise between that plan and the current one?
There's no compromise. The Taxi Workers Alliance's plan is the bare minimum. We cannot have a life after this. These men and women are 65, 70, 75 – we have been on this journey for three, four years already, just trying to fight for our lives. The city doesn't see it like that. We are not even asking for much, and it's not like the city cannot do this. 
Several taxi drivers in great debt have died by suicide in recent years, and you knew Yu Mein "Kenny" Chow, a medallion owner who died by suicide in 2018. How did you come to know Kenny?
When I first started driving, I didn't know anything about taxis. I literally just threw myself in an industry where I didn't have any friends. I ended up going into this taxi stand in Chinatown, and I would buy coffee there. I met Kenny there. We would talk about the taxi industry, have a little coffee, talk about our loans. I found out that he was also a medallion owner, and he owed $700,000. It was impossible to make ends meet, to keep up with their bills. When I found out that he killed himself, I was unbelievably shocked. I just couldn't believe it.
At what point did you start organizing with the New York Taxi Workers Alliance?
I met the New York Taxi Workers Alliance at (Chow's) vigil, and ever since then, I've been just trying to help. For a lot of us, we've grown to become like a real family where we're just looking out for each other. This fight, we didn't really want it to last this long.
Given how long this fight has been and the long road to the city even putting its current relief plan in place, do you think you'll be successful in advancing the debt relief plan you want to see?
We've been doing this for a very long time. We've had people come in and out saying, "Oh, we support you." But nothing has happened. We're used to losing. But we have to stay hopeful. What else do these guys have? We just want our lives back.
If you or someone you know is struggling with thoughts of suicide, you can call the National Suicide Prevention Lifeline at 1-800-273-8255. Those in New York City with mental health struggles can contact NYC Well.
Powered By
NEXT STORY: Karines Reyes on powering up the NY Hero Act