Interviews & Profiles
Brian Benjamin on his first month in office
The lieutenant governor talks about his positive presence in Harlem, increasing diversity in state government and the missteps in his career.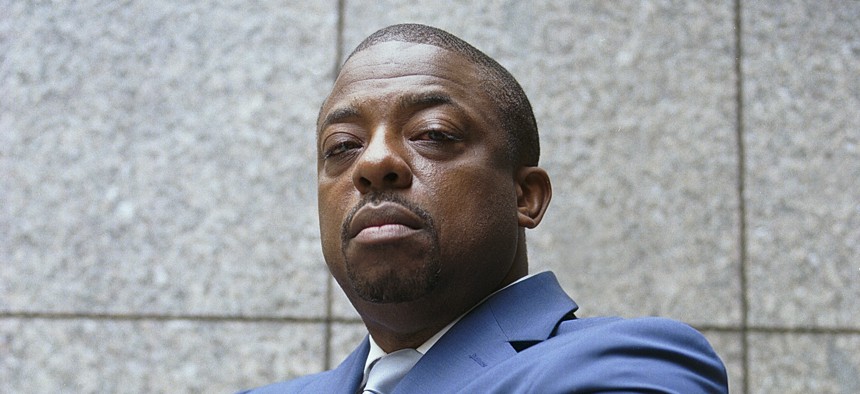 Lt. Gov. Brian Benjamin calls himself an advocate on the inside of the governor's administration. He's an advocate for communities of color, as a Black man from Harlem who's now at the highest levels of political power. He's an advocate for legislators, as someone who was recently pulled from the ranks of the state Senate. And he's an advocate for all the people he has met on his travels across the Empire State.
The fact that Benjamin is even in this position is remarkable. He became an elected official just four years ago when he was effectively appointed to the state Senate. And earlier this year Benjamin sputtered in his first competitive election, the Democratic primary race for New York City comptroller, finishing in fourth place. Despite a promising candidacy, journalists raised a series of questions about Benjamin's potential conflicts of interest as an investor, the source of some of his campaign donations and how he spent campaign cash in a previous run.
So earlier this month, Benjamin took a break from advocating for others to advocate for himself, answering questions from City & State over Buffalo wings at Side Door on 57th Street in midtown Manhattan. It had been less than a month since the 44-year-old had been sworn in as lieutenant governor, and Benjamin was full of energy. His predecessor – and now boss – Gov. Kathy Hochul had made that her signature, showing no signs of fatigue despite a punishing travel schedule. Benjamin seemed determined to match it. If the lieutenant governor senses your mind is wandering, he might snap to get your attention. He'll touch you lightly on the arm to make sure you're paying attention to a key point. 
Benjamin seems refreshed in his new role. He said that joining the board of directors of a real estate investment company when he was working as a state senator gave the wrong impression. And that he shouldn't have used campaign cash for what turned out to be a wedding celebration. He said he's done with any jobs outside of government, and that he's got a new compliance team looking at past campaigns and vetting any future fundraising. He'll need it. Just a month into the job, some of his attention is already focused on reelection. The June 2022 Democratic primary is on the horizon, and Benjamin expects to face a challenge, just as formidable opponents are lining up against Hochul.
What's Benjamin's pitch? He's a "pragmatic Democrat" and "a solutions person," the lieutenant governor said. "Some people see getting money for a problem as a win. I see the money being spent in a way that solves the problem as a win. … I'm not celebrating spending more money on homelessness. I'm celebrating having less homelessness."
So the conversation, which has been edited for length and clarity, started out on the topic of elections.
I was doing some research last night – there has not been a real, competitive race for your old state Senate seat in Harlem since 1974.
Jeez. (Shakes head.) Well it's going to happen next year. Because I know people are running. And Cordell (Cleare, the Democratic nominee) has to make her case versus everyone else.  You know, part of the process as we're seeing across the city in the state is that people are challenging members who they think should be challenged. Yeah. Right. I mean, it's like, (David) Paterson could have been challenged. People just chose not to, right? (Carl) McCall could have been challenged.
You didn't have a primary either year.
I think there was some sort of sense from people that they thought I was doing a good job and a strong senator. I was in top leadership, No. 4-ranking senator. Bringing a lot of money home, being very active, a leader on criminal justice reform so maybe people thought that they didn't want to make that case.
What's your philosophy on elections? Do you think primaries are always good to keep people on their toes? Or should somebody doing a good job not "deserve" a primary?
I don't believe in the deserve or not deserve philosophy. I believe that if people want to run, they should run. Even if it's running against someone who's amazing. It'll remind people why that person was amazing. I'm very much into democracy. I would have loved to have a primary, to be frank, because I think it would have sent the message that voters directly believe in what I was doing. I was always prepared for one.
I enjoyed (interacting with voters) in the comptroller race. Obviously I was unsuccessful, but I enjoyed it. I was doing 15 events a day, multiple churches a weekend and making my case. And, you know, the comptroller's was difficult for a range of reasons.
Let's talk about that. At the beginning, back in 2020, early 2021, when people asked me who was going to win, I was saying you were. Do you think it was a missed opportunity? Was it New York City Council Speaker Corey Johnson entrance in the race that did you in?
With Sen. (Kevin) Parker and I both running, it created a real issue where a number of people who like us both felt conflicted and didn't want to support. So you had a situation where I was raising money, putting it together. If Sen. Parker was not in the race, a lot of endorsements, a lot of stuff would have come together much quicker, which might have changed Corey's calculus as to whether or not there was an opening. So you have a situation where you have Brad (Lander), who's appealing to the very hard left, and a whole bunch of other people. Corey, me – Michelle (Caruso-Cabrera) was the only female (who was considered a serious contender) in the race, Latina. So it was a lot of different dynamics. But you know, I do maintain that if Corey hadn't jumped in the race, there would have been labor support, a number of other pieces of support, that would have come together to possibly have a different outcome.
But God had a different plan for my life. It all happened the way it was supposed to happen for me to get here. But on a more important level, I'm not bitter. People wanted me to go negative in that race because they thought that was my only pathway to victory. I refused to do that. I just wanted to make the case for myself. Quite frankly, I think I did, you know, pretty well under the circumstances. I could have maybe done some different things. But it was meant to be the way it happened.
You say go negative – we saw quite a bit of what looked like opposition research that came out against you.
Oh yeah, big time. Because that was the way to beat me, right? A lot of times if you have candidates of color who can raise the money, who have the qualifications, who can articulate themselves well on the issues, the demographics really favor that. So the only way to stop that, in my view, is to tear them down. So that happened.
And quite frankly, I actually feel like I'm the beneficiary of opposition research because it caused me to take a closer look at a number of things. You know, when I first became a senator, I just started doing things raising money. I didn't have the best lawyers on my team, the best compliance people making sure everything was set up right and accounted for right. We didn't have the right structure in place, the way I'm setting up now. So now if you look at me now setting up my LG account, it's like Fort Knox. Before I do anything else, I have the best lawyers on the case, got a compliance team on the case, we have a whole vetting system. Granted, I was a very smart person, but I was very naive as to the rules and the process. What I ended up doing was following what everyone else was doing, which is not the best strategy. So there were mistakes made. And what I have done since then, I have asked the lawyers who are helping me with setting up my LG account. I've asked them to do a thorough forensic accounting of every single contribution, every single expenditure. I've asked them to go through every single thing and whatever they believe we need to clean up, let's clean up. I didn't do anything with any malicious intention. There was just some sloppy things that happened and some bad decisions. But it was because I didn't have the right structure in place.
Who is your compliance team?
Greenberg Traurig. Here's my view on this. I want people to beat me on the merits. I want to make sure that if I am not lieutenant governor, it was because there was a battle of ideas and I lost on that. Not because there was this contribution, and it was that, and all things that I never meant to happen but because I didn't have the tightest team together.
How do you explain your campaign spending on what appeared to be your wedding in 2018?
Sure. Effectively what it was supposed to be was a community outreach event where I was bringing together all my local supporters to have them come out and get mobilized because we had the November elections coming up. I had buses going all over the state helping to get a majority (of Democrats in the state Senate). So what we did wrong was we started off like that, and then my team started to mutate it. Because I was getting married everyone said, "Oh, let's overlay that." And then it just mutated. And unfortunately, this is where having a Greenberg Traurig on the case would have said, "Go back to the original intention  because otherwise this is a problem." We didn't have that. But we had a great event and people got on buses, knocked on doors and all that. But all that you're left with is what looked like a wedding reception.
So this event wasn't your wedding reception?
No! I got married in Virginia and I had my wedding reception in Virginia. It's all on my social media. I went on my honeymoon and my team was like oh, let's turn the community outreach event, just layer into it, "Welcome back, first time you're back, everyone can see you, so that people can feel like they're a part of your life." So those decisions got made and the problem was we didn't have a lawyer there to say, "If you do that you are now creating a problem with how this is being paid for."
And then they would've said, "Listen if y'all want to go in that direction, understand that you've got to pay for this personally." At which point I would have said absolutely not. And at that point, it would have what we originally planned it to be. These are mistakes I made. I own it. It is what it is. I'm not going to sit here and go blame staffers from four years ago for this and that. It was one of those mistakes that you just wish never happened. But now you're running for comptroller. By the way – no one was hiding anything. Everything was on social media. It wasn't like I was trying to not show it. It was just that we didn't do it right.
That's an odd part of being a politician. All of your birthday parties become fundraisers. You've only been LG for a month now, but does it feel like there's a brighter spotlight on you? That you're more of a public figure than before?
Without question. When it first got announced, there was a question: Should I have the state police (security detail) before (being sworn in)? I was like, "Oh I don't need it until blah blah blah." And that night I went to a barbecue that the Fred Samuel Democratic Club hosts that I've been to every year for the last 10 years. I was like it's no big deal. I went by myself. I got mobbed! I was like, wait a second, these are people I've known. But it just became a whole new thing. So now people, sometimes I'm walking down the street in Harlem, 125th Street, where people stop their car, jump out the car, they want to take a picture.
Just this morning, I was carrying my shirts to the corner to get cleaned, and a woman said it's so great to see you out here because I love young Black kids seeing you dressed up with a suit. You've got security, and you're a person that they can feel and touch, and everyone knows who you are here. A lot of these kids, all they see is drug dealers. So to be able to be a presence in my own community right in Harlem as lieutenant governor, as someone who is everyday trying to help the district better for them – the power of presence – it's not lost on me.
Did you take the security early?
I did. After that event, I said yes. And their argument was it was (during the) transition, so it was permissible. But I really appreciate, more than would you know, the informal power that my appointment represents, for communities like mine. In addition to all the stuff I'm doing, which we can talk about in a few. But just the presence is very powerful.
This interview is for our Power of Diversity: Black 100 issue. You're one of the highest ranking Black politicians in the state – 
Effectively, I'm the highest. Which is wild, right? Just statutorily. Obviously, we know power –
Tell that to Letitia James!
(Playfully.) No comment. Obviously, I'm not talking about electoral power here. I'm just talking statutorily. But yes, in terms of actual power, that's a different story. But the question is what's power? You know, right after I meet with you, Gov. Hochul and I are sitting down for our weekly meeting to go over key issues. I'm very active with her, very active with her secretary, her chief of staff. We're fully integrated. And on any topic, my voice is relevant.
My impression is that Hochul did not have a weekly meeting with former Gov. Andrew Cuomo. 
No, she did not. (Laughs.)
So this is new. Do you consider yourself as being a part of the administration, or do you consider yourself as having your own office?
Part of the administration. Without question. Now listen, I'm lieutenant governor. I have certain – whatever. But to me, I work closely with her secretary, the chief of staff, key officials. She's given me part of her portfolio. Like focusing on public housing in the city of New York is something that she has given to me (and) focusing on vaccine equity.
By the way, my whole platform is equity. I'm putting together a meeting of all the elected officials of Latin descent next Friday (Oct. 15) to talk about appointments in the administration. That's commissioners, that's boards, that's authorities, that's commissions – with the governor's support to do it. And I'm going to be working with them to be an advocate because we do have an issue with brown leadership across the state. I'm going to play a leading role in making sure that we're trying to get as many people of color of Latin descent.
I'm sure you saw the reports that Cuomo was planning to run with a new lieutenant governor for the 2022 campaign. Were you in the mix? Did Cuomo ever call you?
No. I got a call from someone tangentially saying that I was in the conversation, but no one ever called me. But the only way I would have been interested in a spot like that is if the present lieutenant governor was willingly leaving. I would not have been part of some hostile takeover.
And by the way, part of why Kathy picked me is that when I came into the Senate, and she was a lieutenant governor who didn't have a lot of friends within the administration, we did a lot of events together. She came with me to see some of our small businesses, restaurants, to see how they were doing. We worked on a Harlem local vendor program to have vendors who sold hot sauce and a number of different goods and supplies in Whole Foods. Whenever she came to Harlem, or anywhere near the district, she knew that I would be there. So when the time came for the process, she was just coming and we're doing what we normally did and said you know what, let's have coffee afterwards. An existing relationship for four years.
My first public event, which was me walking Eighth Avenue, she called me to congratulate me on winning. I said thank you. She said, "Well, what are you up to?" I said, "Well, my first thing I'm going to do is I'm going to go walk and see our small businesses." So she said, "You know what, I'm going to change my calendar and come walk with you." I could find you a picture that we got from four years ago of me and her walking together. And we were ecstatic. I mean, I just got here, the lieutenant governor's coming to walk the streets. And then I had like 40 restaurants on Eighth Avenue and in the surrounding blocks who came. And they're like, oh my God, Brian, you just got here, and you're already bringing the state.
(Benjamin shows the photo on his phone.)
As you might know, I had a very comfortable life. I was one of the top senators helping to get us into that majority. (State Senate Majority Leader) Andrea Stewart-Cousins had me as her acting presiding officer, chair of the Budget Committee, one of her closest advisors. And it was not apparent that at any point in time I had to go anywhere.
So why is this relevant? When she said, "hey, I want you to join my team," I didn't feel the need to give her the third degree on: "But what are you going to give me? What you're not going to give me? Let's negotiate. What does this mean?" I trusted her. I knew her. I knew how she worked. I know she was a collaborator. And I know that we were ideologically aligned. I am someone who is pro-jobs and socially progressive. I believe in making sure that we have an economy that's flourishing, a rising tide lifts all boats, and that we have strong criminal justice, education. She believes in the same thing. Why do I know this? Because I worked with her for four years. Other people will say, Brian, don't give up your seat until you have blood on a signed contract, saying you're going to have this and that. I know I didn't need that because it wasn't like I just met her yesterday. I was just looking for an opportunity.
You've got this great gig guaranteed for another 15 months, but –
I'm one of those people who doesn't need a lot of structure to work. Gov. Hochul is running and chewing gum. We are putting the ship together while driving the ship. Most people have transitions. Eric Adams is going to have a two-month transition!
You're still finding people and staffing up.
That's a part of my legacy too. One of the reasons why I'm so interested in these appointments and diversity and equity – I'm labeling myself the equity czar of the administration – is because those appointments last well beyond my time here. You put someone on a board and they do a good job, that leads to the next commission, which leads to the next thing, and now all of a sudden we've got people of color, Black, brown, Asian, Pacific Islander, etc., who are now part of the process that we have been historically shut out of. To me that's the best utilization of a lieutenant governor like myself – everyone at the table.
Unlike many figures in Harlem politics, you're not, quote-unquote, the son of anybody.
I'm the son of nobody! I'm the son of a mother from Guyana, came here with two suitcases and $10. My father didn't want me. I introduced my mother to my stepfather who became my father. He was my bus driver. She was Guyanese; he's Jamaican. Neither of them had a college education. They were the people who no one cared about – the overlooked, the underserved. But they just worked hard and provided a life for me and my siblings. And now I'm able to go to Brown University and Harvard and blah blah blah.
And how'd you get into politics?
So 2007, I'm working at Morgan Stanley, and it's February, Barack Obama runs for president. At this point, heretofore, I was part of like, oh, let's help Hillary. And when Barack ran, I just felt it in a whole different way. Living in Harlem, so excited. And I decided, besides raising him money, which I was very active in, I wanted to actually do more than that. So I started a group called Harlem4Obama, (a) grassroots group.
And the Clintons' office was right there in Harlem. 
(Former Rep.) Charlie Rangel had the whole political establishment fully lined up behind Hillary. And what it created, though, was an opportunity for someone like me to be a vessel for people who cared about this new kid. And because I wasn't part of anything, there were no repercussions in terms of my life. I didn't have to worry about nothing.
I was very active. And so I got going in February. Bill (Perkins, who was then a state senator) endorsed Obama in May. We had a meeting in his office where he said, OK, you're doing a good job putting stuff together. I'm taking over now. Bill Perkins and I, oddly enough, were at odds for years. I said, OK, forget that. So we just kept being active. When Barack won, everything came together, and I was focusing on fundraising. So here's how Bill Lynch (a legendary political consultant) comes into the picture. I didn't know what I wanted to do because now I'm confused. I just spent all this time not doing my day job, being a grassroots activist and enjoying it. I needed to figure out what I'm doing with my life. So I took a leave of absence from Morgan Stanley, and I went to Virginia to help Terry McAuliffe run for governor in '09. Now, by the way, this was not a popular decision, given the amount of money I was leaving behind at Morgan Stanley to go do all this.
You were single at the time.
I was. (Laughs.) Don't even start. So I went to Virginia to go help Terry. But I was really going to figure out, do I want to be behind the scenes, helpful? Or do I want to be actually the person myself? I needed to solve that question. And over the course of that campaign, I left there very clear. I want to be the person myself. So I called Bill Lynch. Came back to Harlem, sat down with Bill, and Bill said, sit down right here and shut up. And then (Benjamin makes the sound of a tape skipping forward), here we are.
And that's when you got into real estate development?
Correct. Building affordable housing – that's how it all happened. Once I made that decision, no matter what, and it was hard, I stuck to it. And remember, I went to Harvard Business School. People were thinking I'm crazy. Like, what the hell am I doing? I'm joining local community boards. I'm organizing rallies. But it's what I want to do with my life. And then one thing led to the next to the next to the next and here we are.
Everyone's been talking about who's running for governor. I haven't heard much talk about LG yet. Is anybody running against you?
Not to my knowledge. But let me say this. I am supporting Jumaane (Williams) for public advocate. His race is in November. I think that's where he should stay. I think he's a good public advocate. I believe that Tish (James) has got a lot of work to do in terms of getting Trump. So there's a lot of things on the attorney general's plate. I personally am supporting everyone for where they are now. Tish for attorney general, Kathy Hochul for governor. I believe that we should have some continuity as a Democratic Party after what just occurred. Look, it's a democracy. People do what they want. But I would personally prefer for Gov. Hochul and I to spend as much time as possible on governing. There's a lot at stake. Look, whatever it is, it is. But I think there's a lot of important work for us to do together, and people are doing a good job where they are. So let's keep doing it. That's my opinion.
Now lieutenant governor is a thankless job. It seemed like Hochul had to take a flight out of Buffalo every day. You at least have the benefit of living in the heart of the city. But is it a lot of mornings waking up at 5 a.m. and getting on a plane somewhere?
Doing a lot of driving. I hit multiple stops. Greene County, Ulster County, just getting around. Seneca Falls. I flew to Buffalo because that's too far. But what I think is more important than how many places we're visiting is how many problems we're solving across the state. So I don't look at success as I've been to 62 counties. I look at success as we've affected 62 counties in ways that are meaningful to them. So one thing I have already seen off the bat that's a huge problem is broadband upstate. My phone drops driving around the state. 
So if you are in a county, sure, it might make you happy that the lieutenant governor stopped by. But what will make you more happy is the lieutenant governor solved the problem that you're dealing with on a day-to-day basis. Because the only reason why it matters I go to your county is because you would hope that I went to your county, saw your problems myself, and am able to advocate on your behalf. Not just that I came and saw your county and had some ice cream. So to me, we're being very thoughtful as I'm moving across the state that I'm really digging into what are the issues? What are the problems? What are the things we're trying to solve? And then when I have my weekly meetings with Kathy Hochul or we're talking to the secretary, we are advocating to help make sure we're making things happen.
How does your schedule get set? Are you deciding, or is it the governor saying I really need you to be here or there?
So my team and her team have daily scheduling calls. They look at the week in advance if there any major weeks, for example, like if it's Climate Week or this or that and really think through how that works. As incoming requests come into the governor, that is more appropriate for me, blah, blah, blah. So we get a lot of incoming from the governor in terms of things to attend. They are really driving the day to day. And the governor and I are having a more of an up here conversation around what are we focusing on, what are our priorities.
And then there's a second layer, which is my chief of staff and deputy chief of staff meets with her secretary and chief of staff, and they have regular strategic conversations. Because one of things that I've found is somebody has to be an advocate for legislators. My colleagues, when they have a problem, they'll call whoever, but they'd love to deal with – "Hey, Brian, this is an emergency." And I was able to get the conversation moving quickly. So sometimes a problem might be not getting resolved right or fast enough or there might be some nuances missing between staff. And I can be that person who advocates in the administration.
Is it a grind? We just had Eric Adams claim that he only sleeps from 2 a.m. to 5 a.m. I hope you get more than that.
Way more than that. For me? Never. I can't function with that. I need six to seven (hours) at least. And I'm very targeted in what I'm focused on. I focus on the movement of things. And then I have great staff and then we leverage the governor's staff on the execution and the flow. I'm on the phone calling legislators to invite them to this meeting. And then my team is following up with their team. It's a very high touch job, and I'm really playing a high-level advocate.
And I never want anyone to say that their voice is not heard in this administration. So I am physically making sure that happens, right? Any legislator, any major activist, they know. I'll tell you the perfect example. We signed Less is More on the 38th floor. I was part of making sure we invited the key people who helped get us there. One of the activists said to me, crying, this is the first time I've actually been inside this building. But I've spent many times protesting over the last year outside this building. And that's what I want this to be. This administration has to be an administration where everybody feels like it's theirs. Everybody has a voice. We will disagree, right? And sometimes we will agree. But I am the people's lieutenant governor. At the end of the day they're going to vote and say keep him or send him home. So I'm filling out a term but this is the people's seat. So I want people to feel like they have access.
You took outside income as a state senator. Are you doing anything else now? Are you still on the board of trustees for Brown University?
No, absolutely not. (As for Brown), I am now a trustee emeritus, so I'm off the board. And they asked me if I would join a council, and I talked to our counsel and agreed to not even do anything, just so there's absolutely no (questions). It was a fundraising thing, and obviously it's a nonprofit, but you don't want any – so I'm doing absolutely nothing outside of the role of lieutenant governor.
When you were a senator taking outside income, joining the board of directors of a special purpose acquisition company (SPAC) – was it about making extra money? Was it about keeping a foot in the finance world?
So the way in which the SPAC happened was it was outreach that came to me that said, you have a background in finance, you know how to analyze companies. When I was at Morgan Stanley, I used to do mergers and acquisitions, so I was very good at accretion/dilution analysis, all these things that if you're into banking, you understand. What the decision for me came down to was it was a short-term proposition. The way SPACs work is, they get opened, and once the targets are acquired, then it's closed. It was, OK, I could do this for a couple of months, get some income. I have a growing family and all of that. And sharpen those tools that I thought would be helpful as the next comptroller. Obviously, things got – now here's the thing, when we were evaluating the targets, I was looking at these entities from a financial balance sheet standpoint. And because they were authorized where they were, it didn't occur – that was my task. My task was to focus on that.
You weren't thinking from a PR perspective?
I wasn't thinking from a PR perspective. So once I had some activists from my district on the Upper West Side call me to a meeting and say listen, we love you, you're a great senator. But we have real concerns about some of the loans that LoanMe has made, blah, blah, blah. Walked me through it. I researched it myself. And I stepped off the board. And that's what happened because I didn't want that perception. But quite frankly, my role was not looking at that. My role was looking into companies from a financial perspective. And once it was brought to my attention, that's when I stepped aside. I stepped off the board prematurely, before the SPAC actually ran its natural course.
You mentioned before the importance of having a Black man in power. Is it better than ever to be a Black New Yorker in politics?
There are Blacks who are ascended to positions, but that still needs to actually make its way down to regular people. So one of the things I'm going to be doing later on today, I'm going to be talking to (Empire State Development) about the minority- and women-owned business MWBE program because there are a lot of concerns about certification and recertification, who's been certified. There's a lot of X's and O's that have to get filled out. But we are in power and in positions to do those things. But the executive branches, the mayor and the governor, are really where the rubber is going to hit the road in terms of driving the results that reflect the political leadership that Blacks have ascended to. And so I see that as my job.
That's why I'm focusing on NYCHA because the severe amount of people who are Black and brown and live in NYCHA and the nature of those buildings, that is a big equity issue. Compare that housing to the Upper East Side right off of 60th, 61st. Doing that is what matters, getting the money, getting the people in the seats. That's a great thing, optically. Driving the results is where we have the focus now. And that's what I'm completely committed to doing.
Tell me about your family. Your wife Cathleen McCadden is in government?
She works at (Homes and Community Renewal), the state housing agency. Now the chief of staff for the agency over there. Anyone will tell you in Harlem she's more popular than me. There are people who wanted her to run when I ran. She didn't want to do it. She supported me. We had just started dating. She used to work with (Manhattan Democratic County Chair) Keith Wright. She was the person who I dealt with to deal with Keith.
It's a funny story, when Kathy called me to offer the position, I wanted to say yes, but I was like, let me call you back. Talked to Cat, my wife, for 30 minutes and we just said, this is a big decision. You're pregnant. If you don't want me to do this, it's done. Either we're doing this together or we're not. She thought about it and said you know what? We can do this. Called Kathy right back and said we're in.
So Cat and Kathy together.
It's helpful for me to have a wife who gets it. She does politics.
Do you regret doing the reality show?
So let's go back to that. My ex, at the time, this was a big deal for her. She wanted to be a TV star. Because it was on Oprah's network – I said I didn't want to do it, but they came in and met with me and said, listen, it's going to be above board, it's going to be different. Unfortunately for us, a lot of what they showed was not reality. And so that wasn't what happened. But it's what she wanted. I would have made the same decision over again. I wish it didn't happen. But if I was in the same position – my partner, she really wanted to bring awareness. She was a cancer survivor. And I wanted to support it. I support my spouse, that's what I do. I support my mate. So I would have done it over again. But do I wish that we had officially broken up after the show was over so they didn't have to fake some kind of – right?
You being in Harlem – the DSA and progressives hadn't been challenging incumbents, didn't have a lot of influence. Then out of nowhere now we see Kristin Richardson Jordan beat an established incumbent. What do you think about the strengthening left flank in New York politics?
The people are picking who they want regardless of all these titles. There are people who voted for Dianne Morales and Ray McGuire. There are people who voted for Eric Adams and Tiffany Cabán. Voters are voting for who they want to vote for. We make more of a statement around someone's ideological background and somehow projecting that as the reason why they won. I think people are just voting for who they want to vote for. 
People voted for AOC because they liked her. They didn't vote for her – maybe a few people, and maybe online it's a whole big thing. But I believe that's what's happening. And ranked-choice voting showed us, you cannot bucket people. They voted for who they like and who they feel. That's what's at stake. I need to be a candidate who people like, period. And they'll vote for me. And then what will happen is people will try to rationalize what it is by putting me in some bucket and saying, "Oh, Eric Adams won. Moderates are winning." There are people who are quote-unquote hard left voting for Eric Adams because they're scared when they walk down the street. They're still hard left. They're still super progressive, but they want to be safe.
Powered By
NEXT STORY: This week's biggest Winners & Losers