Interviews & Profiles
George Latimer isn't running for governor, but his DMs are open for LG
The Westchester County exec discussed how he got reelected in the 'burbs and how Democrats can change their messaging.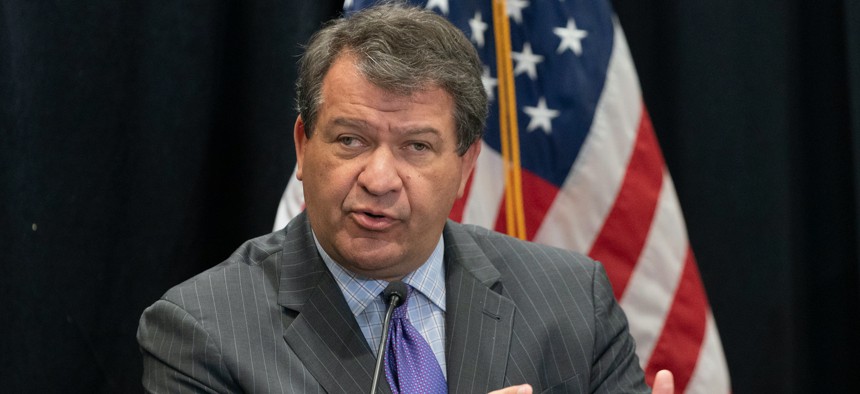 Earlier this month, Westchester County Executive George Latimer declared victory in his reelection bid against Republican Christine Sculti. Latimer's landslide victory was expected, adding to his list of Westchester elections he's never lost.  Although Latimer won the biggest race in the county, several Republicans gained seats in other suburban areas of the state, highlighting the resurgence of the party that was heavily seen during the 2021 elections. 
City & State spoke with Latimer about his reelection win and why results were different for other Democrats. This interview has been edited for length and clarity. 
I'm updating our gubernatorial tracker. Are you still thinking about maybe running for governor, or should I put you in the 'not running' category?
I think not running if it's a choice of running or not running, I think not running. I've talked to a lot of different people, not specifically that I was running, but just to get the pulse of how people feel. And you know, my sense it's really a two-person race. This is about Kathy Hochul, it's about Tish James. I know Tom Suozzi, Jumaane Williams, Bill de Blasio are all players in the game. But most everybody I've talked to – and I've talked to a variety of county leaders and elected officials who are friends of mine, because I have a network of friends, I was in the state Legislature – it's pretty much the decision is binary between Kathy and Tish. So, for my purposes, I don't see myself being a gubernatorial (candidate), but you never say never. I would also take the job of New York Mets general manager if I got a call from Steve Cohen, but I don't expect to get a call from Steve Cohen.
It almost sounds like you'd be willing to consider a lieutenant governor campaign?
Well, you know, LG is a different thing. LG, generally the way I look at it, is a decision by a gubernatorial candidate who they want to ask to run with them. You could be a self starter LG candidate. I don't I don't see that as a plausible way to go. So, you know, Brian Benjamin is lieutenant governor. He's obviously Kathy's choice. I know, Brian. We served in the Senate together. So that's one side of it, and I think it's Tish's choice to make as to who she wants to run with. You know, look, I'm not stupid. I've seen the speculation like everybody else has. I don't think I'm the only name that's been speculated. So my attitude is it's Tish's choice to make the phone call to whom she wants to make, and I wouldn't presume until and unless the phone call rang and my end of the line. So I'm just taking the attitude of – sounds like BS – but I've taken the attitude I had a great job and just got reelected to it. We just dropped the budget, I got other stuff to do. I expect to be involved in the 2022 year in some capacity, whatever that is, and we'll see if it's one capacity or another.
As the Westchester County executive, tell me about how you saw the campaign unfolding in your own race and why it seemed to be relatively easy for you compared to your first campaign?
In the first campaign, I was the challenger. I was taking on a two-term incumbent, Rob Astorino. He had all the obvious advantages going into the race. It was a race where I was the underdog for most of the campaign. This race is different because I'm the incumbent, and more importantly I have a record. I thought I could win the race when I saw how well we had done in the first three years. We had fixed a lot of things that were left broken. We had two pools in Yonkers that were left empty for eight years. We fixed them and made them operative. We had a historic home site, Mill House, Washington Headquarters that was on the verge of collapse. We got that done. We closed a bunch of union contracts that were left undone. We were able to accomplish and complete projects that were undone when I walked into the office. A lot of those things weren't done because the prior administration was negligent. They didn't philosophically believe in investing in these things. When we won in '17, we believed we had won a mandate to go back to the traditional things that, we in Westchester did and did well. Fast forward to '21, the nature of my victory reinforces that I had my finger on the pulse of the majority of the Westchester mindset. You don't get 62% on your Democratic base alone. I have a Democratic base but I also have independents and some Republicans with me this time around and I think that's a good reinforcement of what we've done. 
Long Island and Westchester are both suburban areas outside of New York City, historically and currently similar in many ways. How do you interpret these very different results between the northern suburbs and Long Island?
What I observed is that the tied suburban was more than just Long Island. We have more Democrats in Westchester than any of those other jurisdictions. So, we have a base of Democrats that's a higher percentage. Democrats, traditionally in suburban areas have generally done better with the college-educated base of voters than Republicans have more recently. I think that's an advantage we worked off of. I understood that it wasn't enough for me to just run strong. Our campaign team helped all of the people down the ticket. We specifically campaigned with county legislators, town supervisors, councilmen and sometimes you don't get that in other jurisdictions. My campaign paid for robocalls that had the voices of other prominent people to help gin up Democratic support, not because I needed it. But because in a couple locations, they needed it. We understood in Westchester we have to run as a team. I think that the Republicans, as far as I can see, tried very hard to use national themes to undermine local officials. I think if there's a message for Democrats it's, 'Don't accept that the other guys get to frame the race all the time.' We frame the race. My slogan was 'Results not rhetoric,' and we pounded away. We Democrats cut taxes. We Democrats both funded the police, and were involved in reforming the police. They're not mutually exclusive. You can fund the police and you can reform the police at the same time. And we gave specific examples like the mental health crisis team, which was the second biggest recommendation that came out of our police reform effort. We showed very practical types of environmental protection. They want to talk about, 'You're trying to constrict my life and you want a carbon tax.' We're converting our bus fleet from diesel to electric. That's practical environmentalism. We're taking food waste out of the out of the burn stream. And that's practical environmentalism.
Something that seems to pop up a lot in all the different campaigns in recent years has been that Republicans have had success at times finding very simple issues that, at least from their side, they can explain in very few words. What would you say to your fellow Democrats in responding to sometimes very simplistic, reductionist sloganeering from the other side?
You're right. The other side uses simplistic slogans. The response to that is to not defend your point of view with a long legalistic thing. You say, 'Look, that's rhetoric.' But you try to explain what you're doing in a straightforward way. And you're thinking about, what does the other person think? Not just this is a Government 101 course, and I'm going to explain this to you in mind-numbing detail. Our job is to do the right thing but also present it to people in a way they can understand. If Democrats can grasp that and we can repackage what we're doing in that line, I think we'll be better off.