Interviews & Profiles
Kristin Richardson Jordan on 'disrupting the district'
The newly-elected District 9 council member's campaign showed the strength of gathering early endorsements and groundswell support.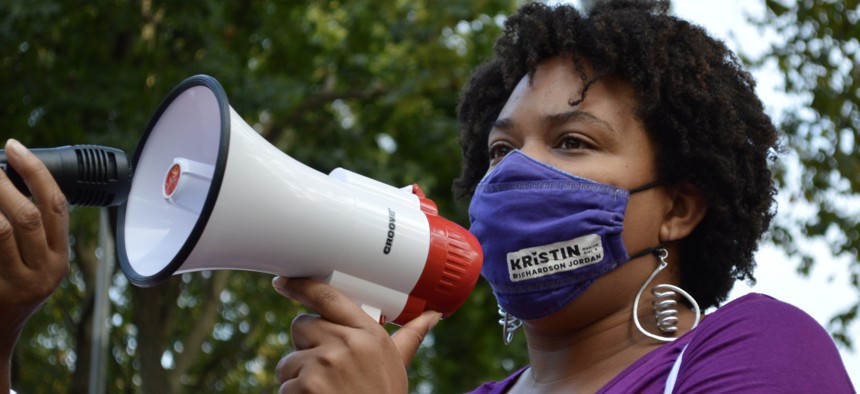 Kristin Richardson Jordan's bid for the City Council's District 9 seat, which includes Central Harlem, Morningside Heights, and parts of East Harlem, had all the trappings of a local campaign worth watching.
Jordan faced over a dozen primary contenders, a controversial incumbent and a recount that dragged out into the summer. 
The message that she commanded on the campaign trail was "disrupting the district," a rallying cry to solve Harlem's old problems with a newer, more progressive wave of leadership. Still, she was careful not to rely on a message of animosity. 
"You can't just be anti-something, you need to be for something," she said. 
Even with divisive, far-left positions like "defund the police," universal rent control and abolishing prisons, Jordan ultimately won the Democratic nomination, and went on to win 94% of the vote in November. 
In January, Jordan will join a small but growing number of progressives on the City Council. However, what's most noteworthy about Jordan isn't her platform – it's how she got elected. Democrats could learn a lot from the newly-elected council member's campaign, specifically how Jordan was able to gather early endorsements and groundswell support before any opponents were able to recognize her potency as a candidate.
Over a year before the November election, Jordan drew the attention of influential activist groups like the Black Women's March, an organization that typically doesn't endorse political candidates. The group was drawn to her on the ground, door-to-door campaign and her activism work during the pandemic, Caroline Gombé, co-founder of the Black Women's March, told The City in June.
Jordan's biggest political nod also came in June, when she received a first-choice endorsement from Alexandria Ocasio-Cortez through her City Council-focused Courage to Change PAC. Fellow District 9 contender, Joshua Clennon, received only a second-choice endorsement. 
As a former poet and activist, running as an outsider meant that Jordan had less policy know-how than others, something that more experienced candidates, such as Clennon, William Allen and Cordell Cleare, capitalized on ahead of the primary. 
"I am the only candidate with prior and current experience working in affordable housing," Clennon, who serves on Community Board 10, which serves Central Harlem, told Patch in June. 
Allen made his experience as Harlem Democratic District Leader a focal point of his campaign and Clear told Patch, "I have participated in the writing of legislation and have worked to get it passed."
Instead of relying on political insiders or allowing her lack of policy work to get in the way of winning the primary, Jordan focused on expanding District 9's electorate. Her campaign successfully gained the backing of younger and more progressive supporters such as Sunrise NYC, Victory Fund and Women of Color for Progress. To Jordan, these endorsements represented "a wave of inclusion, progressive energy and change."
These endorsements along with the growing support for her campaign, meant Jordan was able to fundraise effectively. She raised over $231,000 before the primary in June, and ultimately spent over $300,000 on her campaign, making hers the seventh most expensive campaign in Manhattan's Council races. 
However, there was one endorsement that was noticeably absent, as the Democratic Socialists of America chose not to back Jordan. Describing it as a "tough endorsement process," Jordan says the lack of backing was "due at least in part to anti-Black racism within the DSA." 
Jordan is no longer a member of DSA, but she remains a socialist and feels the organization is moving in the right direction.
Sumathy Kumar, co-chair of NYC DSA, said in a statement, "DSA is proud to have campaigned for Black elected officials, and is proud to have Black and other POC representation on our leadership. Our organization has a serious and longstanding commitment to the fight against anti-Black racism, which is a core principle behind our priority work on housing, climate, healthcare, and policing." 
In March, late into the primary race, incumbent Bill Perkins announced that he would be running for reelection. He ran without a social media presence, a campaign website or an appearance in any debates. Eight other candidates outspent him. 
However, Perkins' name recognition remained strong. He remained slightly in the lead following the primary but with a margin too close to call the city began a mandatory recount. By early July, as the recount unfolded, Jordan was ahead by just 104 votes. Finally, nearly two months after the election, Jordan was declared the Democratic nominee on August 17th, with a margin of just 112 votes. She then went on to win the general election in November. 
Jordan is proud of winning with a socialist platform but victory as a political outsider in Harlem felt like the bigger win to her. 
"Harlem has been governed by the same small group of people for literally decades," she said, claiming the neighborhood's political machine grants power to those who are in Democratic clubs, appointed by community boards and are in fundraising groups. To her it's an "oligarchy" and one that was largely unwilling to support her campaign.  
Even after becoming the Democratic nominee for District 9, Jordan said that Harlem's boosters and insider politicians remained cold and lent her little backing before the general election. "There's been quite a bit of bad faith," she said. "There was not even what I would see as a very basic endorsement of the Democrat in this race against the Republican challenger."
Jordan will be the first out LGBTQ Black woman to lead District 9. Demanding Medicare for all, the elimination of all MTA fares, and tax hikes for the 1%, Jordan represents an aggressive departure from the quiet legacy of her predecessor, who didn't introduce a single bill in his last four-year term.
Jordan is encouraged by the number of Black leaders in the New York government, but stops short of celebrating that representation as progress. "Electing Eric Adams is not Black liberation," she said. "Representation alone is not going to improve the material conditions of Black people." 
The success of Jordan's campaign raised eyebrows nationally, as the viability of progressive policies has become the core debate of the Democratic party. In the incoming class of City Council members, Jordan will have progressive allies, including Tiffany Cabán in Astoria, Alexa Avilés in Sunset Park and Chi Ossé in Crown Heights. But the cohort will face an uphill battle in the City Council under a centrist like Mayor-elect Eric Adams.
"There's a lot of precedent, unfortunately, of a City Council that's sort of just under the thumb of the mayor," she said, adding that she hopes for a "healthy tension" between the two offices. That tension will be molded by whoever takes the city's second most powerful position, City Council Speaker, to be determined by a vote in January. 
Jordan's top policy objectives in Harlem include closing the technology gap in schools, enacting commercial rent regulations for small businesses, and increasing sanitation budgets and services to clean up the neighborhood. Yet her red-alarm issue will be affordable housing. Harlem's perpetual tug-of-war with developers is of concern, especially when it comes to projects such as One45, which aims to build a large mixed-use development on 145th Street with only a portion of units dedicated to affordable housing. It will also house Reverend Al Sharpton's Museum of Civil Rights. 
"There's no point in having a civil rights museum that our children can't go to because they've all been displaced," said Jordan, who will not be signing off on the rezoning due to the large number of market-rate apartments.
Despite the big battles ahead of Jordan, she sees her own history as reason to be confident about her and District 9's future.
"Do you think my great-great-grandmother on the plantation knew that her lineage would lead to a city councilwoman? No," she said. "I am right now my ancestors' wildest dreams. So it's very hard for me not to think about how my wildest dreams could come to fruition." 
Powered By
NEXT STORY: This week's biggest Winners & Losers