New York City
Bill Perkins, despite barely running, may win again
The longtime Council member from Harlem surprised observers by running for reelection.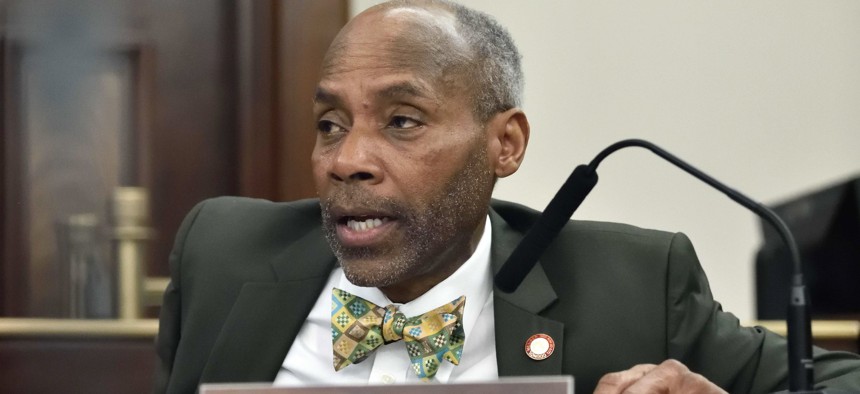 New York City Council Member Bill Perkins filed petitions and will appear on the June 22 Democratic primary ballot, but that's just about the only sign of life from the 72-year-old's reelection campaign. He has no campaign website, he has no social media accounts, he has not appeared at any candidate forums, and he hasn't responded to inquiries from City & State or, apparently, other outlets. Perkins has reported spending a measly $4,180 – less than all but one of his 12 competitors in the June 22 Democratic primary for City Council District 9 in Harlem. 
And he might win anyway, thanks to name recognition and relationships built over his decades-long career in public service, dating back to when he was elected to the Council the first time in 1997. 
According to some people who have worked with him, Perkins is dealing with serious health problems including apparent memory loss and cognitive decline that often leaves him disoriented, according to people who have worked with him. "He was often a distant nonparticipant in proceedings and sometimes would speak in ways that were out of left field and off-topic," said a City Council member who serves with Perkins and asked for anonymity to discuss a colleague's health. "There were times when he would be in the wrong meeting, and wasn't even aware of it."
With most City Council members term-limited, leading to wide open races to replace them, and other high-profile races, like mayor, sucking up most of the attention, Perkins' campaign has endured very little scrutiny. 
In 2019, the Daily News reported he was taken in for a psychological evaluation in 2019 after neighbors called the police on him for allegedly shouting and throwing things in his home. Perkins denied that he was given a psychiatric evaluation at the time, but told the News that he had been on a drug regimen to treat his colon cancer which the News reported, "some close to him worry may have caused cognitive issues."
Some of his opponents expected he would not run for reelection this year, which he was eligible to do because he has only served one full four-year term in his current tenure on the Council. (He previously served from 1998 to 2005, before serving in the state Senate from 2007 to 2017.) So a huge lineup of Democrats filed to run, including longtime Democratic political club leaders like William Allen, and Cordell Cleare, Perkins' former chief of staff. But The City reported in March that Perkins would be running after all, formally entering the race at the last possible minute. 
"It's sad. He's sick. He has an illness. … It's episodic. Some days he's totally fine. And other days he's not fine at all," said another council member who asked for anonymity to discuss Perkins' health. The colleague did note that winning Council members will have to run again in 2023, rather than the usual four-year terms, because of redistricting. "He might win. It's only a two-year term. But for those two years, it's not really fair to those voters," the Council member said, referring to Perkins Central Harlem constituents. 
That's a case being made by some of Perkins' opponents, like Athena Moore, who has worked with Perkins' office as the director of the northern Manhattan office for Manhattan Borough President Gale Brewer. "We know now that in terms of budget negotiations and land use decisions and policy decisions – all of which I sit at the table now, helping to make those decisions – he's not present," she told City & State. "We know his staff is doing all that he can, but you need the member to actually be negotiating and setting policy and looking at the budget. And the community is definitely missing out when that leadership is not in place." 
Moore, who previously took on Perkins in 2017, is considered one of the leading contenders in the crowded field, boasting endorsements from Hazel Dukes, president of the NAACP's New York conference, the Amsterdam News and Brooklyn Rep. Yvette Clarke. Allen, a former staffer at the Rev. Al Sharpton's National Action Network, is also a serious contender, running with the support of mayoral candidate Andrew Yang and state Sen. Brad Hoylman. Poet and artist Kristin Richardson Jordan and Joshua Clennon are both running on more left-wing platforms than the rest of the field, having both taken Rep. Alexandria Ocasio-Cortez' Courage to Change pledge. Richardson Jordan has also reported raising the most money of any candidate in the field. But Cleare, who worked for Perkins and also ran in 2017, considers herself to be the real progressive choice in the district after earning endorsements from New York City Public Advocate Jumaane Williams and labor union 1199 SEIU. 
Cleare said Perkins has been absent from the district and his responsibilities. City & State ranked Perkins as the worst council member in 2019 based on his poor attendance record, his lack of legislative activity and an unresponsive office. "There's been a really deafening silence coming from that office in the past few years. It's not the office that I remember," Cleare said.
And it's not just Perkins' opponents saying that. "It is really the open secret in Harlem that his mental acuity is failing. And even just his activity in representing constituents is practically nonexistent. And it really is a disservice," said a Democratic strategist uninvolved in the race, who asked for anonymity so as to not reflect upon his clients. "And what I hear a lot – why is the rest of the Harlem leadership silent on this issue? Why are they letting it happen? Do you really distrust the next generation this much?"
Manhattan Democratic Party Chair Keith Wright, a Harlem power broker, disagreed. "Nobody is letting it happen. (Perkins) is free to run. Mickey Mouse can run. I would fault the people that vote for him!" However Wright has not personally endorsed in the race, and said that the county organization does not endorse in primaries. "If I had the power to stop people from running, please let me know what the power is," he said.
However, many candidates and community leaders have been hesitant to publicly criticize Perkins, or make too much of an issue of his health. "We're Harlemites. We talk shit about each other, but we won't do it in public. That's rude," said one politically connected Harlem Democrat, who asked for anonymity to discuss a sensitive subject. That said? "He shouldn't be running."
Perkins has not taken the opportunity to defend himself, or discuss the race at all. Contacted by City & State on his personal phone, Perkins on two separate occasions said that he was busy at the moment and asked to be called back. Perkins did not respond to subsequent calls or messages. Emails and calls to his Council office went unreturned, as did emails and calls to contact information associated with his 2021 campaign. 
Despite it all, some Harlemites – like Malik Wright, a political operative with no relation to Keith Wright who considered a run for District 9 this year before dropping out – think Perkins could win. "Especially in a big field, it just becomes very difficult to compete with an incumbent with a set of votes… I think it's not beatable,"Wright said.
But Wright objects to the fact that Perkins is running at all, in light of his diminished activity. "It's immoral. It really is," Wright said. "He should be able to leave with his legacy."