Personality
The Ultimate City & State Gift Guide
What to get for the Eric Adams, the Gale Brewer, the Kathy Hochul in your life.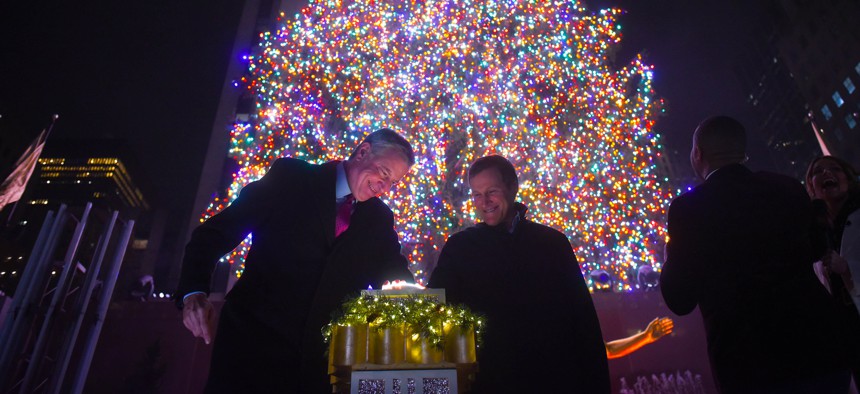 Stop panicking!!!!!!!! We are a little late, yes, but we would never let Christmas go by without providing you with the ultimate City & State Gift Guide. Here's what to get everyone on your list, according to which New York politician they most identify with. 
For the Eric Adams in your life…
Another blender, because you never know when they might move into their office and need a spare.
A brand new bicycle (no more backwards fork), because the more often they're biking, the less often they're driving on the sidewalk to get out of an illegal parking spot.
A $25 gift card to Claire's, so they can play around with some new earring styles! What better place to switch things up than where they initially got their piercing? And take it from a girl who grew up in the 90s, $25 will get you FAR in Claire's.
For the Kathy Hochul…
For the Bill de Blasio… 
A Red Sox hat, because you know where their loyalties really lie.
An already broken alarm clock, so they can pretend to blame you when they sleep in/miss the start time of their press conference for the thousandth time.
An AARP card, and cross your fingers that they get the hint (please retire).
For the AOC…
A refill of their classic red lipstick - Stila's Besos if you've been living under a rock.
Another Telfar bag to add to their collection (because of course they already have one).
A Medicare for All DSA mask, so they're never not on brand.
For the Carl Heastie…
Something Prince related, but proceed with caution, they already own so much!
A Paramount Plus subscription - the new Star Trek series are no "Next Generation" or "Deep Space Nine", but they're worth a try.
A "No Girls Allowed" sign, so they can have some personal space during budget negotiations.
For the Gale Brewer… 
A set of reusable tote bags that they can put inside their other totes, or use to carry their other totes! The bag lady options are endless.
A boat tour around the island of Manhattan will give them all the best views of their favorite borough, and serve as the closest they'll get to ever leaving it. 
A Zabar's gift card, and the opportunity to snag some of the last remaining containers of cream cheese in New York.
For the Curtis Sliwa…
Another red beret.
A matching red track suit.
A lifetime supply of cat food … just kidding that would be way out of the average person's price range.
For anyone and everyone in your life…
A City & State print magazine subscription (sorry not sorry for the shameless self promotion)
Powered By
NEXT STORY: Winners & Losers of 2021