Personality
Mary Bassett on her challenging first month in office
In a Q&A, the state health commissioner talked about tackling the omicron variant and what she wants to accomplish after the pandemic.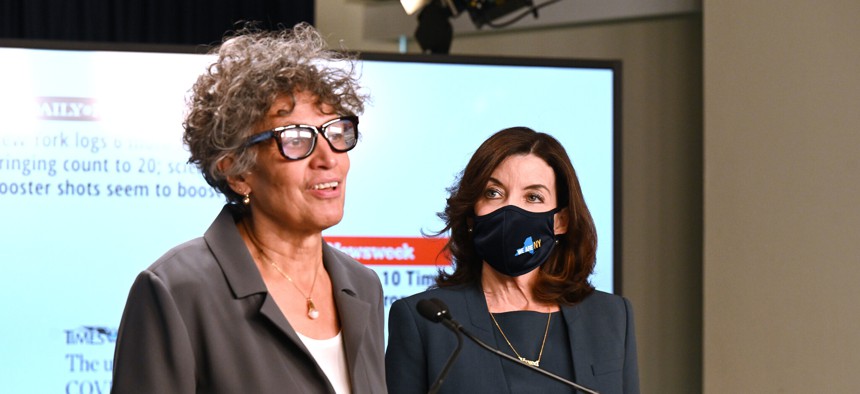 Dr. Mary Bassett has been acting state health commissioner for a little over a month – and what a month it has been. On her first day on the job, New York learned of its first confirmed case of the omicron coronavirus variant, and things haven't slowed down since.
Bassett takes the reins of the state Department of Health as the coronavirus pandemic enters its third year and cases are skyrocketing. For the first time since spring 2020, hospitalizations for COVID-19 have topped 11,000 statewide, and the record for new cases in a single day was just set at more than 84,000. On a more personal note, Bassett contracted the virus not long after starting the job.
She also takes over from the scandal-plagued former commissioner, Dr. Howard Zucker, who aided in former Gov. Andrew Cuomo's pandemic response and was involved in the administration's efforts to obscure the number of deaths of nursing home residents. After Cuomo resigned, Zucker seemed to indicate that the ex-governor didn't listen to him and expressed happiness about a new administration with more transparency. But he didn't last with Gov. Kathy Hochul, with Bassett coming in pledging a more transparent approach to the pandemic.
Bassett previously served as New York City's health commissioner between 2014 and 2018, a tenure that earned her respect in public health circles. Hochul's nomination drew widespread praise from lawmakers and public health officials alike for her focus on health equity and her stellar reputation.
Bassett reflected on her first month in the role in an interview with City & State, speaking about the challenges of managing the state's pandemic response, repairing the Department of Health's reputation and the latest developments in the state. This interview has been edited for length and clarity.
What has your first month been like? It started fast and seemed to only get faster.
That's true. Well, obviously, the omicron variant thread has really dominated my time in the first month. There was a time when we were reporting each person who was identified within the omicron variant, now we're just reporting the proportion of COVID and the state attributable to omicron. And it's 95% or so. So that's been the dominant part of my work. And obviously, not all I hope to do here. But it has given me a chance to get to know many people in the Health Department.
What led you to accept Gov. Kathy Hochul's offer to take the position at such a trying time?
I think there's two parts to it. First, I've worked in public health for many years now, over 35 years, and the COVID pandemic is a once-in-a-century event. You can imagine that it's been hard to be on the sidelines when public health was in such demand. So part of it was just wanting to contribute. Part of it was that this Health Department has unique features. The state Health Department oversees hospitals and health facilities from a regulatory standpoint. And it also has oversight over Medicaid, which is a payer that insures about a third of New Yorkers. Those are important levers that public health doesn't always have authority in. That was what I was interested in, long-standing challenges: how to cover health care for the undocumented, for example, how to address what appears to be just baked-in instability of the safety net hospitals. Those are the things I'm looking forward to turning my attention to. And of course running through all of this is the issue of racial equity.
You said that you would take a racial equity approach to public health when you took the job, so how do you plan to bring that vision to the state Department of Health?
In my view, this really is applicable to everything that we do. We can bring an equity lens to all of our work. So I don't consider tackling the inequities in health sort of a side project, I consider a core to all the work with the health department. We've just been having a discussion today about how to improve the completeness of racial ethnic data. If we can't track it, we can't characterize it, and we can't see how well we're doing and addressing it. In that sense, the pursuit and equity is really a component of the pursuit of excellence.
I'm not sure how big of a shift for the department this might be, and I'm sure your predecessor was dedicated to equity, but what was it like taking over from Dr. Howard Zucker, who left under a cloud?
I know Dr. Zucker from my time as (New York) City health commissioner, and I absolutely have respect for his competence and intelligence. I decided when I came here that I wasn't going to unravel what had happened, that I was going to just look forward. I really think that our goal is to try and do the very best we can to give the best possible public health advice at this time to emphasize the role that public health can play in responding to this pandemic as we learn to live with COVID.
In your first appearance alongside the governor, you promised greater honesty and transparency. Do you feel you have had an impact yet in this regard? Do you feel you're operating differently than the previous administration?
Since I became commissioner, we've implemented what (we call) in shorthand the mask or vax mandate. That was something that I recommended to her – and that of course other people in the administration also supported – and she implemented that. Another example of transparency with the data was on Dec. 24, the day before Christmas, when everybody's thinking about children and family. We put out information that we had observed a troubling increase in pediatric hospitalizations due to COVID. Somebody might have said, "Let's wait a few days, not do it on Christmas Eve." But we put it out. And that is what this governor expects of us, and that's what we're going to keep delivering.
So she listens to you and you support the various actions she has taken thus far?
Certainly when it comes to public health!
Yes, on public health, not on other stuff.
I think other actions have been good too. But the ones in which I have a direct input and for which you should hold me accountable is public health.
The state continues to see skyrocketing numbers with more than 84,000 new cases on Wednesday, hospitalizations topping 11,000 and 130 deaths, a number unseen in almost a year. I'm curious what additional next steps might look like, especially with hospital capacity, as the state continues to deal with the omicron variant.
Every morning, a group of us meet and go over the numbers. And we're tracking very carefully the number of hospital beds there are. New York City does not yet have a capacity problem, and that's the heart of the omicron surge still. Hospitalizations are still a lagging indicator, but I expect it to continue to rise. The only saving grace with this variant is it's clear now – although you'll hear people say "it seems," but I say it's clear – that it causes more mild disease. The problem is how contagious it is. The problem is the number of people, even if we have a relatively low proportion, who get sick and hospitalized. I'm still really – I'm watching it carefully. We need people to take (the) recommendations to get their kids vaccinated and wear their masks. Those are our principal tools right now.
Nassau County Executive Bruce Blakeman recently issued an executive order that school districts could ignore state guidance and decide themselves whether to require masking. Although the governor has already said that he does not have the authority to do this, do you think it's maybe time to come down a little bit harder on counties not complying with state regulations?
I haven't talked to this individual. My first step would be to try to understand what they're thinking. As you know very well, all of this has become very politicized. But I don't know any society that doesn't value its young people. I'm just perplexed. I'm perplexed. It doesn't matter what our political affiliations are, we want to keep our schools open and our children safe. So I don't know what's going on in Nassau County, but I certainly would want to understand what they're thinking. I have to believe they want their kids to be safe.
Bringing it back to the broader points, how would you describe your first month, and looking ahead, what sort of legacy would you like to leave behind?
After one month, I don't think I can talk about legacy yet. But I think what really struck me was just the quality of the team that's here. I've just been so impressed with the caliber, commitment and the sacrifice of people in this department.
But for you, how would you describe this first month overall?
It's been a lot of work, but I've been having a really good time. This is what I wanted to do. Anybody who has worked in public service as I have knows that there are no jobs better than this job. And I'm glad to be here.