Interviews & Profiles
From Rikers to Albany – Eddie Gibbs wants to be the first ex-offender Assembly member
A Q&A with the legislative candidate who served prison time three decades ago.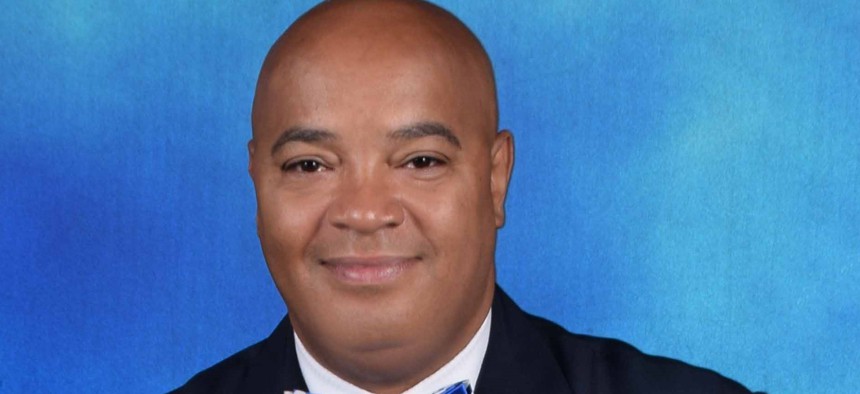 It took three asks before Eddie Gibbs agreed to an interview. "Please excuse my hesitancy to speak to the press," he explained when he finally got on the phone with City & State, days ahead of the Jan. 18 special election for Assembly District 68 in East Harlem, that he is expected to win. The issue is that Gibbs served 17 months on Rikers Island and four years in prison for manslaughter, getting out in 1991. And when he ran for office before, he didn't like the way the press covered him. He had good reason – for just one example, the Daily News wrongly reported that he'd pleaded guilty to a domestic violence charge when he was just 8 years old. "They would write these horrible headlines. Murderer this and murderer that," Gibbs said. "And it turns you off, right?"
But Gibbs is having to adjust to getting attention again if he's on his way to Albany. He is expected to be the first state legislator who served time in prison before getting elected. Gibbs, 53, is a political operative who has been a Democratic district leader since 2017. He won the Democratic nomination in December to replace Robert Rodriguez, who resigned from the Assembly after Gov. Kathy Hochul named him secretary of state. Gibbs talked to City & State about wanting to inspire ex-offenders, his thoughts on bail reform and rapping with the Notorious B.I.G. This interview has been condensed and edited for clarity. 
You're on the path to becoming an Assembly member. I believe you'd be the first state legislator who previously served time in prison. Is that right? Tell me about your story.
I will be. And it's a lot of pressure, now that we're so close to it, and you think about it actually happening. You think about the millions of ex-offenders who will probably hear what's happening, and you can either inspire these guys to change their lives around. You can inspire these guys to want more and do more. So there's a responsibility attached to this. It's bigger than me. I spoke to Speaker Heastie today. He said, are you sure you want to do this? And I laughed when he said it. And when I got off the phone, I was like, damn, that's a good question. It's a lot of pressure. 
But that's what kept me straight for the past – you know, this happened 35-plus years ago. Let's get this out the way. 17 years old, was hustling. This guy attacked me. I was defending myself. I turned myself in. I didn't hide from the police. I walked to the precinct and I turned myself in. I gave a statement right then and there. I was given three years. A plea. I think because of the remorse I was showing and mitigating circumstances, I was given that lenient sentence. But until this day, I'm very apologetic and disappointed in my actions. I make no excuses for them. But I can promise you, and I can assure you, the 17-year-old boy who made those poor decisions 35-plus years ago, that's not the man you're talking to today. I'm tearing up as I talk to you, because (of) what I went through over the past 28 years trying not to get to this point, but trying to prove to people that I'm not that monster that the papers said I was. The murderer. I knew I defended myself. The courts knew I defended myself. I was hustling. I wasn't making money. We couldn't afford an attorney like a Murray Richman to represent me. So when the judge sends your Legal Aid attorney into your cell and says, "Hey, man, you've been here now 17 months, we've got some good news for you. The judge is offering you three years." I was on Rikers Island for 17 months.
Seventeen months, with no trial?
Yeah. I accepted the plea bargain. Because I was afraid. And I didn't have good representation. I think God worked it out. Because I've turned my life around. I think had I beat it (the charges), I probably (would have) went right back to the street with a rep of beating a body, beating a manslaughter charge. And that would have propelled me to do more and sell more drugs and be a bully. I don't know how that would have worked out. No, I accepted the plea bargain. I just wanted to get it over with. So at the end of three years and 17 months in, I went to the (parole) board and in another two years they released me.
How long did you spend incarcerated in total?
Like four years. The plea bargain was three to nine. After three, I went to the parole board. I was in college, I received my associates degree in business administration from Cayuga Community. And the commissioner was like, "Well, you have a few months left in college." I knew I was gonna get hit with something. But they gave me a year at the parole hearing. So I wound up doing four years and a few months. I got out in 1991.
So you spent time on Rikers Island. And where were you upstate?
From Rikers Island, they shipped me off to Elmira (Correctional Facility). And I stayed there for a few months, then my classification dropped, and they shipped me over to Cayuga (Correctional Facility). From there, I had about six, seven months left after the parole hit. So I finished college, they sent me down to Mid-State (Correctional Facility) when my classification dropped. And then I was released from there.
Do you hope to get involved in criminal justice and sentencing issues in the legislature? Or have you had enough of that in your life?
Criminal justice reform has got to be something I focus on. I want to be part of that discussion. I'm still studying the effects of bail reform. But criminal justice is definitely on my mind. I sent the email out to (Assembly Member) David Weprin. I know he's the chairman of the prisons committee up here in Albany. I'm focusing on housing and seniors, but that committee, I want to put my emphasis on it. I don't think anybody out there will have better insight than me. I'm the product of a fair criminal justice system. I'm that story of redemption.  When I came home, I was trying to do everything to fit in. I did stand-up comedy for like, two years. Did a lot of shows. My stage name was Good Buddy. And this name was fitting because I am a good buddy. I didn't want that stigma. When people come home from prison, especially with a manslaughter charge, or if you've been in prison 5, 10 years, people form this opinion about you, that you're tough and you're rough and don't bother them and they're afraid of you. You're intimidating. I didn't want people to feel like that around me.. I wanted to show people I was funny. I talked about prison. I talked about life. I talked about everything. Talked about becoming an ordained deacon. Because I wanted people to relax and laugh. I did that, I did acting. I did rapping. I was rapping with everybody. I've got to show you these videos. I did rapping with Jungle Brothers with, God bless the dead, Biggie Smalls. I rapped with Mase, I opened up for him.
You rapped with Biggie Smalls?
Yeah, yeah. I did. Me and, God bless the dead, Big L. Big L is a rapper from 139th Street. He didn't get his break yet, but he had a good following. And he was killed at 139th and Lenox. Good friend of mine whose brother Leroy and I were locked up together for three years. And when we came home, we gravitated towards Big L, and we traveled with him. And he opened up for Biggie, and they let me do some freestyles at the show.
You said you're still studying bail reform. What do you mean by that? Have you not made up your mind on whether the current law needs to be changed?
In the community where we're from, we see a lot. There's no fear of going to jail anymore. Back then, people were afraid to get caught. You're not coming home. To look into those windows – like "bail reform! The bail is too high! This guy can't afford it!" But you've got to look at some of the charges. I'm critical on everybody. Who said that – don't do the crime if you can't pay the time? Right is right, wrong is wrong. If you're caught up and you're wrong, you've got to learn. I've got a lot of friends who just can't make that transition. They'd rather be out there hustling. And, to each his own. But there's going to be a price you have to pay.
You spent 17 months on Rikers. With bail reforms, there are supposed to be fewer people spending a long time like that, ideally. Is that part of your consideration?
Let's look at recidivism, right? People come in and go out, go in. It's just so much happening in the community, and this pandemic propelled everything. So there's a lot going on, and I'm trying to get a handle on it. I don't want people to be falsely arrested, or spend time in prison when they shouldn't. Like the young man who was in jail on Rikers Island for three years for stealing a book bag who ended up killing himself (Kalief Browder) – that was wrong. So those cases you look at. But if you get caught with a pistol, the cops see you shooting – come on, you shouldn't get $100 bail for a pistol. Let's be clear. Right is right. Wrong is wrong. 
What do you do for a living now?
I'm blessed to be an operative. I do a lot of campaign work. And I work for a few consulting companies. Dunton Consulting and Mercury. We just was out in New Jersey to help elect Governor (Phil) Murphy and Lieutenant Governor Sheila Oliver. And I do other campaigns. I helped Eric Adams, Adriano (Espaillat). It's a nice little check.
What did you do for Adams?
I knew Eric Adams for a while. I loved him and admired him as the Brooklyn borough president. He always came across the bridge and attended my events. We did basically get the vote out for him, visibilities, leaflet drops and such.
This seat has been held by a Latino member for almost 50 years. You're Black, so there's some tension around that changing. How's it feel to represent this plurality Hispanic neighborhood?
I love East Harlem. Born and raised here, 54 years now. Minus the four I was gone in prison. I love El Barrio. I love the community. I love the neighbors. I love the people. And I understand why and how the Latinos would feel entitled. Prior to them gaining the seat, it was the Italians. But back then in East Harlem, it was Italians and Black. It wasn't Latinos. I can tell you stories from my cousins and uncles who would fight Italians because - if we go across First Avenue, we're out of territory. Italians held it down for a while, then Latinos moved in and they ran and gained the seat. Granted, I don't think it's a Puerto Rican seat. I just think it's an East Harlem seat. You have a pocket of Latinos who felt the need to say that they are the old guard, and the old ways said that no Black can occupy this seat. I don't think most of the Latino community agreed with them. 
Do you speak Spanish?
I speak un poquito.
You won the Democratic nomination in a competitive county committee meeting in December. How'd you get the support?
I was nervous, and I was worried. I was going up against some heavy hitters. Senior district leader John Ruiz, he's been a district leader now for 20 years, I think. You had former City Council Speaker Melissa Mark-Viverito, current Councilwoman Diana Ayala and a few others supporting him. And then you had on the other hand, Wilfredo Lopez who had the former Assembly Member Robert Rodriguez's support and some of (then-Manhattan Borough President) Gale Brewer's staff running around calling numbers. So I mean, I was lucky, I believe. These guys are really seasoned. So what happens here politically, in East Harlem, is district leaders do not run county committee members. They usually wait until after the election, and when there's a vacancy, they'll just fill them in. And nine times out of 10, the names they're filling the vacancies with, they don't know about it. People don't know that they're on (the) county committee. And I think this is the problem they were having. John and Robert. They probably appointed people, and they couldn't find them, couldn't locate them. But on the other hand, me, I run them every two years. And I run like 120 members. So it was a no brainer. I have their information, I have their numbers. I not only do that, I interact with them daily. So we were in Puerto Rico, and that's when it got out that Kathy Hochul nominated Robert for secretary of state. While out in Puerto Rico, I've just started working my phone, I just called everybody in the city telling them, hey, look, this is what we hear. There's gonna be a county committee meeting soon. I don't know when, but we've got to be prepared. And I emphasized to them that (on) the day of the meeting, we just have to be patient. It's going to be a long process .We'll get impatient. Don't leave. Just make sure we stay here together in a group. And my people showed up. I didn't have to bribe them. I had to do nothing, I showed up and told them this is what we planned for.
Who are your legislative heroes? Who do you look up to?
I've been waiting for this question for so long! Hands down, my number one is (New York City Council Member) Gale Brewer. Gale Brewer. Gale Brewer. Eric's lucky she didn't run for mayor! Gale Brewer, everywhere, all the time. Remember people's names. Birthdays. Events, showing up by herself. I love her. If everybody could be a Gale Brewer? Shit, we'd get a lot done.