Personality
The New York political 'Star Trek' cameos we want to see
There's no reason Stacey Abrams has to be the only political figure in the spotlight.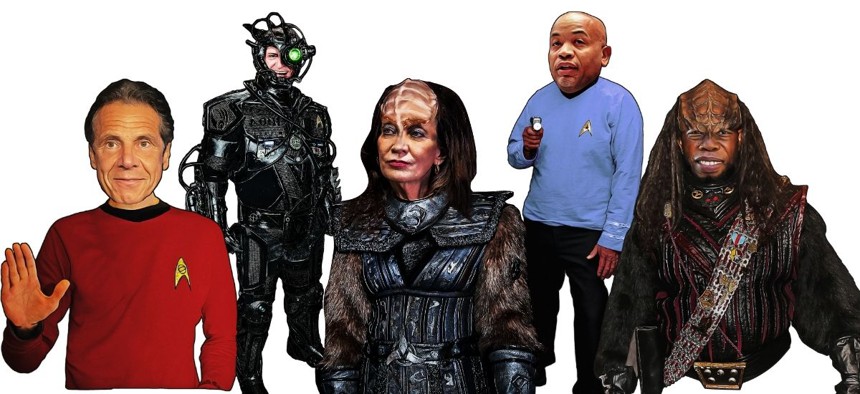 Why should Georgia gubernatorial candidate Stacey Abrams have all the fun as president of United Earth on "Star Trek: Discovery"? The producers of the latest iteration of the long-running science fiction franchise learned she was a diehard Trek fan and beamed her aboard for a cameo in the Season 4 finale. Abrams slipped into the role just like other high-profile fans who made surprise appearances on "Star Trek." Anyone remember Mick Fleetwood as a fish-headed Antedian dignitary on "Star Trek: The Next Generation"?
City & State loves TV and film cameos, and it's no secret that New York politics has at least one "Star Trek" devotee: Assembly Speaker Carl Heastie. He's even sat in the captain's chair during a visit to the "Star Trek" set tour in Ticonderoga. So raise shields, arm photon torpedoes and set a course for Hollywood at warp speed as we do a casting call for elected officials we'd love to see pop up on an upcoming episode.
Carl Heastie, second officer
He's no Spock, but he certainly learned many lessons from "Star Trek: The Original Series" to make him a perfect No. 1 next to his favorite character, Capt. James T. Kirk.
Andrew Cuomo, security team
The former governor is looking for a comeback. And the red shirt may not look so bad on him. Yes, there's the old "red shirts always die" problem. But people live and die and live again all the time on "Star Trek." Just ask Spock about his big comeback.
Eric Adams, Klingon warrior
New York City's mayor has the tough-as-nails persona to fill the shoes … err, spiked boots, of these always menacing members of the Federation. We bet the mayor would easily wield a bat'leth in combat!
Kathy Hochul, Klingon
Playing a Klingon seems about right for the governor these days too, since it may take a fierce warrior to settle this budget season's negotiations.
Bill de Blasio, Borg
We could see the former mayor being assimilated. He's got the stature and pale complexion to be a cyborg, maybe not so much to attract the Borg queen. But hey, you never know. Resistance is futile.