Personality
City & State's long shot suggestions for New York City casinos
A board will eventually decide where to place three downstate gambling sites, but we're not waiting for them.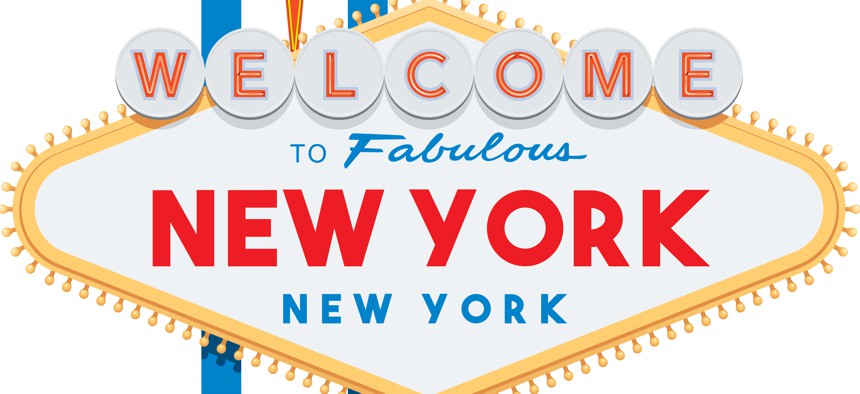 It used to be that for a bus ticket, New Yorkers got $25 cash and an all-you-can eat buffet to enjoy a day at the nearest casinos in Atlantic City. Traveling to New Jersey may not be needed anymore now that New York has its own full-fledged casinos upstate. Policymakers are ready to raise the stakes by authorizing three additional casino licenses in the New York City area. It's unclear where those sites will be located, but lobbyists are working hard on fast-tracking the approval process.
Here are a few of City & State's off-the-wall suggestions for where casinos would be a hit in New York City, but don't make any bets just yet on where to place your money.
Bring back the Central Park Casino
Located where Rumsey Playfield is today, the casino started out as a 19th century lady's refreshment saloon. It later expanded to include men and became a popular restaurant and nightspot during the Roaring '20s. The wrecking ball came after Robert Moses, then parks commissioner, obtained a court order that deemed such buildings as only incidental for park use. 
Supertall casino
Speaking of Central Park, supertalls are all the rage for the megarich blanketing the southern end of the park in shadows. Why not construct a pencil-thin building on Billionaires Row and put different casino games on each floor? Talk about Monte Carlo on 57th Street.
Floating casino
Here's a way to stick it to Russian oligarchs: Let's repurpose their seized yachts as floating casinos. A $90 million 255-foot yacht named Tango was seized from a Russian oligarch earlier this month. That sounds perfect for sailing along the East River while rolling the dice.
Trump apartment casino
If investigations by either state Attorney General Letitia James or Manhattan District Attorney Alvin Bragg land Donald Trump in the slammer, maybe the state could convert his gold-clad apartment in Trump Tower into a reputable gambling establishment. They wouldn't even need to change the decor.
Largest casino in the world
Gov. Kathy Hochul proved how the Javits Center could serve as both a convention site and … a one-acre farm in celebration of Earth Day. So why not convert the inside of the Javits Center into the largest casino in the world? And if the gamble doesn't pay off, Javits can always scrap those plans before the auto show comes back to town next year.