Interviews & Profiles
Peoples-Stokes: I'm disappointed in how America allows racism to continue
The Assembly majority leader discusses the aftermath of the Buffalo mass shooting and impact on her community.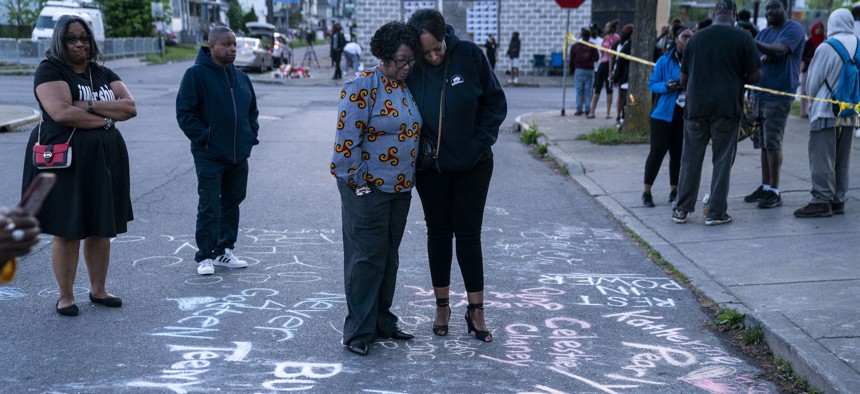 When Assembly Majority Leader Crystal Peoples-Stokes first heard about the shooting at a supermarket in the heart of her district she was livid. The Buffalo lawmaker could not believe that a white 18-year-old had driven hours to carry out a long-planned massacre in the community she has called home her entire life on the city's east side. The accused shooter, Payton Gendron, detailed the plans on social media accounts allegedly linked to him, describing how he surveilled the store and chose it because it was a hub for the predominantly black east side. Now Peoples-Stokes, the east side and the Western New York community are mourning the 10 people killed in the racially motivated attack and working to figure out how to move forward. City & State reporter Justin Sondel spoke with Peoples-Stokes about the tragedy and what she hopes happens in its wake.
Several people have described the Jefferson Avenue Tops as a safe place in the neighborhood that offered a sense of community. What do you feel it will mean for the neighborhood and the rest of the East Side going forward that this space has been taken from them, at least temporarily, and will certainly never be the same?
It's a community gathering spot. Some people go there every day, not because they want to buy something, but because they know they're going to see somebody that they know and they get to chitchat. It's a community gathering spot that's needed for dialogue to go back and forth in the community. Everybody doesn't go to the barbershop. Everybody doesn't go to the hair salon. This store actually served as a similar respite, like hair salons and barbershops, where you could go and catch up on all the latest information in the community and around the state, with the federal, national government. People talk about these issues.
I just think that it's going to take some time. We do know it's still a crime scene. But at some point, it's my priority that Tops pulls us back together and they continue to do business there. Now, does that mean that there should not be an additional opportunity for fresh fruit and vegetables in and around this neighborhood? No, it doesn't mean that. It means that maybe there should be something else as well. I won't discard that as an opportunity for additional growth in this community because it is needed. But that Tops is needed as well.
Do you think people will want to return to shop at that location?
I've talked to some people who have said they will never go in there again. Then I've talked to a lot of people like myself, who will be the first one to walk in there on the first day, because you are not going to frighten me out of my community with your ignorant, racist actions. I'm angry about that. I'm disappointed in how America allows racism to continue. But you are not going to scare me away from my community.
The alleged killer described scoping out potential targets across the state in online posts. He chose this Tops because of the high concentration of Black people in the area. What do you think that says about the high levels of segregation in Buffalo?
He decided that he wanted to kill Black people because he's been radicalized on social media or he's been raised that way by his family or his community.
I love the way people try to say it's all because of segregation. No, some of it is because your grandmother lived on the street, you live down the street and now you live down the street. It's about generational neighborhoods. It's not just about segregation. Granted, this country actually developed its housing strategy on a racist proposition. It just did. It started out that way. But people could leave. They don't have to stay. They chose to stay.
Many researchers and academics over the years have documented the deep segregation that exists in Buffalo and the discriminatory practices – redlining, unequal access to education, employment discrimination, unequal access to quality food – that are exacerbated by those conditions. Is it particularly painful that the systemic discrimination that has led to more hurdles and fewer opportunities for people of color in Buffalo made the city a target for this attack?
No. It's just painful that he would go after Black people, period. The fact that he came to my town makes it even more painful. But I would be hurting if he went to Rochester or Syracuse or if he stayed in Binghamton and did the same thing. I can't buy into the narrative that this place was chosen just because of segregation. No, it wasn't chosen because of segregation. It was chosen because there are more Black people here who chose to be here. I wouldn't disagree that there are some people who would want to move somewhere else but can't afford to. But I would offer to you that most people who live in the 14208 (Editor's note: The ZIP code where Tops is located.) live here because they want to be here. It's not like this is all because of segregation. This is all because of racism.
Does this attack highlight the need to address some of the underlying issues at the root of Buffalo's segregation? What can be done from a legislative perspective to address those issues?
Those are problems. But they're problems in 14215 (Editor's note: The ZIP code for an area of Buffalo northeast of the shooting location.) too. They're problems in Binghamton. And those are the same problems they have in Syracuse and the same ones they have in Rochester. It's racism that's the problem. It's racist policies that the government sets up. It's racist policies the businesses set up. And it's racist policies that the citizen base, who support that, helps to perpetuate.
This attack underlines the most important issue that America needs to confront before it implodes on itself, and that's racism. That's pure and simple racism. You cannot keep judging people because they are different than you. You cannot keep having policies that are set up that people get treated different because people are different than you.
Where do we go from here?
Every time we have these incidents in America everybody says we need to have more communication. We need to start talking about this. A couple months later, no one is talking about it anymore. Because people are uncomfortable in acknowledging that they're actually racist too. And I've said this to some of my white colleagues, "Listen, I don't like you. But I do have to love you. So I'm not going to treat you like you treat me." But if other people don't get to that, then we're not going to solve this. I don't care how long we talk about it. I don't care how many laws we pass. I don't care who we elect. If we don't get to that, that you must treat me the way I treat you – it's the golden rule. If you can't get to that, then this society is going to implode on itself.
Powered By
NEXT STORY: This week's biggest Winners & Losers