Here are New York's most disruptive critters
The end-of-session black bear isn't New York's only political animal.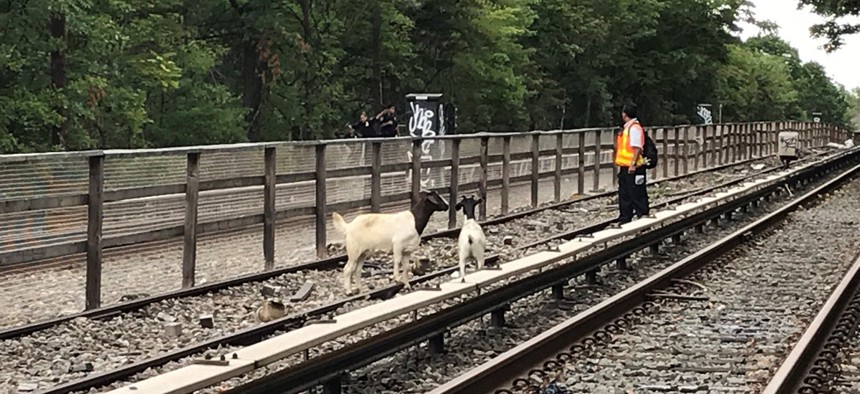 The final days of the year's legislative session got off to a bit of a … hairy start. A black bear managed to wander into Albany, spotted just a few blocks away from the Capitol as lawmakers worked out deals on legislation. For several hours, the bear captivated politicos as it attracted news crews, rubberneckers and even Albany's mayor. When wildlife officials managed to get the bear out of the tree it had climbed up into, video spread quickly on Twitter as onlookers awaited the climax of the animal interlude. 
This is hardly the first time that a wild animal has managed to capture the hearts and minds of the political class in New York – and hopefully it won't be the last. They keep things interesting and have even had lasting cultural impacts for the wonks among us. The end-of-session bear joins a pantheon of other animals that have become minor celebrities. 
Budget Coyote
A coyote was found snoozing on the roof of a museum near the Capitol during the 2018 budget negotiations – and people loved it. It was caught and released back into the wild, but not before someone had created a Twitter account for it. 
Long Island Bull
This one is truly a saga. A bull escaped slaughter on Long Island in 2021 and managed to evade capture for an entire two months. Daily updates came out on the status of the bull, named Barney, for his many fans. Luckily for him, he was sent to an animal sanctuary when his time in the wilds of the suburbs came to an end. 
N Train Goats
In 2018, two daredevil goats found themselves on the N train tracks in Brooklyn. No one knew where they came from, but they wound up with former Daily Show host Jon Stewart, who runs an animal sanctuary upstate.
Pizza Rat
No list is complete with New York City's biggest animal celebrity, the pizza rat. The subway dweller entered our hearts when video caught him dragging an entire New York slice down the stairs, and he never left. Imitators have emerged since then, like the egg roll squirrel, but none truly compare.
Subway Kittens
Before goats shut down the subways, kittens held that distinction. In 2013, two tiny straphangers somehow found themselves on the tracks rather than in a train, attracting the attention and sympathy of New Yorkers – well, except for GOP mayoral hopeful Joe Lhota, who said he wouldn't have stopped trains to save the felines. The story ended happily, with the commuter cats dubbed Arthur and August.