Interviews & Profiles
Sarahana Shrestha on bringing DSA upstate
The socialist defeated incumbent Assembly Member Kevin Cahill in Tuesday's primary.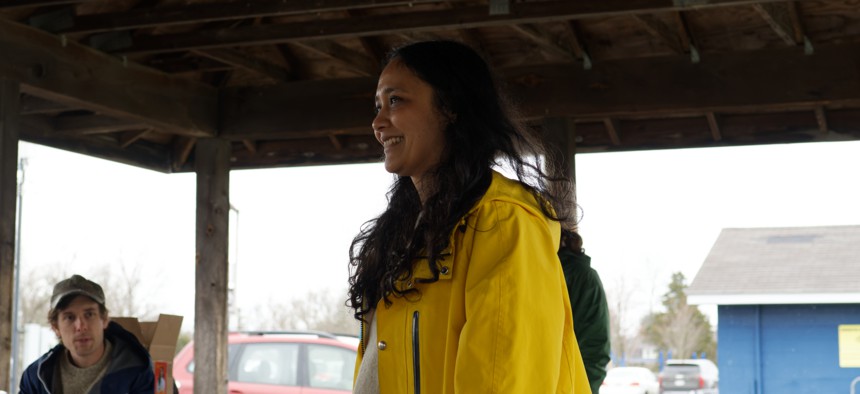 Sarahana Shrestha made waves on election night, defeating incumbent Kevin Cahill in the Democratic primary for the 103rd Assembly District.The climate organizer was endorsed by the Working Families Party and the Democratic Socialists of America. Tuesday was a strong night for incumbents, with most challengers failing to unseat longtime lawmakers. Shrestha's defeat of Cahill was the highest profile primary victory for leftist organizations during the 2022 primary season. Her upset occurred far outside the traditional socialist strongholds of brownstone Brooklyn. The 103rd Assembly District is centered in Kingston and includes both rural and urban communities. If Shrestha succeeds in her general election campaign, she would be the first socialist member of the Legislature from upstate New York. 
​​So you are on track to be the first DSA member from upstate New York. You beat an incumbent. What was your key to success?
We had everything going right for us, and I have to say that despite that, it was pretty close. And it was very difficult. And one of the motivations for running for this race is that I knew that this was a very forward thinking progressive district and I didn't feel like that was coming across in the state representation.
And I felt like that was an underutilization of what this district could do for the state.
So you know, this district skews older, skews more women, very highly informed voters in the Democratic base and most people that we talk to, by and large, agreed with our platform, agreed that the government should be doing a lot better. Agreed that you know, there was too much corporate influence, that we hadn't really seen the results of adding a Democratic supermajority.
I would say that this is a campaign that spent very little money, we spent around $100,000. I am a very good organizer. The people who came on board early on are very good organizers. You know this was mostly a DSA built campaign, specifically Mid-Hudson Valley DSA. And then once we got the Working Families endorsement, it sort of elevated us to the next level that we needed to get to the finish line.
You said people were disappointed in the supermajority in the state Legislature. What specifically, were people disappointed by? What were you hearing?
Our top three things are climate, housing and health care. But we tie those three things into the issue of our economy. Our economy is positioned to favor profits over people in need, and that has transpired into all of these crises.
And when we were talking to people about these things. I think we were having conversations where we were able to do some political education on top of their intuitions. We talked a lot about specifically the Assembly, like what's the composition of the Assembly. We have 105 Democrats. We only need 76 votes, which should make the Assembly very active in terms of passing bills, and that's not the case. And how does a Democratic majority block bills? Because we don't have Republicans blocking bills. Right? So we were able to have conversations that kind of supplemented their intuition with concrete issues in the culture of our government.
Jay Jacobs, state Democratic Party chair, said a few days before the primary that these races reveal the "arrogance" of progressive activists. After the election he said, "I would say this is a very good night for the Democratic Party for moderate voters and moderate candidates and incumbent candidates. So let that be on the record." What is your response to that?
I don't think such a low turnout is a good thing for the Democratic Party, no matter which way you look at it. We had a worrying dip in voters turning out and you know, even voters who are progressive were frustrated with generally what's going on, Roe v. Wade, losing that, what happened today with the EPA. So I don't know how you can say that when you have such an alarming low turnout that this is good for anybody in this party.
I think what is arrogant is to act like this public office belongs to anybody. It does not belong to anybody. It's not supposed to be this hard to refresh a representative. Every generation should have appropriate representation of themselves in our government. And right now, that is completely the exception. We are forcing our democracy to be more democratic. So I think we are doing something that is essential for our democracy to thrive.
Our race was able to bring a lot of new people in. We had a lot of people who had never bothered to vote in a local race before. We had a lot of people who did not understand what the state Assembly was, what it does, and we did political education on that. So I don't think anybody should ever say that the, you know, people losing faith in our democracy is good for our party.
What do you think your victory says about the direction of the Democratic Party in New York?
I don't even think that this is necessarily a shift in what people want because I'm in a district where most voters are older. Most of our supporters were older, I would say 65 and above. We had a lot of supporters who were 80 and older. These are people who have always believed in this platform. I don't think it's the voters who have changed. It's just that our organizing has changed
This wasn't ideological? 
The breakthrough of our campaign was not gaining support for our ideology. It was being able to put our name on the ballot and we gave them the choice because they have been ready to make that choice.