Interviews & Profiles
Kevin Parker is feeling confident about his reelection chances
A Q&A with the state senator on public renewable energy, cybersecurity and taking on the DSA.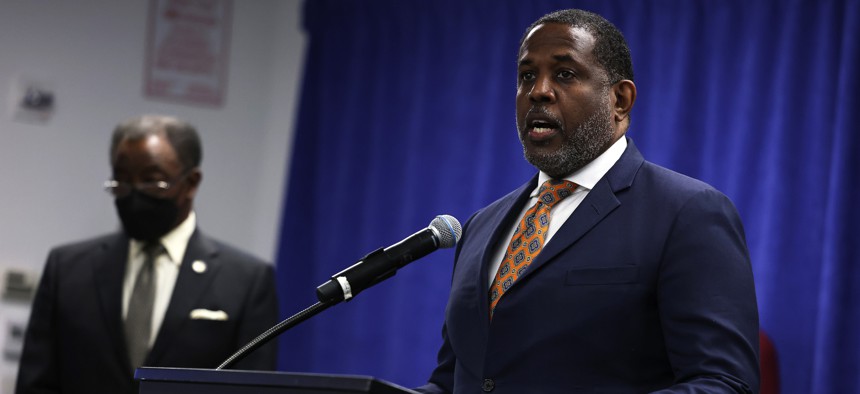 State Sen. Kevin Parker is preparing to take on a couple challengers in the Aug. 23 Democratic primary. The longtime legislator has represented parts of Central Brooklyn in the state Senate since he was elected in 2002.
He faces former Manhattan Assistant District Attorney Kaegan Mays-Williams and ride-hailing driver organizer David Alexis, who has support from the Democratic Socialists of America, which has had success taking down incumbents in primaries. But progressive challengers underperformed in the June primary, which could have Parker feeling a little more comfortable. The state senator ran for New York City comptroller in 2021 and ultimately scored about 6% of the vote – but won the most votes in much of his own district.
As chair of the state Senate Energy and Telecommunications Committee, Parker has made a name for himself on environmental protection issues – though he's had his fair share of disagreements with the climate change activist movement as well.
City & State caught up with Parker on July 21 to discuss his election, redistricting, educating communities about cybersecurity and bolstering the city's environmental measures. This interview has been edited for length and clarity.
The Democratic Socialists of America and Working Family Party-backed candidates didn't have much success in the June primary. David Alexis, one of your opponents, has support from both of these groups. Has this had any impact on your confidence going into the primary?
My confidence is all predicated on the work that I've done for almost 20 years for this community. I am not just a long-term legislator, but I'm one of the most prolific lawmakers. We've passed over 100 laws over the last 20 years since I've been there. I've helped flip this body from a Republican-held body to a Democratic Party, not once, but twice. We've built a great deal of community service work – everything from job fairs and prom dress giveaways to book bags giveaways and flu shots. We also gave away tons of food and personal protective equipment during the pandemic. This is all what I'm going to lean on. I think if people want the kind of leadership that is hands-on, that is looking out for them, that has increased the amount of money for education and that has addressed the issues of climate change, then they'll vote for me.
I imagine you've really seen the neighborhoods evolve over the years. Do you feel like you get the district?
I think I do. I have two opponents running against me. These are two individuals who have never given to the community, they haven't done anything. As far as we can tell, David hasn't even voted in the Democratic primary in the state of New York. (Editor's note: After publication, David Alexis' team sent City & State his voting record, which confirmed he has voted in many New York elections and a handful of primaries.)
If I just look at my record before I got elected, I was a member of the community board for a number of years. I was a member of the 67th Precinct (Community) Council. I was on the board of the neighborhood housing service. I was on the board of the Nazareth Regional High School. 
I knew the community. I'm clear that my community doesn't want to go backwards and pick up somebody who is backed by a bunch of political corporate backers.
While speaking on a panel at City & State's Protecting New York Summit, you talked a lot about cybersecurity. This is an area that tends to be quite bogged down with lingo and can be difficult to understand unless you are an expert. How do we educate and inform communities about this sector?
We have to do a better job generally at educating our communities about their own cybersecurity – about what they do with their phones, what they do with their laptops and what they do with their desktops. Beyond that, there is a set of things that are happening in the world with agencies that we're interacting with, that they should probably be aware of as well.
That's also lots of employment opportunities in this space, but I think it's on legislators like myself to let people know, but also partner with other organizations to teach them about cybersecurity.
Energy utilities and water utilities get hit by cyberattacks more than any other facility. If you have some kind of terrorist get control of our water, get control of our electical grid or gas infrastucture, it could be a real problem. We really have to make sure we pay attention to this.
Were you happy with how redistricting went? 
Yes, I thought my district is still good. It's still primarily my district. This is actually my second redistricting, and I actually got my district because of redistricting. 
I'm kind of used to the changes that happen. I think that the way that my district is now conformed is consistent with communities that I've always had relationships with.
I believe you still haven't filed your campaign finance filing yet – a week after it was due to the Board of Election.
I think that we – they filed them yesterday. (Editor's note: Parker's campaign had still not filed, as of 11:30 a.m. on Friday.)
What's the most pressing thing New York needs to do to move toward a climate-friendly energy grid?
We need to make the regulatory environment more conducive for clean energy so that we get more clean energy generation into the ground.
There's also three other things that people are not talking about that I think are important. One that I've mentioned is to demand a response and teach people in our communities about when's the best time to use energy and when is the worst time, so they can make  informed decisions about when they're running a washing machine or an air conditioner.
We also have about 2.5 million vehicles in the state of New York that need to be replaced to either low-carbon vehicles or to electric vehicles. We need to start that process, and people need to be aware of that.
Third, we are an old state, and we have old buildings. We need to retrofit a ton of old commercial and residential buildings. That's not as sexy as some of the other things, but it's certainly something we need to pay attention to.
You've previously said that when you combine all of the public housing complexes in the state, they'd make for the second-largest city. What are your biggest priorities in regard to the needs of these residents?
I grew up in NYCHA right? I grew up in the Bushwick projects, and I now have the Glenwood Houses in my district, so NYCHA is always at the top of my mind – not just the physical buildings but the people that live there.
As chair of the energy and telecom committee, I've paid attention to two things. One, is building microgrids around the different complexes that I think will help them as we wind up with storms and other kinds of problems. The other thing is making sure that we have high-speed internet access at an affordable rate. We've done some of that with Verizon, but there's a lot more that needs to be done. High-speed broadband has now become as water, gas and electricity in terms of the utilities that people need.
You were the lead sponsor of the Build Public Renewables Act, which passed in your chamber but failed in the Assembly. What do you think needs to change in the next couple of years to make the Assembly more receptive to that?
I think we are in a process of education around all of these things, and I think that the speaker and others need to be convinced that this is part of what gets us to a Climate Leadership and Community Protection Act goal.
I think that it is part of it, just like I think utility scale renewables are part of what we do, having the National Environmental Policy Act do more, sustainable energy is part of it – I take an all-of-the-above approach.