Interviews & Profiles
Tiffany Cabán raises alarm bells at Rikers Island
During an unscheduled visit alongside Council Member Sandy Nurse, Cabán said she witnessed concerning conditions during a heat wave.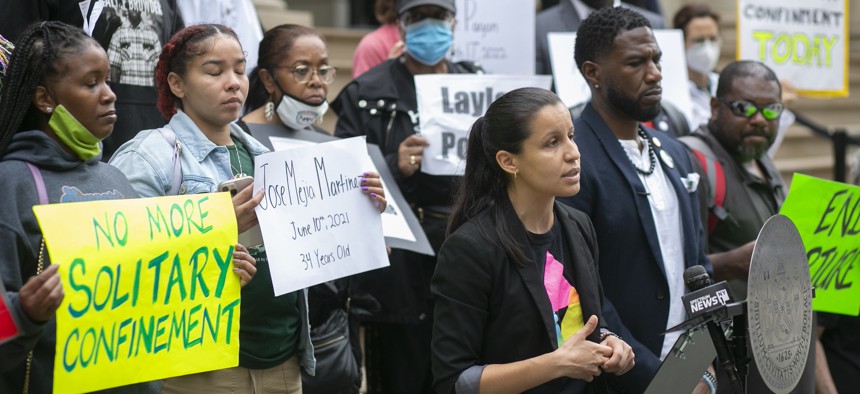 Toward the end of the oppressive dayslong heat wave that left New Yorkers – and much of the country – sweltering last week, New York City Council Members Tiffany Cabán and Sandy Nurse made an impromptu visit to Rikers Island to observe the conditions at the beleaguered jail complex.
In a statement about their visit, the lawmakers said the basic health and medical needs of inmates weren't being met, that the department was not cooperating with the federal monitor and that they witnessed inmates in areas with no air conditioning or fans. The department denied that it was not cooperating with the federal monitor and said that over 40,000 medical appointments were completed in the city jails in June. The department also pointed to its Heat Action Plan and said there were no reports of heat-related medical emergencies during the recent heat wave.
City & State caught up with Cabán on Tuesday to talk about her visit to the jail complex and what she thought about the federal receivership. This interview has been edited for length and clarity.
Can you tell me about what you saw on your recent tour of Rikers Island?
I think it's important to note that what you see is important, and what you don't see is important as well. Intake was probably the worst area that we toured. Between myself and Council Member Nurse, every person we talked to at intake had been there at minimum for four days. There was not good ventilation, no fans, no air conditioning. Everybody was stripped down to the lowest amount of clothing they could wear. Most of the guys in there were stripped down to their shorts. What we keep hearing and seeing in reporting, which is that first and foremost, medical needs are not being met. That's physical health care needs and mental health care needs. You're seeing what would, in the outside world, be pretty emergency medical cases, not getting even initially assessed for a week or two weeks. From somebody needing a tooth removed and not seeing a dentist for four months to somebody having broken bones and not having that set or cared for for a couple of weeks.
What was the heat situation like in other areas you visited during this heat wave?
We went to a couple of other areas where there seemed to be better airflow, fans were working, even AC in some spots. The consistent feedback we got from folks in those areas was (they were) not getting access to cleaning supplies. They want to keep their space clean. Just like in the outside world, they're dealing with an ongoing pandemic – they're concerned about their health and they're obviously in a congregate setting.
What did you mean when you said that what you didn't see was important?
There were a number of units that we repeatedly requested to go see. I had consulted with several organizations, which I normally do before making a visit to the island to gather as much information as possible so that we can make the most of the visit, really make sure that I'm honing in on areas that need to be seen and assessed. I asked to go see those areas; I was denied access. "It's on lockdown because there was an incident earlier in the day" is usually the response that we are given. On top of that, in going to the units we did see and talking to folks, they would name those particular units. They would be like, "In comparison, we're OK here, but you should go see this unit."
What were some of those units?
Those units were in George R. Vierno Center. We weren't able to access, for example, 10A and 10B, 17A. And 10, particularly, was a housing area that incarcerated folks who were housed in different units would point out was an area that was really unsafe, that really needed to be looked at. And we didn't get to see those.
Did you see anything during this visit that you hadn't witnessed or heard about before? Any conditions that seemed like new occurrences?
No, not really. Although I will say the one thing that was different about the visit that didn't have to do with conditions was in the past few times that I have gone as an elected official or as part of a contingent of elected officials, I typically like to go with a Legal Aid attorney. I think it's really, really helpful. They are on the ground experts. And I've been a little bit removed from it for a minute now. And I had, up to this point, been allowed to bring somebody to accompany us, and I was not allowed this time. I spoke to the commissioner directly and was trying to understand why that was and I wasn't really given a reason. The rules are clear – he doesn't have to allow it. But he has made the accommodation before, so I wanted to understand what's different. (Editor's note: The Department of Correction wrote to City & State in an email, "When it comes to who is allowed to make unannounced visits to correctional facilities, we follow state law.")
What is it going to take to address not only long-standing safety issues but some of the conditions you witnessed here?
There aren't easy answers, right? What we know from the federal monitor and the reports that have been issued is that not only has the DOC been uncooperative, but they've been even going as far as obstructionism. The (monitor) is not getting the information that they need to fully assess, to make proper recommendations. We know that there's still a problem with the attendance of officers showing up. I spoke to doctors on the island and they were ringing the alarm bell on how pervasive drugs are, and how many overdoses they're dealing with. You have to imagine – we hear about these overdoses after death, but many times folks are overdosing and they don't die. It was communicated to me by medical staff that this is a problem that is getting worse and worse and worse.
The question of putting Rikers under a federal receivership has been delayed until the fall. Is a receivership needed?
In the very beginning, a lot of us were hesitant to say that a federal receivership is appropriate. Federally run prisons are not the best facilities either. But I will say that there's no doubt about it that Rikers Island is a bit uniquely abysmal in the amount of pain and violence and this ongoing cycle that we're experiencing. In terms of being able to force some action and attention, I think the first threat of a federal receivership was – at least in my mind or from what I could tell – the first time that the mayor really took notice and paid some attention to Rikers. We can't understate it being a tool to motivate some action. And then I just caution around the fact that Rikers Island is not just brick and mortar. It's a culture that exists at varying different levels and degrees across our carceral systems altogether. Is a federal receivership going to solve everything? No. Could it reduce some of the acute, extraordinary harm that we are seeing in this moment? Yes. And never lose sight of the fact that if we want to improve safety in and out of our jails, we have to look at this holistically. We need to build outside infrastructure to support these things. We have to decarcerate. We have to invest in physical and mental health care in our communities. And we have to invest in antipoverty initiatives.